NKU gains a sense of normalcy at the Fall 2021 Convocation
August 17, 2021
The 2021 Fall Convocation had a room filled with people masked up and Norsed up. 
Rounds of applauses and laughter could be heard in the Student Union ballroom on Monday afternoon where the first campus-wide and in-person event took place in nearly 16 months. 
New Provost and Executive Vice President for Academic Affairs Dr. Matt Cecil was the first to speak and started off by talking about the ongoing pandemic. 
"The principles that guide us in this work are the health and safety of our campus community and the continued progress of our students toward their goals. Let's approach this phase of the pandemic, as we have all along, with determination to help our students succeed," Cecil said. 
Cecil also spoke a bit about the challenges that the campus community has faced throughout the past 16 months. 
"But let's also acknowledge just how difficult this is for everyone; none of us wanted to be wearing masks today, none of us wanted to be staring down the possibility of significant outbreaks this fall. But once again, we find ourselves in a situation where we will be asked to adapt to the changing conditions of a global pandemic. As we adapt, I hope we can continue to approach our work with grace and patience and kindness toward one another," Cecil added. 
The convocation recognized those faculty and staff members who have joined Northern Kentucky University since the last in-person convocation in Fall 2019, as well as those faculty and staff who received awards at the April ceremony.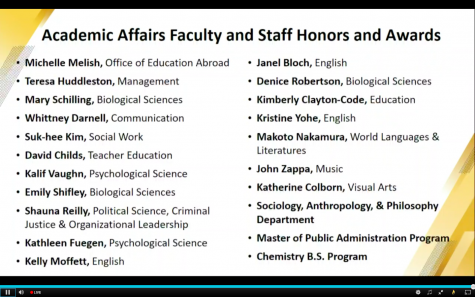 Dr. Kimberly Clayton-Code, professor of education, was announced as the Frank Sinton Milburn Outstanding Professor. The Milburn Award honors faculty who have demonstrated excellence in teaching, scholarship and service over the course of their career. 
The event then shifted into recognizing faculty and staff for the NKU CARES awards, which recognize faculty and staff who made extraordinary contributions to student, faculty and staff success during the ongoing COVID-19 pandemic. 
Regent and newly elected staff representative to the NKU Board of Regents Cori Henderson presented these four faculty and staff members with the CARES award. 
"These staff and faculty are pivotal to our success during the worst days of the pandemic," Henderson said. 
The four faculty and staff members to receive the CARES award were Dr. Bob Alston, Assistant Dean of Students and Deputy Title IX Coordinator; Dr. Brooke Buckley, Chair of the Department of Mathematics and Statistics; Dr. Christopher Lawerence, Associate Professor of Counseling; Jim Riley, IT Client Support Specialist. 
SGA President and Regent Aliya Cannon spoke next. 
"Today, we make history as we once did before. Today we stray so far from our comfort zone, that the idea of being uncomfortable is our new normal. Today we dive into deep waters, unchartered waters, with the thought of hope, prosperity, and peace. Today, we have an opportunity and experience and a journey to undergo. Although all of our stories may read differently, and our timelines may vary from one to the next, we all have one thing in common; we have the flame that ignited our spark. We have the black and the gold that runs through our veins. We have Northern Kentucky University. We have a home," Cannon exclaimed. 
Cannon then welcomed NKU President Ashish Vaidya to the stage where he remained for the rest of the convocation. 
Vaidya reminisced on all of the progress NKU has made since the start of the pandemic in early 2020. 
"If I had told you 17 months ago of the kinds of issues and challenges you would face, we would probably say, 'Oh my goodness, I don't know how we're going to do this.' And here we are. We're not quite there yet, but we are back in person, our capacity for self-renewal is going to make our organization thrive and to me, the sense of that self-renewal lies in the purpose of our work," Vaidya said. 
Vaidya talked about Success by Design, a strategic framework focused on advancing student success aligned with the needs of the region, which was established nearly two years ago. 
"We always ask the question, 'Are students ready for college?' but we don't spend enough time asking ourselves, 'Are we ready to serve the students of today and tomorrow?' What are we doing to change our processes and procedures that maybe think about support for our students so that each and every one of them can prosper and thrive?" Vaidya asked. 
Vaidya went on to talk about what a student-ready university consists of. 
"A student-ready university is also comprised of empowered educators, each and every one of you, that works at the university has a particular mission and a goal to make sure that we continue moving this forward. No matter what your position is on this campus, faculty, staff, administrator, it doesn't matter. You are an educator, by design, when you work at NKU," Vaidya said. 
Vaidya highlighted just a fraction of the things NKU has done to become a student-ready university over the course of the pandemic, including: 
Humans of Greater Cincinnati Project

, where more than 50 incoming NKU students received an iPad to capture life during the pandemic, social justice protests and the 2020 presidential election.

Successful launch of

eSports

, where those participating in it are part of a collegiate sport.

Summer 2021 CPE grant from the Kentucky Council on Postsecondary Education that created a successful summer academy for those students needing help transitioning into college and will be starting their postsecondary education at NKU next week. 

$3 Million Equity Initiatives

that wrote off unpaid balances for degree-seeking students with balances from Spring 2020 through Spring 2021 semesters, provides degree-seeking undergraduate students and online learners a $250 voucher to the Barnes & Noble Bookstore to help pay for books, technology and educational supplies and dedicated more than $250,000 for student mental health support.
These are just some of the many achievements that have occurred at NKU over the months of the pandemic and all fall under the Success by Design framework that has been implemented. 
Vaidya ended the convocation with excitement for the new semester and to be back in person again.