NKU to host vaccine clinic on Thursday, doses of the Pfizer vaccine available
April 19, 2021
A COVID-19 vaccine clinic will take place this Thursday, April 22 from 8:30 a.m. to 5 p.m. at The Vault at BB&T Arena, according to a campus-wide email sent today.
Pfizer vaccines will be available to students, staff, faculty and family members ages 16 and older. Students, staff and faculty can register here. Eligible family members can register by emailing the health, counseling and student wellness office at hcsw@nku.edu or by calling (859) 572-5650. Registration is required.
"If you have health insurance, please bring your insurance card and a photo ID or NKU All Card. Parking is located in Lot O. Masks are required, and social distancing measures apply," the email states.
Nurse practitioner and Director of Health Services Rose Tempel spoke with The Northerner today as she had just signed for a shipment of the Pfizer vaccine that will be used for the vaccine clinic on Thursday.
"We're happy to have this opportunity to help folks get immunized and hopefully beat this pandemic and get back to somewhat normal life," Tempel said.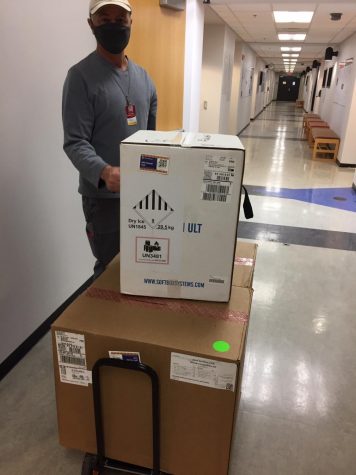 Second doses of the Pfizer vaccine will be available May 13 at The Vault from 8:30 a.m. to 5 p.m.
The clinic is sponsored by Health, Counseling and Student Wellness in partnership with the College of Health and Human Services, Safety and Emergency Management, and Information Technology.