What you missed at SGA: housing repair plans, new retake policy
November 16, 2020
Several faculty members presented at the SGA meeting today to discuss campus and housing repairs, campus services during winter break and the updated retake policy. 
New retake policy, students encouraged to check Pass/Fail grades
Frank Robinson, director of Norse Advising, presented the new course retake policy for all NKU students, which will take into effect at the end of this semester and is projected to help 1,000 students immediately once implemented. 
In the new retake policy, students are now allowed to repeat a maximum of six different courses and the better grade out of the retakes will be accepted by the registrar's office for GPA replacement. The process will happen automatically within the registrar's office, so students will not have to sign any forms to ensure their participation in this new policy. 
"At the end of the semester, the registrar's office, when they do their grading process to update grades, they're going to automatically be looking for these retakes for you and will automatically apply the retakes to your grade on your transcript and put you in the best academic situation possible based on what they see," Robinson said. 
Under the old policy, a student's original grade in the class would automatically be changed to the grade received in the retake course, regardless of whether it was higher or lower than the original. With this new policy, even if a student underwent a retake course prior to the implementation of this new policy and received a lower grade than the original, the registrar's office will now change their transcript to reflect the better grade, according to Robinson. 
The new policy will also allow a grace period for students who fail five classes in one semester. Before, those students would be automatically recommended for academic renewal. Now, students are able to retake those courses in one semester before considering renewal. 
"You're still facing some financial aid and some of those GPA challenges with that scenario, but it could be an option that students didn't have before to remain in school a little bit longer to fix things," Robinson said.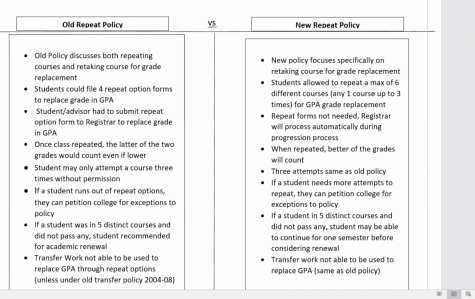 There are also some elements from the old policy that haven't changed with the new version. Students will still only have three attempts to retake a course; students will have to petition the college for additional attempts. In addition, transfer work from another university cannot be used to replace an existing grade for a course at NKU.
If anyone wishes to review the new policy, it is now available in the form section of NKU's online catalogue. 
Robinson also encouraged students who opted for a pass/fail option on certain classes last semester to check those grades in case they received an acceptable letter grade. According to Robinson, approximately 250 "A" grades that were lingering out there for students who opted for a pass/fail grade.
Currently, students are still allowed to change the "P" grade back into a letter grade. In order to see a course's original letter grade would be, students should check with their advisors.
Robinson encouraged students to verify their original letter grades that were converted into a "P" grade because a letter grade can have a positive impact on one's GPA. 
Robinson said that the two new strategies have been in the works for two years now and he appreciates the timing in the enactment.
"I'm most excited about the impact that this could possibly have on students' GPAs, especially at a time where we've moved to online classes," Robinson said. "I think these are two strategies that could help offset any negativity that comes from people having a hard time adjusting to online."
For more information, contact Frank Robison at robinsonf1@nku.edu. 
NKU's 2020 Safety Walk: campus and housing repairs
Chairman Hanson Nguyen conducted a presentation for the 2020 Campus Safety Walk to reveal some necessary repairs to housing and the main campus area. David Berland, director of University Housing, Syed Zaidi, assistant vice president for Facilities Management, and Mary Paula Schuh, senior director of Planning, Design & Construction, were in attendance to comment on the suggestions. 
In a slideshow, Nguyen demonstrated multiple instances where action was recommended by those who conducted the walk. 
In housing, some suggestions included repairs to replacing furniture in the East Village, removal or repurposing of Northern Terrace's front desk, re-painting of walls and fixing exposed wiring and water fountains. Shared shower keys for Callahan and carpeting for some Northern Terrace dorms to maintain consistency were also suggested. 
Berland said most of the repairs to housing requested will be completed by the end of 2020. However, some repairs will take additional time, Berland said. Housing is currently working on shower keys for Callahan, but Berland was unable to say when those would be available. 
While "consistency is important" for Northern Terrace to receive more carpeting, that is a long-term, "more significantly expensive project" to consider, Berland said. Housing officials are currently working to find a consensus to maintain consistency in Northern Terrace moving forward. 
In the main campus area, Nguyen presented instances of cracked concrete, such as the area in between Steely Library and Founders Hall and the circle in front of the Science building. In addition, there is a water drainage issue on the MEP bridge and exposed wiring at the Business Center. 
Zaidi said he was glad that these suggestions were brought to his attention but had not been able to look at the entire list prior to Nguyen's presentation. 
According to Zaidi, there is already a project moving forward to repair the circle in front of the Science Center. 
Fixing the concrete on campus is a balance between safety maintenance, financial ability and aesthetic consistency, Zaidi said. 
Safety of students is a huge concern for Facilities Management, Zaidi said. While undergoing repairs to common walking areas, NKU must adhere to laws under the Americans with Disabilities Act where wheelchair access must be available. In addition, if concrete segments are lifted to the point where a student can possibly trip, Facilities Management would need to address that, according to Zaidi. 
Concrete produced later than the original would stand out if replaced in large segments, Zaidi said, which may not be aesthetically pleasing. In addition, purchasing an overhaul of new concrete would be a huge financial burden when the Facilities Management has already had a $50,000 cut to their repairs budget.
Currently, Facilities Management is working with a private firm to mitigate concrete safety concerns by grinding the lifted sidewalk into a smaller curb. If there are major concerns that this solution would not fix, Zaidi said Facilities Management will work to solve it.
"We will continue to address the issues and hopefully find a medium where we can now keep it safe but make it look nice," Zaidi said.
Winter break plans set, spring semester plans still in limbo
Andy Meeks, director of Business Operations at NKU, also spoke at the SGA meeting to go over plans for the near and far future. 
All dining services will be in usual operations until Thanksgiving break. 
From Nov. 30 through Dec. 11, Norse Commons, Starbucks and the convenience store in the Student Union will be open. 
Effective on Saturday, Dec. 12, Norse Commons will be the only dining service open during the winter break. 
According to Meeks, this service is mostly to serve quarantine students, of which the rate fluctuates depending on the day.
"We've had as few as one or two quarantine students and we've had as many as 20 or 25. It just kind of depends on what day you're talking about," Meeks said. 
A weekly meal plan will be available for students who wish to use campus dining services during winter break, according to Meeks. More information on that will be forthcoming.
A mandatory commuter meal plan will not be enacted in the spring semester, according to Meeks. The plan is tentatively scheduled to take into effect in Fall 2021. 
Some construction is scheduled to take place after winter break, Meeks said. Construction on Sbarro will finish in time for its reopening in the spring semester. Qdoba is still scheduled for construction through late spring throughout the summer in time for an opening in Fall 2021. Norse Commons will also be undergoing minor renovations as well as building a teaching kitchen. 
No plans for parking in the spring semester have been finalized yet, according to Meeks. As soon as the administration confirms plans for the spring semester, students will be alerted.
For more information, contact Andy Meeks at meeksa@nku.edu.
After announcing individual reports, SGA adjourned the virtual meeting.