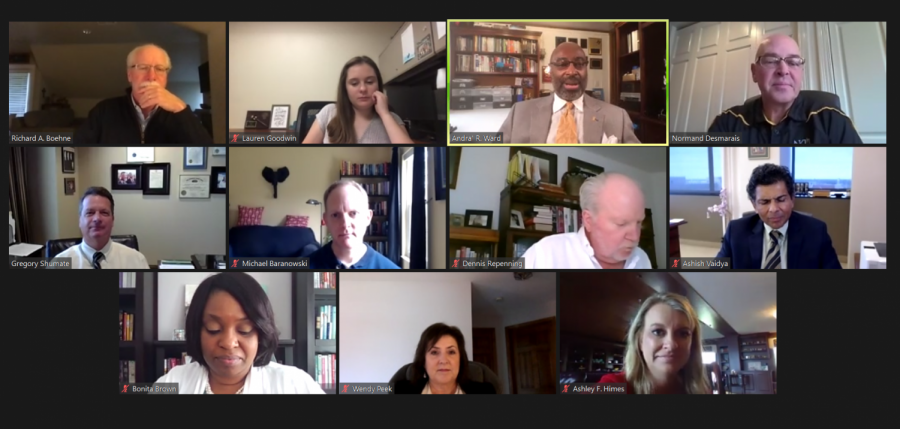 Board of Regents: members of staff congress discuss pension, presidential comments
November 11, 2020
In their November meeting, the Board of Regents heard from the staff congress pension committee, President Ashish Vaidya gave his presidential comments among other updates.
Presentation by staff congress pension committee
The meeting began with a presentation from members of the staff congress pension committee, Kimberly Wiley, Inna Pylyayeva and Brandon Billiter. Each member spoke about why a soft exit by NKU from the Kentucky Retirement System (KRS) would be the best choice "both ethically and morally."
Wiley stated that it can be "strongly believed" that employee choice was the "only fair and equitable decision for exiting KRS" but since that option was removed by Kentucky legislators in the spring 2020 session, Wiley said a soft exit is the best option.
According to Wiley, a soft exit is a financially viable option and would have the least negative impact on tier I and tier II staff. Wiley said she also believes a soft exit would increase retention of long term staff and help preserve NKU's reputation as a good workplace.
Pylyayeva gave a summation based on data available to faculty and staff at the time. Pylyayeva said that while the initial cost of a hard exit is less than a soft exit, once you include additional costs, such as health insurance compensation and additional adjusted contribution, the gap narrows.
With a hard exit, NKU risks losing experienced staff which will be costly to replace, impact the morale of remaining staff and possibly cause a disruption in services, according to Pylyayeva.
"I've been at the university for almost 20 years and I think the morale is the lowest I have ever seen," Pylyayeva said.
Billiter shared what the committee believes is the bottom line and the biggest concern for NKU—the large loss in human resources.
"Trust me when I say we have heard from a large number of our colleagues since this committee was formed. A large number of experienced colleagues that are going to seek employment at another KRS employer or go ahead and file for retirement," Billiter said.
Billiter shared the results of a staff survey, which was conducted in March, that received 306 total responses. According to Billiter, over 80% of responders said that they were primarily satisfied/very satisfied with their job but overwhelmingly disliked their salary.
In regards to plans to stay or leave, 40% said they would stay in the case of a hard exit while 70% said they would stay in the case of a soft exit. Billiter also shared quotes from participants of the survey.
"Doing a hard exit of KRS will really screw over long-time employees who have remained loyal to the University and stayed here when we could have gone elsewhere for much better pay," one participant said while also equating it to a stab in the back.
NKU is the only Kentucky state institution to exit the KRS system altogether, according to Billiter, and take advantage of House Bill 358.
President Vaidya will make his final recommendation to the board at the Dec. 2 meeting.
Presidential comments
Vaidya began his presidential comments by expressing his gratitude to the servicewomen and men and veterans in attendance. He also gave a shout out to Travis Roy and the veterans' resource station for "all they do for our veteran learners and active duty students on campus."
Vaidya welcomed Eddie Howard Jr., incoming vice president for student affairs who will assume his position on Jan 1., and Carmen Hickerson, assistant vice president for Economic Engagement and Government Relations, who began her position on Nov. 4.
Howard was in attendance and said that he was "super excited" to be joining NKU. Howard said he has a passion for students who are first-generation students, like himself or work while attending college.
Vaidya addressed the recent transition to remote operation after Campbell and Kenton counties were declared red after COVID-19 cases reached a critical level. Vaidya said that the counties will most likely not be out of the red until Thanksgiving, which means that NKU might be conducting remote operations until the end of the fall semester.
Martin Luther King Jr. Day of service events will be held virtually on Jan. 18. Vaidya said more updates will be shared with the campus community.