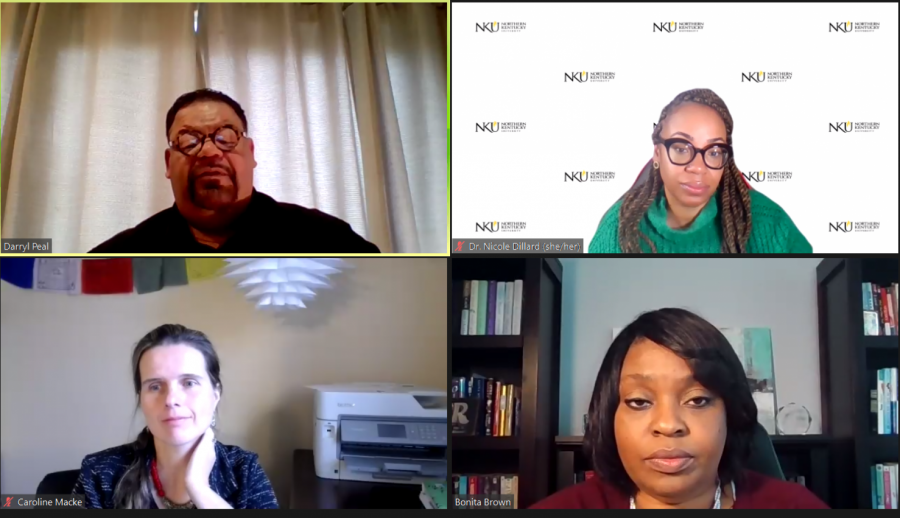 Campus survey suggests NKU needs more equity within students, faculty, staff
NKU's campus conversation on the campus climate survey shared results on the survey and what they mean for inclusivity on campus
October 29, 2020
This afternoon NKU hosted a campus conversation on the campus climate survey with around 100 people in attendance. The panelists included Nicole Dillard, assistant professor of organizational leadership and affiliate professor in the master of public administration,  Caroline Macke, associate professor in the school of social work, and Darryl  Peal, chief diversity, equity and inclusion officer and Title IX coordinator.
The survey was conducted from 2018-2019 and records "the social and cultural climate of our campus community" and allows NKU to "build the capacity we need to create a more equitable and adjustable and inclusive campus environment," according to President Ashish Vaidya. The survey is conducted ideally every three years, according to Peal and Macke. 
Data overview 
Macke and Dillard presented a report on the findings of the survey. Macke presented the quantitative data such as percentages and graphs, while Dillard presented the qualitative data such as quotes from the survey and major strengths and weaknesses. 
More than 1,400 people were surveyed, according to Macke. Macke also noted that the number of ethnic minorities who participated in this survey was proportional to the amount on campus. This does not mean, however, that a large number of minorities participated in the study. 
"For example, even though a proportional number of African American faculty participated in our study, that still only equates to nine African American faculty," Macke said, "Clearly, that's a small number, and whenever we are dealing with small numbers like that makes it very unlikely to find significant differences."
The survey measured four "dimensions" of campus climate: commitment to diversity, sense of belonging, inequitable treatment and respectful and fair treatment. There were also additional questions about job satisfaction, morale, the direction NKU is moving in and power-based personal violence. 
Macke shared graphs that measured student, staff and faculty by minority groups and their perception of the four aspects of campus climate. Data was compared to the 2015 survey and described as a setback or improvement. Dillard shared quotes and major areas of opportunity and improvement. 
Student data 
Students of color had a significantly less favorable perception of all four dimensions. Compared to the results of 2015, more negative perceptions have been indicated in respectful/fair treatment, inequitable treatment and a sense of belonging. Macke said these results are an area of concern.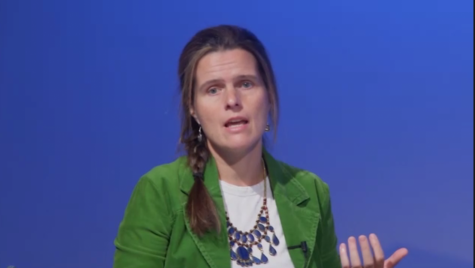 "This means that our students of color are significantly less satisfied, that there is a significant divide between our students of color and our white students," Macke said. 
Female students also have a significantly less favorable perception of the campus climate compared to male students, especially in regard to inequitable treatment. 
LGBTQ+ students are less satisfied and have less favorable perceptions, but these perceptions have improved from the 2015 survey results, according to Macke. 
Students with disabilities reported having a comparable perception of campus climate to their able-bodied counterparts; this is also an improvement from the 2015 results. Veteran students also reported comparable perceptions. 
Dillard shared quotes from the survey that represent these findings. One student said in regards to gender identity: "I am genderfluid and have never once felt safe in public or on NKU's campus for that reason. People get followed into the bathroom." 
Another student said that despite "talk" about being engaged as a student they find it very difficult and "information isn't easy to find." 
A student said they did not feel safe walking to their car at night and another student said they didn't know where to turn to when their professor makes racist and uncomfortable comments. 
Faculty and staff data
Faculty and staff shared a few common themes for major areas of improvement, according to Dillard. Both faculty and staff had similar perceptions on inadequate institutional reporting mechanisms for grievances, hyper-masculine culture, historical issues with administration/upper management, ageism and fear of religious backlash.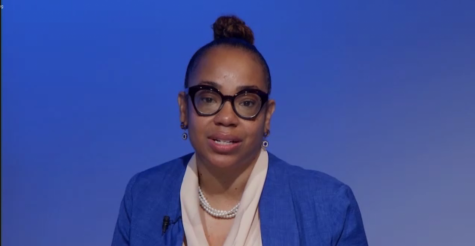 "The lack of a comprehensive paid parental leave program impacts not just me and my identity, but all parents and potential parents on campus," one participant said. "It also tends to disproportionately impact women who are often considered primary caregivers." 
One participant mentioned it feels like they "are at two different institutions." This echoes another participant's feedback that "there's a disconnect of the messages coming down across all levels." 
Despite many areas of improvement, there was some perception of major strengths across all demographics of the study, according to Dillard. These strengths include affordability of education, caring faculty and staff, support for the vision of President Vaidya and other areas. 
Question and answer
Vice President and Chief Strategy Officer Bonita Brown facilitated a question and answer segment in which viewers could ask questions for the panel to answer. 
One viewer asked why participation from faculty and staff of color was so low. Macke said it is impossible to know the exact answer, but she can hypothesize that faculty and staff of color feared retaliation or felt like their participation did not warrant much change in the past. 
Peal agreed with Macke's hypothesis and said he heard similar concerns from faculty and staff who have participated in the survey many times with little change from the institution. 
"We want to assure [staff and faculty of color] that we're going to be very aggressive and methodical and intentional about receiving the voices, and hearing the voices of those individuals and making it part of our plans as we move forward," Peal said. 
After a few more questions from viewers, Peal closed the conversation by paraphrasing a quote from Martin Luther King Jr.
"We are all tied together in a single garment of destiny, an inescapable network of mutuality. I can never be what I ought to be until you are allowed to be what you ought to be," Peal said. 
For more information about the campus climate survey and to provide feedback visit the Office of Inclusive Excellence's webpage.