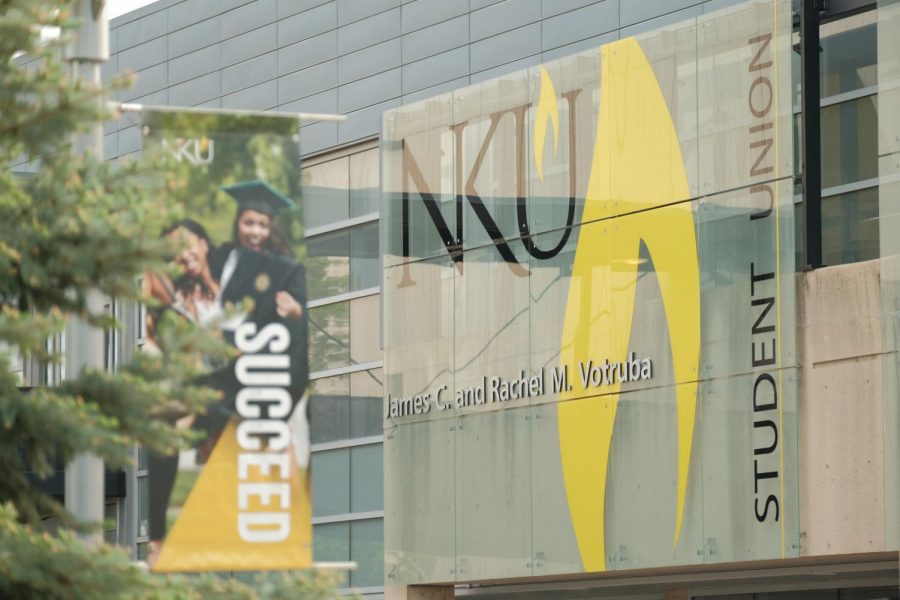 Officials talk about campus cleanliness, dining, working in a pandemic
July 30, 2020
University officials answered questions about working, cleaning, dining, recreation center and what campus looks like in a pandemic in a Zoom conference on Wednesday 
Work, class and campus interaction 
To ensure that the campus is protecting itself from being at risk of the COVID-19 virus, Lori Southwood, chief human resources officer, said the community should download the "Healthy@NKU" app. In the app, there is a self-screening test for symptoms that community members are asked to complete each time before they're on campus.
The results would recommend whether the participant should isolate or come to campus. Valerie Hardcastle, St. Elizabeth healthcare executive director for the Institute for Health Innovation, said the names of individuals that report symptoms will not be disclosed to anyone as that is private health information. However, the app does say who has completed the evaluation and whether or not that person is recommended to come to campus.
If an employee is recommended to not come to campus, they should notify their supervisor. Likewise, all individuals recommended to not come to campus should contact their health provider for further instruction and possible testing.
All University employees, including student workers, need to complete training on COVID-19 procedures and expectations for working on campus. This course must be completed prior to your first day in the office or Aug. 31, whichever comes first.
There is a "Manager Playbook" that Southwood said can act as a guide for all supervisors, managers and leaders on tools and resources on manager expectation and how to assist direct reports and NKU's community.
Employees that fall under the Centers for Disease Control's definition of "high risk" can seek a temporary COVID-19 Workplace Arrangement.
If an employee were to leave for the two weeks for isolation, their days in isolation has the potential of being paid time off. Southwood said Human Resources would need to work and plan out the next steps. Decisions, if one should quarantine, should be made by the Health Department or a healthcare provider.
Similarly, in-person classes can be switched to online if an individual is found to have tested positive, but is not required the class be switched to online. Decisions will be made on a case-by-case basis.
Hardcastle said that there currently aren't protocols for how the campus would operate should Kentucky shut down again, but at the minimum, the University will comply with CDC, Health Department and state regulations.
Most classrooms have been modified to support hybrid instruction called "Zoom Rooms" and the Wi-Fi has had significant improvements in classrooms and open areas, according to Tim Ferguson, chief information officer. 
IT has loaner laptops, tablets, headsets and Wi-Fi hotspots for people in need of the equipment. For more information on how to get IT support or view the expansions on their website, click here.
Updates to campus
Construction on the new housing option has not ceased, according to Syed Zaidi, assistant vice president of facilities management. Projects deemed "asset preservation and critical in nature" are to move forward.
"Be very mindful the pandemic is an evolving situation, and it is quite possible that any of the projects, even if they're approved and preceding could suffer from time overruns or cost overruns unexpected," Zaidi said. 
The furniture on campus has been altered to ensure proper social distancing can be maintained in spaces such as elevators, restrooms and other places on campus.
Facilities will be focused on continuing to clean high touch surfaces to make sure they are properly disinfected and sanitized. Disinfectant spray will be provided to some areas on campus and can be requested through the workforce system or by asking custodians in the building.
There will also be a campaign pushing for people to stay on the right side of the hallways and sidewalks as they walk through campus. Zaidi encourages that people do not congregate in elevators or hallways and do not talk while on elevators.
Bookstore, Parking, Dining
Parking enforcement during the first two weeks will be "light to almost nonexistent" as the only citations Andy Meeks, director of business operations & auxiliary services, said will be handed out are parking in reserved lots, spots or handicaps.
All parking business, like purchasing passes, will be conducted online.
While the University Bookstore has been working online since March, Meeks said that they will be continuing digital operations in the Fall. 
Meeks encourages students to conduct business online: purchasing textbooks, soft goods, etc. and allow the bookstore to ship purchases to their primary residence. The bookstore will be prepared to sell textbooks in person the week of Aug. 3.
The hours for the bookstore leading to the first week of school are as follows:
Week of Aug. 3: M-F: 10 a.m. to 4:30 p.m.
Week of Aug. 10: M-F: 9 a.m. to 4:30 p.m. Sat. 10 a.m. to 2 p.m.
Week of Aug. 17: M-F: 8 a.m. to 4:30 p.m.
For dining operations, Meeks said he can not come up with a picture of how it will look for this semester.
"Before this year, I could have drawn a pretty clear picture of what food and beverage operations was going to look like on Monday, August the 17, despite my best efforts I cannot come up with that picture right now," Meeks said. "What it's going to look like, what traffic is going to look like. So, at the end of each week, we'll be reviewing and responding to whatever the activity is on campus."
Norse Commons will be the only residential dining area open for the fall semester. To help, the shuttle route has been expanded to cover both East Village and Boothe Village. Residential dining will commence Aug. 10. After school starts on Aug.  17, Norse Commons will be open continuously from 7 a.m. to 10 p.m. with different shifts for breakfast, lunch, dinner,  etc. and will be operating at 35 percent capacity.
Starbucks will open on Aug. 3 operating from 7:30 a.m. to 3 p.m. Retail operations will open Aug. 17 as follows:
Sbarro's Italian Restaurant: M-R: 10:30 a.m. to 7 p.m. F: 10:30 a.m. to 3 p.m.
Travel Wagon: M-R 10:30 a.m. to 7 p.m. F: 10:30 a.m. to 3 p.m.
Student Union Market: M-R: 7:30 a.m. to 7 p.m. F: 7:30 a.m. to 4 p.m.
Starbucks (post-Aug 17 hours): M-R: 7:30 a.m. to 9 p.m. F: 7:30 a.m. to 4 p.m.
Einstein's Bros Bagels: M-R: 8 a.m. to 4 p.m. F: 8 a.m. to 4 p.m.
All locations are closed on weekends.
Should the virus be found in food operations or in a dining option, Meeks said the option would be closed down the day the test is found and reopen when deep cleaning is done.
For the fall semester, with the exception of bringing personal lunch to campus, there will be no outside food on campus. For example, Meeks said if you order Jimmy Johns delivery for lunch, it would need to be picked up in the Student Union circle.
Provost Sue Ott Rowlands said students should not be eating inside classrooms to ensure they are keeping their facial coverings on.
Health, Counseling Student Wellness will be open for students to use for students in need of aid.
Engagement and Housing
To help with involvement, there is a new quiz on MyEngagement to get students into organizations that might be of interest to them, said Arnie Slaughter, Interim Chief Student Affairs Officer and Dean of Students.
Slaughter said, roughly 1,100 students will be residing on campus. On-campus support will still consist of the Hall Directors and Resident Assistants in each hall.
If a student contracts COVID-19 while living on campus, there are three protocols according to Slaughter. The student will first need to consult their primary care physician or someone in the health services area to ensure they do have the virus. The next step depends on whether the student has roommates.
If the student is in a single room, they will be able to self isolate there. If there are roommates present, they will be able to isolate themselves in a "quarantine room" that housing will provide. 
The alternate option is if the student will have to work with their families or support systems to determine what it would look like if they are to quarantine at home rather than campus. Student Conduct, Rights and Advocacy will be working alongside students to ensure they will have appropriate adjustments should the situation arise.
Campus recreation asks that students wear a facial cover upon entering and exiting the Campus Recreation Center. If an individual is using cardio equipment or doing strenuous activities they are able to remove their facial covering.