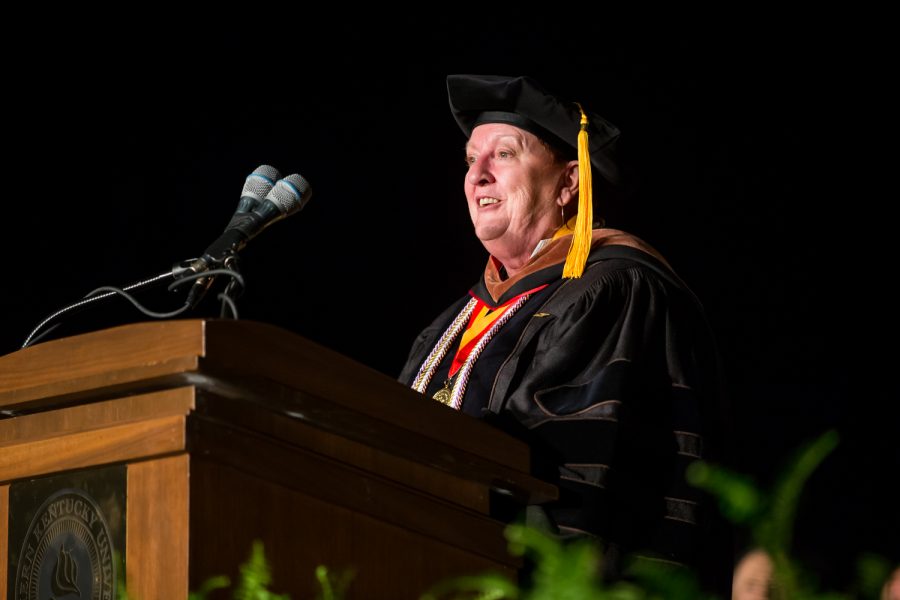 Provost Sue Ott Rowlands to step down December 31
Rowlands will complete the upcoming fall semester to ensure a smooth transition
May 27, 2020
Sue Ott Rowlands will step down as provost and executive vice president of academic affairs on December 31, 2020. A national search for her successor will begin in early June, and the position will be filled by January 1, 2021.
Rowlands has been NKU's provost since early 2014. She has served under one interim and two long-term university presidents in her more than six-year residency.
"Now, I find it's time to pursue new opportunities, and I'm looking forward to seeing what lies ahead," Rowlands said in a campus-wide email.
President Ashish Vaidya expressed gratitude and admiration for Rowlands' service to the university.
"Over the years, Sue has demonstrated her commitment to NKU in many ways, most recently leading our COVID-19 Preparedness Team and helping navigate our response to the pandemic," Vaidya said.
Rowlands has led the university's COVID-19 Preparedness Team since January. As the team leader, Rowlands oversees a group of campus leaders and drafts recommendations for NKU's response to the global pandemic. Her role has been described as instrumental by team members.
"It has been my honor to help lead the COVID-19 Preparedness Team through these challenging times," Rowlands said. "And I know we will keep the momentum going into the fall to provide the best experience for our students."
To ensure a smooth transition, Rowlands will complete the upcoming fall semester while the administration conducts a national search for her successor.
President Ashish Vaidya said he intends to include engagement from the campus community in the search, such as appointing a search advisory committee and scheduling on-campus visits.
"The next Provost will have an opportunity to join a resilient, agile and passionate NKU community that is committed to our vision of becoming nationally recognized as a student-ready, regionally engaged university that empowers diverse learners for economic and social mobility," Vaidya said.
Though Rowlands will no longer be an academic leader on campus, she said NKU will remain an impactful part of her life.
"Please know Northern Kentucky University will always have a special place for me, and I thank you for allowing me to serve as your Provost," Rowlands said.