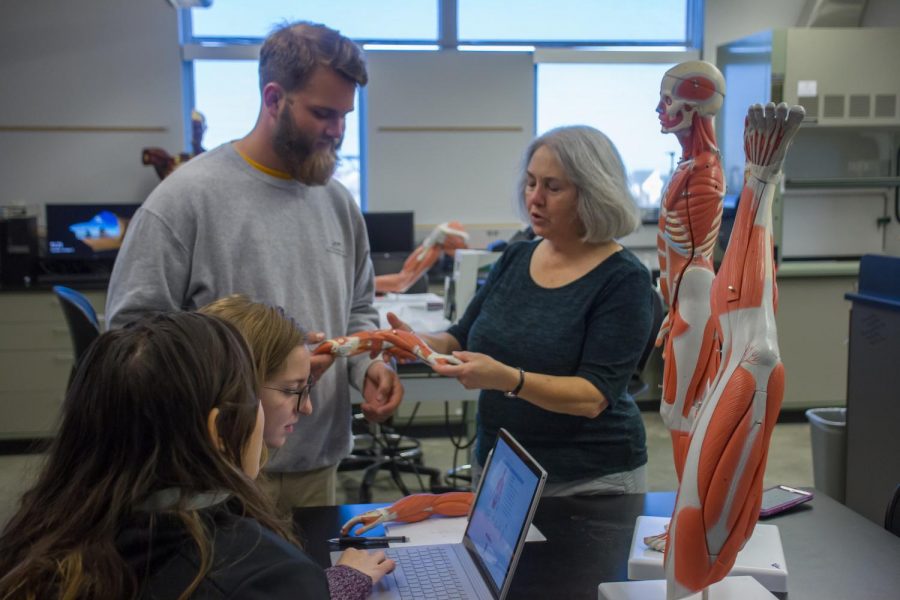 The petition behind NKU's switch to pass/fail
April 5, 2020
On March 31, NKU sent out an email notifying students the option to change letter grades to pass/fail would be coming in an email on April 13.
RELATED: NKU allows students to opt-in pass/fail grading for semester
On March 21, Sierra Blair started a petition requesting NKU to switch to an opt-in pass/fail grading system. The petition spread across Twitter.
"I feel like it is inevitable for the university as a whole, grades to go down, GPAs to go down," Blair said. "All of this just randomly happened in the middle of the semester. All of this adjusting is so hard, it's not like a normal online class."
Blair, a junior and construction management major, was inspired to start the petition after seeing the University of Louisville switch to pass/fail when a similar petition was created.
On March 20, an email was sent out from the University of Louisville's Provost Beth Boehm announcing the switch to an opt-in pass/fail grading system, according to an article by the Louisville Cardinal.
"I am not an online person, I am face-to-face. I like going to tutoring sessions, the Learning Plus Center, office hours; I am in everyone's face all day, every day," Blair said. "This is going to be difficult to switch to online."
Blair first brought the idea of starting the petition to her sorority sisters of  Zeta Phi Beta Sorority, Incorporated in a group message. Blair wanted to know their reactions to the idea before proceeding.
"'How would you guys feel if we did something like this? Do you guys agree?'" Blair said. "I wanted to see if, first, they were on my side. Then I sent it to the NPHC group chat and asked them about it. And they were on board. So, I was like 'you know at least, if more than one person agrees with it then, I wonder how many other people will agree?'"
Blair said that some of the other NPHC members helped her read over the petition.
"My name is on the petition, it says that Sierra Blair started this petition, but it was a group effort," Blair said. "It was definitely a group effort, so I want to thank my chapter and the NPHC."
Jarett Lopez, Student Government Association President and student regent, acknowledged the petition and gave his support of switching to an opt-in pass/fail grading system in a tweet on March 21.
I'm aware of the petition for pass/fail and have conveyed it and my support for the measure to the university administration. It is difficult to imagine students being able to perform at their usual academic levels in the midst of this crisis.

— Jarett Lopez (@Jrttlpz) March 21, 2020
"When it comes to online learning there is the issue that sits with learning disabilities, like ADHD for example, can't really concentrate on their online work, just people that can't learn online. So, it's making sure that students aren't being negatively impacted by the move to protect us," Lopez said.
Bob Alston, assistant dean of students and director of student conduct, rights & advocacy, first heard about the petition through Lopez's Twitter account.
Alston responded to Lopez's tweet with an article discussing the benefits and drawbacks of switching to a pass/fail grading system and also said, "I agree with your initial assessment in our uncertain times. Let me know how I can support you or other students."
Alston said that in his reading about other institutions that have switched to pass/fail, not all students want to switch to this grading system. He said that an option allowing students the ability to opt-in or opt-out of pass/fail should be considered.
"We're hearing that feedback collectively at NKU, loud and clear, and we want to make sure that we're exploring that in order to best reflect our current circumstances," Alston said.
Lopez, a member of the COVID-19 Preparedness Team, knew that NKU was working on a policy to switch to pass/fail for the Spring 2020 semester, but found out about all the details in the email that was sent out.
"I was delighted. There's few things that students are completely unified on when it comes to policies, but there was a very clear, almost unanimous voice from the students saying, 'We want this flexibility.' So, it was really great for the university to respond in such a reactive way," Lopez said about his reaction to the petition passing.
Alston said that students should feel free to reach to talk with their advisors as they consider what is going to be best for them.
"From my perspective, it's a good option for our students who are experiencing so many challenges with the switch to distance learning, or the switch to virtual campus, or having to move home," Alston said. "So, it was a good opportunity for flexibility that appropriately reflects the circumstances of this semester."
Blair said she was in class when she got the email that NKU would be giving students the option to switch to pass/fail.
"I felt relieved like a weight has been lifted off my shoulders," Blair said.
She said that having the option to switch to a pass/fail grading system is beneficial for NKU as a whole and that students can breathe a little bit.
Blair said that she received a lot of messages thanking her and sharing their excitement.
The petition had over 2,681 signatures.
"As of March 31, 2020, NKU administration has decided to revise the policy so all undergraduate and graduate students will have the option during this semester to request a change from a letter grade to pass/fail for any or all full-semester, second 7-week, or third five-week classes for the remainder of the Spring 2020 semester!!! Thank you to everyone who signed, commented, and shared! Our voices were heard!" Blair wrote in an update for the petition.