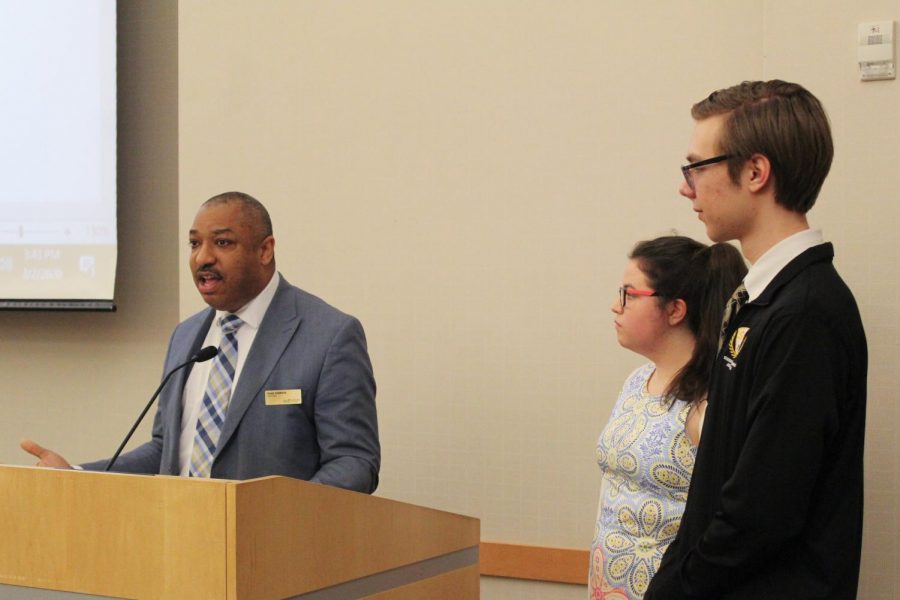 Advising resolution passed, alcohol in housing discussed at SGA
March 3, 2020
Academic Affairs Chairman Alan Millward and Senator Hannah Miller opened Monday's meeting reading the changes in their resolution, which had its first reading last week.
The resolution now allows students to submit evaluations of their academic advisors, in hopes to improve advising meetings and sessions students have.
Director of Norse Advising Frank Robinson was in attendance and spoke on the structure and response that some advisors have had to the resolution.
"This is actually a helpful resolution for us," Robinson said. "One of the challenges that advising offices have on campus is collecting feedback from our students that we can use to make our advisory experience better."
"Our goal, I think, is your goal with this. Hopefully that we want to see a better outcome where all students are getting a really quality, high-level, good experience with advising on campus. That is vital."
The resolution also explained that there could be a possible change to advisors' compensation. Whether compensation and raise cycles happen is dependent on the university, Robinson said. This change could be either positive or negative.
According to Robinson, there is a position in the process of hiring for the Vice Provost of Academic Affairs with a focus on academic advising and the first-year experience.
After a vote of unanimous consent, the resolution was accepted by SGA.
Alcohol in University Housing
A new resolution was presented by Student Rights Chairwoman Brynn Cahal for University Housing to allow residents aged 21 and above to consume and possess beer and wine, while still forbidding liquor.
Current policy prohibits all possession of beer, wine and liquor in the residence halls unless allowed by university policy, regardless of age. The resolution would overturn the policy and allow beer and wine in university housing if residents are currently at or above the legal drinking age.
Cahal said the resolution currently reads beer and wine exclusively because of Director of Housing David Berland's recommendation.
Cahal said this would limit the amount of binge drinking and unhealthy levels of alcohol consumption, as Miami University, University of Dayton and University of Illinois Urbana-Champaign have similar policies. The schools report "moderate rates of binge drinking," according to Cahal.
According to the resolution, the university "should examine its alcohol policies as a whole and standardize them to apply equally to every adult on campus who's over 21 years of age."
"And whereas an alteration of alcohol policy when students are 21 years of age have all their constitutional rights respected, allow safe consumption and promote education and dialogue around alcohol."
The implementation and regulation would rely on University Housing and Student Conduct, Rights and Advocacy to enforce.
"If this resolution passes, it doesn't mean that it's implemented. It has to go to the president's cabinet and the executive team for approval and if they say no, then it doesn't go any further," Sarah Aikman, director of the student union, said.
Cahal said there are already policies in place for students that are under 21 and drink in the residence halls. This would only affect students 21 and older.
Arnie Slaughter, assistant vice president of student engagement, said this would affect "less than 20 percent" of university housing students. 
"Thankfully, our campus is not one of those institutions where we have a high level of binge drinking and/or alcohol consumption in residence hall," Slaughter said. 
Under the current policy, residents are not permitted to appear in a public place while being intoxicated. Justice Lauren Goodwin said the new policy would allow students to enter their residence hall.
"I think this is nice because, even if I'm not drinking in the dorm, there's a place for me to go," Goodwin said.
Alcohol consumption would be restricted to dorm rooms, and barred from social spaces outside rooms where underage minors be, according to Cahal. 
"We will not allow any student to walk down the hallway with a glass of wine," Slaughter said.