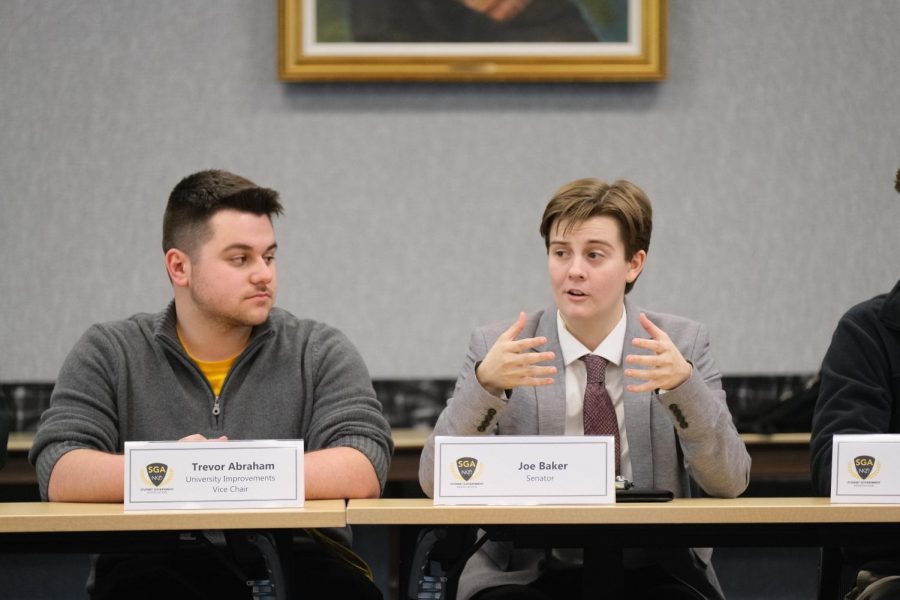 What you missed at SGA Jan. 13
January 14, 2020
Woodcrest closure update
All the residents who live in the Oak and Sycamore buildings of Woodcrest Apartments will receive their new assignments soon; there was space available in other dorms for all who were displaced, according to Assistant Vice President for Student Engagement and Dean of Students Arnie Slaughter. No residents were forced to move off-campus.
"The majority of folks in Oak and Sycamore will stay in the Boothe Residential Village, and those who wanted to stay with their roommates—University Housing was able to make those accommodations," Slaughter said.
Residents affected by the closure will be able to start moving during the weekend of Jan. 25 and the following weekend of Feb. 1.
"University Housing has made arrangements for students to just focus on this week and next week and just pack up their belongings," said Slaughter. "There will be a moving crew that will transition everyone's belongings from their current assignment to their new assignments."
If students from Oak and Sycamore moved to a less expensive option, they will pay the lower-priced option rate; if they're moving to an option that's more expensive, they will pay the current Woodcrest rate, according to Slaughter. University Housing has also made arrangements to purchase meal plans at the value of $1,000 for students who don't have a meal plan.
Additionally, if residents agree to accept a new roommate from either Oak or Sycamore, University Housing will provide students with a $200 credit. If a room already has two residents when they accept a resident from either Oak or Sycamore, both residents will receive $200 each.
All six residential assistants from Oak and Sycamore will retain employment with University Housing. According to Slaughter, they'll be on special projects and will retain their free room, meal plan and their bi-weekly stipend.
"When it comes to making sure we're doing what's best for students that live on campus,"  Slaughter said. "We made the right call so that nothing will happen in the future, and we're going to be more proactive."
Twitter DMs
Secretary of Public Relations Jessica Archer discussed the direct messages received on SGA's Twitter account about ideas for future resolutions this semester. 
Ideas included extending the equipment rental period through the Norse Tech Bar to cover finals week instead of turning in equipment in the last day of classes, protecting the graffiti stairwell in SOTA or providing a designated space where students can express their art for free, more vegan options at campus dining venues, a new snack machine for the ceramics building and Google Pay/Apple Pay support for All Card so students can pay for food with their phones and enter buildings without the physical card.
All Card redesign
Secretary Archer will be making a "coloring sheet" for students to have the opportunity to design their own All Card—its first redesign since 2012.
"Me and my committee will go through and either pick the one that we like the best and then pick the ones that the students like the best and combine ideas that everyone likes," Archer said.