To vote or not to vote: NKU students on election process
Students share their thoughts on doing their civic duty
November 6, 2019
Wearing the "I voted" sticker around campus carries a sense of pride for some. For others, they weren't aware of the election. With the election in Kentucky taking place last night, how do NKU students view elections and do they think voting is worth it?
Shannon McGuire, freshman social work major, couldn't wait to hit the polls yesterday morning. "This is the first time I am able to vote so I feel like I have to, honestly," McGuire said. "I have been keeping up with the election and I am pretty passionate about voting for Beshear, and the process itself wasn't as scary or as difficult as I thought," McGuire said.
According to the Forbes article, "College Student Voting Doubled In 2018. What It Could Mean For 2020," "The voting rate among U.S. college students more than doubled from 2014 to the 2018 federal midterm elections. While voting rates for all Americans increased in the most recent midterms, the surge in college student voting – from 19% in 2014 to 40% in 2018 – is particularly striking."
More students are engaging and partaking in elections and allowing their voice to make a difference, so why is the college age generation getting grief for skipping the voting booth?
"I think that it's because some people are completely uneducated on how to even register—that isn't all their fault either. Some families don't vote, so their college-aged children don't either," said Natalie Foreman, junior early education major. "[NKU] keeps us informed on what is going on, so that should help."
Around campus and the surrounding areas, there are several campaign posters up to support the candidates. Along with those, there are also several plain white posters that say "VOTE TUES."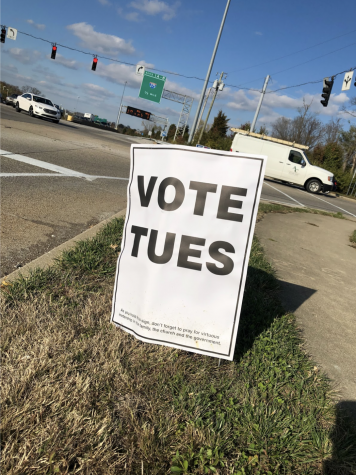 Overall, NKU students say they care about and are aware of the election—whether that is due to personal feelings or obligations or influence from outside areas. 
On election day, voters often wear their stickers with pride, proud of expressing their voice and their place in their community. One of these partakers was sophomore Alex Ludwig, who made sure to go out and vote to let his voice be heard. 
"My family feels very strongly about voting for Bevin, so it was just something I did," Ludwig said. 
Although some may want to vote, there are also things that can hinder a students ability to take part in an election.
"I work all day and had to request off in order to vote today," Foreman said yesterday. "I never understood why colleges don't cancel school on election day but grade schools do. It would have been so much more convenient and allow for working students, or even students who have classes, to be able to vote," Foreman said.
NKU students do not get the day off to go and vote. This makes getting to polls even more difficult for college students.
Senior exercise science major Olivia Niemi didn't have an easy way to vote this election. 
"I live a good distance away where I am from, so the drive itself didn't seem worth it, that's why I didn't vote. Maybe if I could vote on campus, that would have made me keep up with it, but since I knew I wasn't voting, honestly, didn't keep up with the election itself," Niemi said. 
NKU students took up their right to vote and hit the polls on election day. There are some things that could allow for even more students to have the ability to vote—readily available information, voting on campus for residential students and having the day free of classes to make sure they are able to go.