Student's perspectives on upcoming governor election
With the upcoming gubernatorial election, students share their viewpoints on the election and the candidates
November 4, 2019
Editor's Note: Taylor House uses ze/hir pronouns. 
Taylor House, fifth-year music composition and statistics double major
Voting: Andy Beshear  
Taylor House is making the hour-long trip to hir hometown of Louisville, Kentucky to vote for Andy Beshear. 
"He's not Matt Bevin," House said. "He's a much more progressive candidate, especially for Kentucky. We aren't really known for our progressiveness."  
House does not identify with a political party, although ze is registered as a Democrat. 
"Everyone should be able to vote in every election. It seems kind of weird that certain people can only have a say on certain things," House said. 
As someone who is still close with hir teachers from high school and sees the results of the underfunding of public schools in Kentucky, House said that Matt Bevin seems to have no regard for teachers and these concerns. 
Lauren Elliott, freshman communications major
Voting: Andy Beshear 
Lauren Elliott is from Corbin, Kentucky, and said she will not be able to make it back to her hometown to vote. 
Elliott said she hasn't done a lot of research but if she did vote, she would vote for Andy Beshear. 
"He's the best out of evils I guess," Elliott said. 
Elliott is registered as a Republican, but said she identifies as a Democrat. She said the reason why she registered as Republican is because she was told in smaller elections, Republican votes matter more than Democrat votes.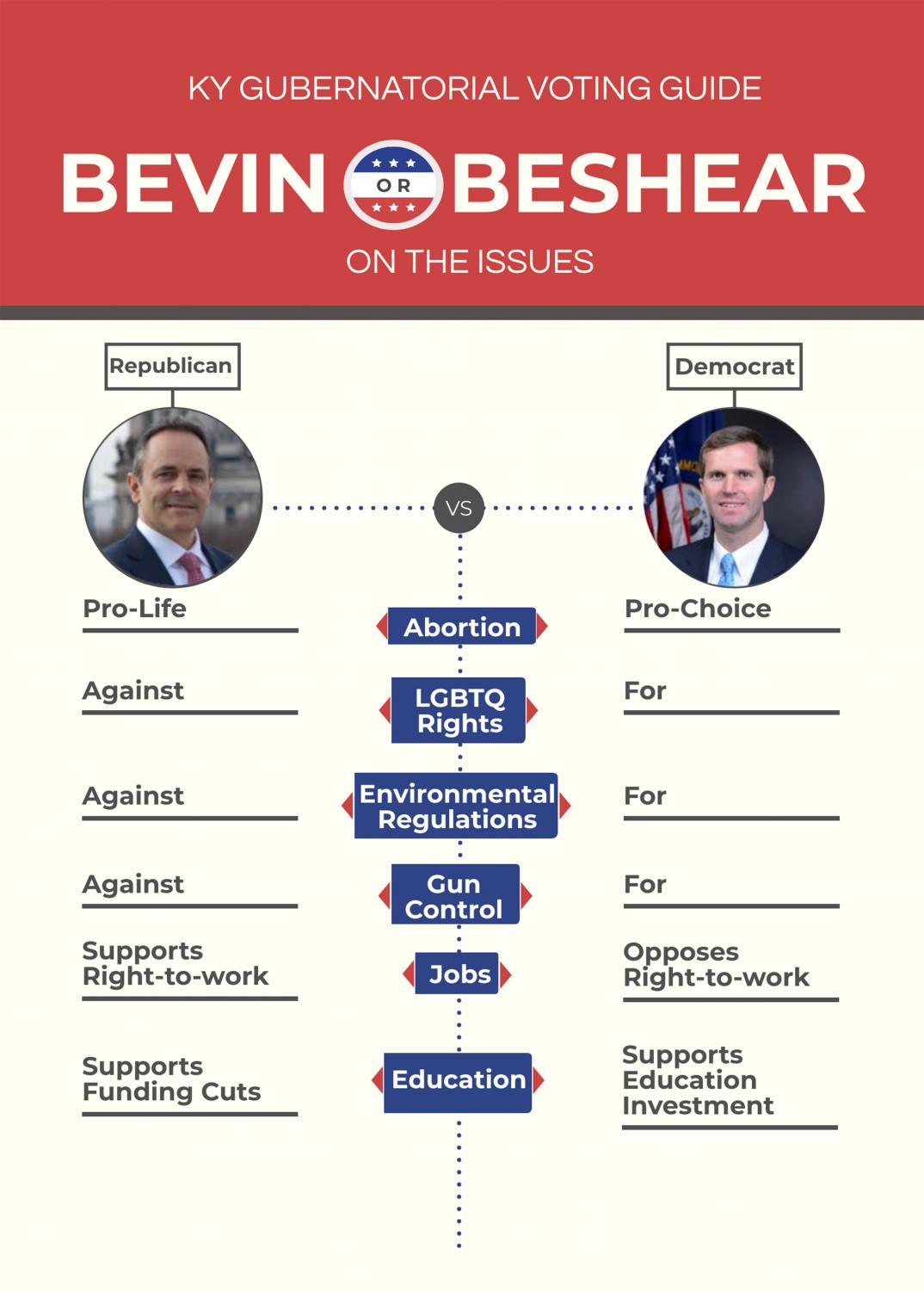 Alec Johnson, sophomore computer science major
Voting: Undecided 
Alec Johnson isn't sure yet who he is voting for in Tuesday's election. Johnson said he doesn't feel like he is well educated about the election, hence why he is undecided. Johnson looks for candidates that align with not only his morality but the needs of the state. 
"My morality inherently doesn't make it the right morality," Johnson said. 
Johnson said he uses different news sources to inform himself so that his information does not just have one bias. 
Sarah Bigney, sophomore graphic design major
Voting: Matt Bevin
Sarah Bigney said she plans to vote for Matt Bevin. She admits she hasn't researched that much about the upcoming election.
"He is in the Republican party and I usually lean more toward that side," Bigney said, in response to why she is voting Bevin. 
Blake Weimer, sophomore economics major
Voting: Matt Bevin
Blake Weimer is voting for Matt Bevin. He said he knows pension is an issue but thinks it needs to be reformed. 
"I know pension is an issue but I don't think we should be kicking that dead horse. I think it just needs to be reformed. You just have to do it painfully," Weimer said.