NKU police implement body-worn cameras
After receiving a grant from the Department of Justice, NKU PD now equip its officers with body-worn cameras
October 23, 2019
In 2018, 992 people were shot and killed by police. As of this year, another 717 have lost their lives to fatal force, according to The Washington Post. While some police departments move away from body camera programs, NKU's police department begins its own. 
Following a $14,000 Department of Justice grant, NKU police have begun to field its 'Safety Vision' body-worn cameras (BWCs). The 'Safety Vision' body camera is fitted with 32 GB of data storage, 1296-pixel resolution and a 160-degree field of view.
"They're becoming the expectation. In our current environment, it looks bad if incidents aren't recorded," NKU police Chief John Gaffin said.
According to the Department of Justice, nearly half of America's authorities have implemented the use of BWCs.
NKU police began with a pilot phase in July, fitting only three active patrol officers with BWCs for training value and to mold their own policy. Now all officers are actively recording from a POV perspective.
Lieutenant Willie Love, NKU police patrol commander, said that the cameras are not simply just a 'plug and play' experience.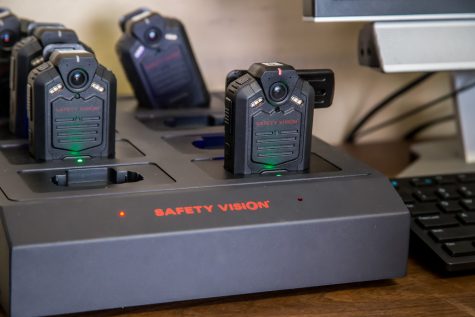 "All of our officers must be successful in training and then pass a test with no less than 100 percent accuracy," Love said. 
According to the NKU Police BWC Policy, the main objective of camera implementation is to "facilitate transparency … enhance service to the community by accurately documenting events, actions, conditions, and statements made during citizen interactions, traffic stops, arrests, and other incidents."
NKU police aims for transparency by requiring all officers to record all interactions that may occur during their tour of duty. The officers may not turn their cameras off until community interactions are resolved.
At the end of each officer's shift, they are required to return their BWC to its respective docking station, where all data is downloaded and stored.
NKU Police BWC Policy details that all footage must be reviewed by authorized personnel and then properly managed and stored. All BWC data must be kept for 30 days minimum. Depending on "evidentiary value," the recordings may be kept indefinitely.
Love said that he implements a lot of the footage into his department's training regimen. 
"I like to look for the good things that our officers are out there doing and showcase it to the rest of our officers. We also take some safety issues I see and we discuss how we can do better," Love said.
Christopher Polito, assistant director of academic success and BAR support at the Salmon P. Chase College of Law, acknowledges the benefits of BWCs but says there is a negative impact: money.
"A lot of companies will supply police departments with the cameras for free, so long as they sign a contract for the data storage," Polito said. "[The companies] get paid for the life of the cameras. It's an overwhelming amount of footage; the storage can be quite costly."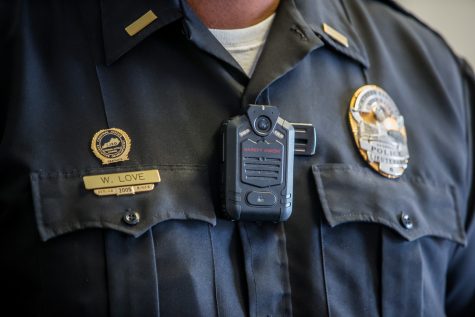 Polito served as a public defense attorney for over six years prior to his arrival at NKU and said he likes the BWCs because they provide an unbiased witness in the courtroom. He said that common witness mishaps may be a thing of the past as BWCs become more prevalent in the law enforcement community.
To Polito, money isn't the only downside to BWC's; he also sees the possibility of manipulation.
"Body cams are only as good and useful as the officers wearing them," Polito said.
Polito referred to a case he was appointed in Covington in which there was a disagreement between his client and officers. The officers claimed they had consent to conduct a vehicle search.
In this specific case, the officers stated that they had obtained verbal consent but their BWCs were malfunctioning that day. The policy for Covington Police—along with NKU's—states that BWC malfunctions must be documented; they were not.
"In instances like this, a lot of questions arise. This behavior can dramatically affect what a judge and jury see during trial," Polito said. "The benefits definitely outweigh the drawbacks as of now, but we need to see how they progress moving forward."
According to a study conducted by the American Society of Criminology, BWCs have had a positive impact in many sub-fields of criminal justice, such as officer discretion when making arrests, officer proactivity within communities and complaints about officers.
The study did reveal one statistic that remains unphased by BWCs: use of deadly force. Chief Gaffin says that he maintains a positive attitude about NKU police's implementation of BWCs. 
"If these cameras can prevent one escalation of force, they've done their job," Gaffin said.