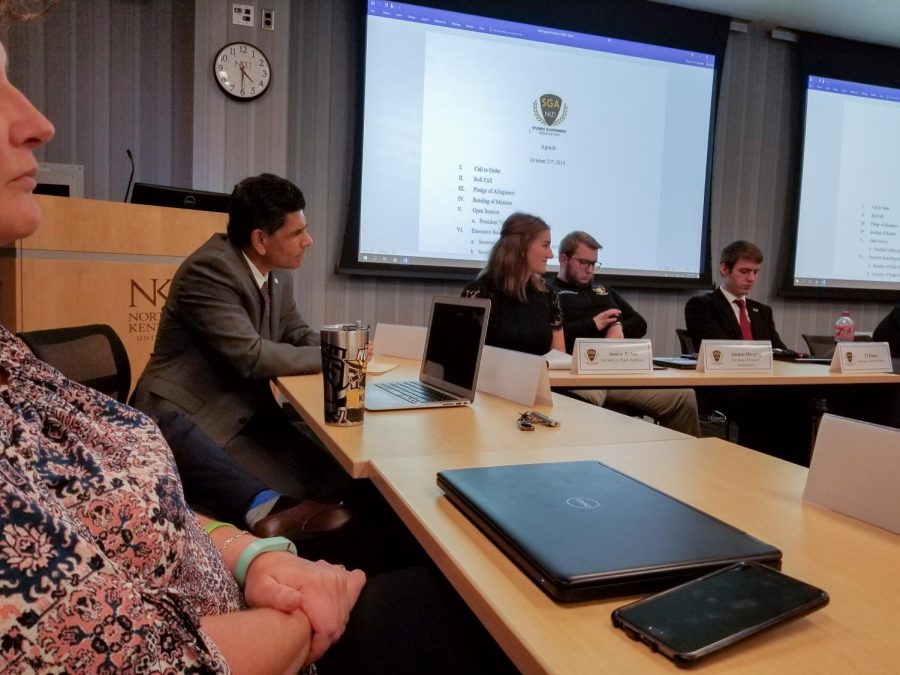 Vaidya discusses strategic framework, retention issues at SGA
October 22, 2019
President Ashish Vaidya addressed the concerns of students and shared updates in regards to NKU's strategic framework, enrollment and how NKU can best serve the region. 
Student success is priority
Success by Design, a strategic framework that prioritizes students' success, is a response to concerns—like enrollment and retention—Vaidya has heard on campus and nationally. Vaidya said he believes it is in everyone's best interest to respond to students' needs. 
"The idea of the framework is that we would have one overarching priority and that is advancing students' success aligned with the needs of the region," Vaidya said. 
According to the Success by Design website, the three pillars of student success are access, completion and career and community engagement. 
Plan of action
Vaidya said that after determining the big picture, it is important to discuss the details. NKU will host its next Success by Design open forum at 10 a.m. Wednesday, Oct. 23 in the Student Union ballroom. 
During this forum, Vaidya wants to determine what are the five important tactics or initiatives that are going to support Success by Design. 
Vaidya also discussed the creation of implementation teams. These small teams of 6-10, at least one of which is a student, will be responsible for implementing the five initiatives determined Wednesday. 
Unleashing Innovations
About half a million of NKU's $2 million budget to support student success will be dedicated to Unleashing Innovations. Ideas for this pitch competition can come from anywhere on campus, according to Vaidya. 
"I do believe that great ideas can come from anywhere, as long as they keep the students front and center," Vaidya said. 
Graduation and retention issues
Overall enrollment has increased, according to Vaidya, but this is mainly due to the increase in enrollment in graduate and online students. 
Vaidya asked SGA for help in figuring out why NKU loses about 28 percent of its students from first to second year. But solving enrollment issues involve working with NKU's K-12 partners, Vaidya said. 
Vaidya gave a hypothetical situation using enrollment data he had beginning with freshmen students in highschool and ending with college graduation. In the example, Vaidya started with 100 students who are freshmen in high school in Kentucky, ultimately 19 of those students will graduate college within six years. 
Questions and concerns from senators
Senators were able to ask Vaidya any questions or concerns they had. Those concerns included NKU's enrollment compared to other colleges in the region, pension issues, NKU's visibility and the School of the Arts.
Senator Ryan Brock asked Vaidya how NKU's enrollment compared to other colleges in the region.
The numbers are very similar Vaidya said, but NKU should not take comfort in other universities having the same concerns they have, he added. 
Secretary of Public Affairs Jessica Archer asked about renovations being done to SOTA and concerns with it receiving less support than other departments.  
"Is there more we could be doing to support SOTA? Absolutely," Vaidya said. 
Vaidya said focusing on informatics and health does not exclude SOTA from the equation. 
Safety walk reschedule
SGA's safety walk was scheduled for after their Monday meeting but is postponed for an undetermined date, according to Committee Chairwoman of University Improvements Noelle Brooks.