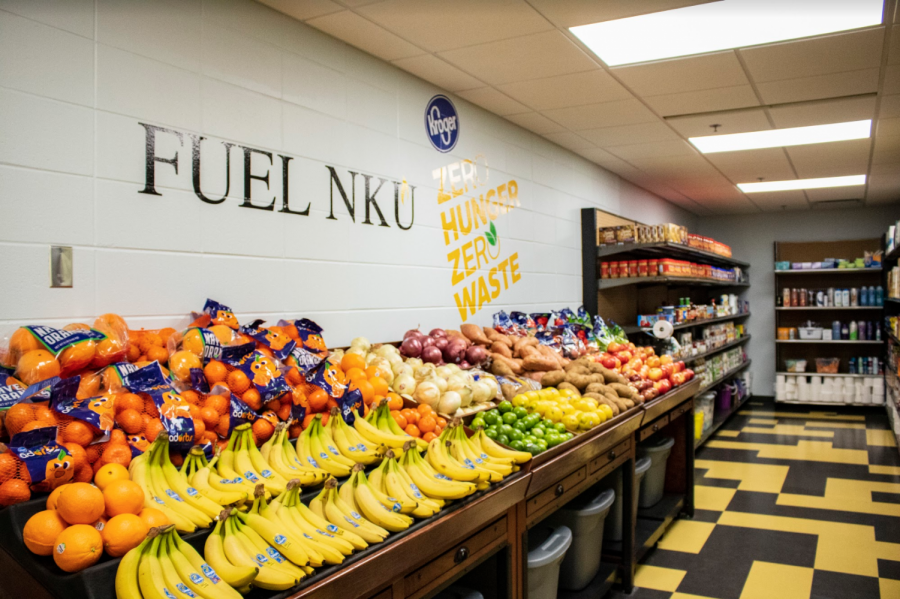 FUEL NKU expanding hours to accommodate students in need
The food pantry will now be open longer on Mondays
October 22, 2019
This semester begins new Monday night hours for FUEL NKU to allow more students to visit and shop at their convenience, bringing a record number of students to their facility.
Fuel NKU is an on-campus food pantry that strives to fight against hunger on NKU's campus while providing a space and community that is giving and striving to provide for college students with food and other essentials. 
FUEL is located in Albright Health Center 104, and opens its doors to any and all NKU students regardless of the severity of their needs. The Director of FUEL, Dr. Jessica Taylor, said the mission and purpose behind FUEL NKU is to provide compassionate, confidential and safe environment. 
"It is our aspiration to educate and facilitate dialogue in regards to hunger at Northern Kentucky University," Taylor said. 
This semester, FUEL has served more students than ever before: 19,000 lbs of food and toiletries were donated, and it has had over 2,000 students pass through their facility.
To accommodate for this increased number of students, FUEL NKU has decided to open their doors later on Monday nights for students who cannot attend their regular hours. The previous hours were 10 a.m. to 2 p.m. The modified hours extend from 10 a.m. to 8 p.m., making the change significant.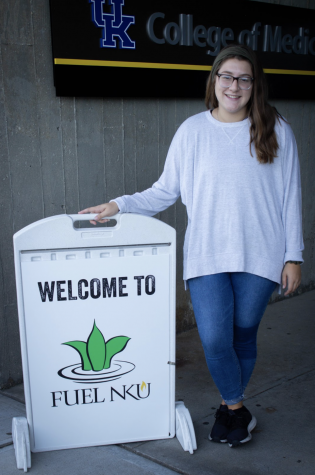 "This change has been received positively, as students who visit FUEL NKU have commented that we are now more inclusive and accessible," Taylor said. 
NKU freshman Lauren Delauder, a nursing major, is a student who would've been unable to visit FUEL NKU if the new extended hours weren't put in place.
"This is my first semester on campus and if FUEL didn't have the night, I wouldn't be able to go and grocery shop; it's really convenient and helpful with this transition into adult and college life," Delauder said.
Students who work or have classes during FUEL's previous hours of operation were not able to utilize being able to shop for food and other necessities for free. The transition to college life can put students in tough financial situations. FUEL intends to bridge that gap and open its doors to all NKU students without question.
The team at FUEL NKU strives to improve and continue to meet students with their needs as much as they can. Amanda Daugherty, social work senior, works at FUEL as part of her coursework and internship for her program. Daugherty sees this as an opportunity to learn and to experience participating in a non-profit community effort to provide for those in need. 
"Working at FUEL has taught me about compassion and generosity," Daugherty said. "The environment is great and knowing that I can play a small part in providing for my fellow student is incredibly rewarding. FUEL is evolving and working hard to serve and provide a welcoming and accepting community right here on campus."
FUEL NKU plans to grow and reach more students in the future. With the move to Albright Health Center 104, the new space allows for plenty of room for students to stop and spend time, Taylor said. 
"This upgrade has allowed us to serve a larger number of students while addressing the issue of food insecurity," Taylor said. "This new location is more accessible and provides a place for students to gather and build a community. It allows for even more students to be able to come and shop."
In the future, FUEL NKU will offer a program to connect even more students to campus and community resources. 
"Our FUEL NKU team is designing an empower hour for students to check-in and connect with resources and case management," Taylor said. "Navigating the higher educational system can be rather daunting, and we want to support students through this journey toward their goals."