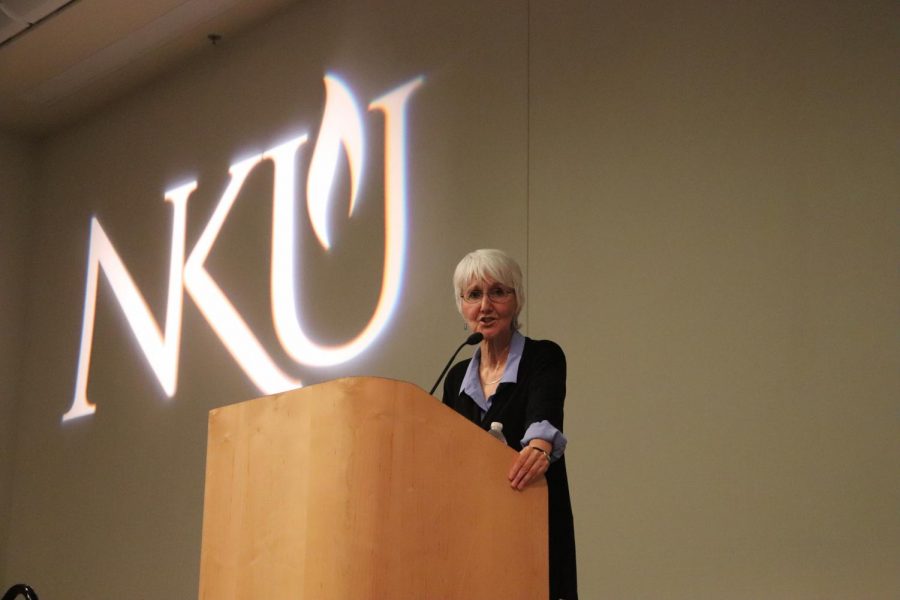 Reaching for hope: Mother of Columbine shooter shares her story
Sue Klebold, mother of Dylan Klebold, visited NKU to shed awareness on mental health
October 10, 2019
Content warning: This article addresses topics of suicide, mental health and mass shootings. 
There wasn't an empty chair in sight as Sue Klebold—mother of Dylan Klebold, one of the two gunmen responsible for the Columbine shooting—addressed the NKU community at "Reaching for Hope: Missing The Signs of a Columbine shooter," presented by Disabilities Programs and Services, as part of the event series for Mental Health Awareness Week.
Many attendees were younger students who only a few years old during the events of Columbine. Knowing this, Klebold gave a brief summary of the tragedy.
On April 20, 1999, two students—Dylan Klebold, 17, and Eric Harris, 18—killed 12 students and one teacher before taking their own lives at Columbine High School in Colorado. This was considered to be one of the worst mass shootings in U.S. history, and the worst incident of school violence at the time. 
Klebold also detailed some of the long-lasting effects that it had on the community that some may not be aware of. 
These topics varied from the remodeling of the school to the people who were indirectly injured or otherwise affected by that day, such as the first responders that experienced great trauma.
Klebold decided to go public with her story after reflecting on the tragedy for 15 years with the publication of her book, "A Mother's Reckoning: Living in the Aftermath of Tragedy." All of the author's profits  go to mental health organizations.
Now, more than 20 years after the shooting, she is an advocate for mental health awareness.
Rebuilding the community
Klebold said many students and staff at Columbine could not bear to come back to the school. Completely replacing the multimillion dollar school was not feasible, but there were efforts to remodel it with special attention to areas in the school that could be most triggering to survivors. 
"To this day, there are still discussions about what to do with the school," Klebold said. "Just recently, there was renewed interest in tearing the school down. This is because it has become, kind of, a 'mecca' for people who are obsessed and fascinated with the Columbine tragedy." 
The Washington Post reported over 150 people try to visit Columbine High School every month. 
"They want to go into the school; they want to take souvenirs. They want to take pictures," Klebold said. 
This kind of attraction poses a threat to the safety of the people there. Just this year, a Florida woman that was infatuated with the tragedy flew to Colorado and purchased firearms nearing the 20th anniversary of the events at Columbine. However, she never made it to the school and her body was discovered after taking her life in the mountains about 30 minutes away from Denver, included in the reporting by the Washington Post.
"This is a very common thing that happens when there are big, high publicity incidents of tragedy. People fixate on it for whatever reason, and it becomes a place of high risk,"  Klebold said.
Indirect loss
When Klebold speaks about the effects that the shooting had on the community, she goes beyond talking about the people who lost their lives or were directly injured during the tragedy. 
"When we identify injuries of mass violence events, we might count that different," said Klebold. 
She told a story about a nine-year-old girl with Cerebral Palsy and how she was at the children's hospital the morning of the shooting. She was in intensive care for a spinal infusion. When an influx of people came into the hospital from the shooting, she was taken out of intensive care and into a room where she caught an infection and died. 
Klebold said there were psychological impacts as well. One example is the effect that the trauma had on the first responders. 
"The chief did not want his staff to look like they needed any help, so he told everyone in the department, 'no one is to go outside for counseling,'" Klebold said.
She said that if they felt that they needed help, the chief said he would bring a counselor to the station who would counsel them there.. 
"Within two and a half years, there were six suicides in that fire department," she said.
The mental illness hidden behind the 'golden boy'
Klebold is passionate about breaking the stigma that often comes with mental illness. 
"[Dylan] was my golden boy. He was the kid that always did beautifully in school. His behavior was easy to control, and he never had any diagnosis of a mental illness. And especially, he was just a joy," Klebold said. 
After a brief and unexpected cluster of bad behavior—including stealing from an arcade and hacking into the school's computer system—Dylan had to do community service, see a counselor and take anger management classes. He was asked if he thought he needed to go to therapy. He said no.
He told his mother that he will prove himself to her and get his life back on track. Klebold said he did everything right, including getting an after-school job at a pizza place, doing sound for plays at school, having lots of friends and getting accepted to four colleges. 
"So, when people ask me, 'how could you not know?' I have to address that by saying, 'sometimes we don't know because they work very hard so that we don't know,'"  Klebold said. 
Breaking the stigma
Klebold is careful to not stigmatize mental illness by tying it directly to violence. She made it clear that the vast majority of people who experience suicidal thoughts are not dangerous to other people. 
"The kind of thing that Dylan did was a statistical rarity,"  Klebold said. "It was one in a million."
Suicidal thoughts and depression are much more common than the kind of violence that ensued at Columbine High School. Klebold said about 13% of teens in high school have thought about a suicide plan in the past year. 
"If we are going to prevent these very rare tragedies, one of the most important things that we can do is help people with thoughts and feelings of suicidality,"  Klebold said.
When people ask her what she would have done differently, she said she would "shut up and listen." To her, parents seem to be terrible listeners. She said it seems that most of the time parents are action-oriented, when the most important thing that they can do for their loved ones is to be around and listen to them. 
"I was the kind of mom that would go to a school event and they might have a suicide prevention table there and I would walk right past it, and think 'well this isn't for me. No one in my family would ever need this,'" Klebold said.
She said the three magic words that are most useful when someone comes to you to share their feelings with you is, "tell me more."
Looking forward
Amy Clark, Director of Student Counseling Services, was incredibly pleased with the amount of students, staff and faculty that attended the event. 
She said Mental Health Week was a success. 
"It has provided a great opportunity to spread awareness, educate and emphasize the importance of mental health," Clark said. "This generation of students is more open than ever before to soak up whatever can be offered relating to mental health."
As part of their outreach, the clinicians at the Health, Counseling, and Student Wellness offer multiple trainings each semester for suicide prevention, a training refered to as QPR (Question, Persuade, Refer.) Clark urges any student, faculty or staff member to attend. 
"We are slowly breaking down barriers around stigma," Clark said. "As we embrace mental health and the idea that it's okay to not be okay, we open the opportunity for individuals to put down the mask and share their story."
Suicide prevention resources
If you or someone you know is having thoughts of suicide, there are resources available near you:
National Suicide Prevention Lifeline: 1-800-273-TALK (8255)
Crisis Textline: Text CONNECT to 741741
Health Counseling and Student Wellness Crisis Line: (859) 572-7777
University Police: Call 911 or (859) 572-7777
National Alliance on Mental Illness Kentucky Crisis Line: (800) 950-NAMI (6264)
To schedule a counseling appointment at Health, Counseling and Student Wellness: (859) 572-5650