At campus pro-life display, opinions split on Roe v. Wade
November 13, 2018
"Life begins when you stand up to Christian fascists" and "I have no right to deny her right" were some of the many signs at the Revolutionary Student Union's Rally for Roe v. Wade on Thursday.
Pro-life group Northern Right to Life showed their annual "Cemetery of the Innocents" display on Oct. 22. The display is made up of dozens of white crosses on the lawn outside Nunn Hall. According to member Maria Walker, the crosses represents the thousands of lives lost to abortion daily.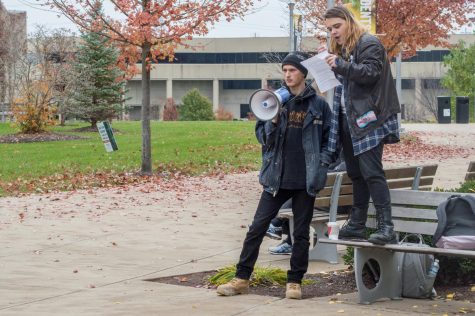 "The reason we put up the crosses is to memorialize all of the lives lost to abortion every day in the United States. There are 2,500 abortions that take place every day and we think that those little lives deserve to be memorialized," Walker said.
Northern Right to Life cited the information about abortions performed in the United States from the Guttmacher Institute.
Nova Grace of the Revolutionary Student Union, megaphone in hand, said to bystanders that "we have to do more" in regards to women's right to choose.
"We have to act and use our connections, our interpersonal relationships to create a new world. We have to embrace compassion and mutual aid, we have to look after each other," Grace said.
Cassie Rinehart held a sign that said "Against Abortion? Have a vasectomy." Rinehart said she wanted to refocus the argument on who she feels is really being affected.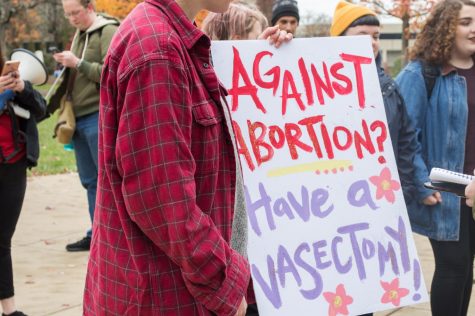 "I think it's important. It affects your friends, your families, students here on campus, your professors…it's really about raising consciousness to making people realize beyond your bubble there are people being horribly affected by this."
Opinions at NKU seem split. One bystander, Emily Beach, said she understands how free speech is important, but wonders if the message of the rally is a little hypocritical.

"It's a little bit hypocritical. It's the point where you are so open minded, you're close minded." Beach said.
Another bystander, Harley Marlette, agreed with points ralliers made, especially in regards to a woman making her own choices about her body.
"I agree with it," Marlette said. "We do need to do more for everyone. A woman should be able to make her own choices, it shouldn't be up to anyone else." 
Grace recognizes the group's constitutional right to free speech, but believes the crosses and other displays from the group can be triggering to those who have had abortions.

"I can't say that I personally believe that I have any constitutional right to say 'no don't put crosses there', but the way that we know that this progresses into them then putting up these horribly triggering images everywhere…we want to nip it in the bud earlier," Grace said.
Walker said Northern Right to Life understands their content may be triggering, but doesn't think it should stop them from bringing awareness about the issue of abortion.
"As far as the triggering content and things like that we understand the display can be triggering but still think these lives need to be memorialized and people need to know what's going on…But if anyone needs help or support we do have resources for people who've had abortions and post abortive care and there are resources in the area as well," Walker said.