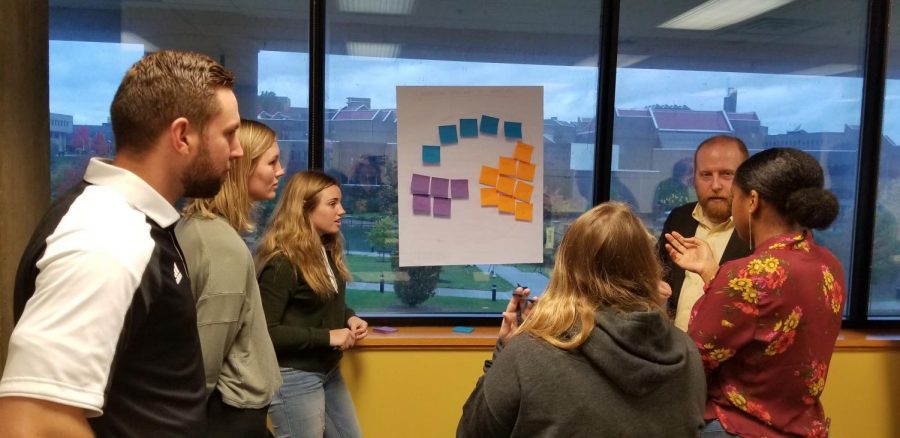 Innovation and entrepreneurship center ranked top 5 best worldwide
November 8, 2018
NKU's Center for Innovation and Entrepreneurship has been recognized as one of the best in the world for their efforts in launching and supporting student-led startup companies.
The center was one of five finalists chosen for "Outstanding Contribution to Venture Creation" at the annual conference of the Global Consortium of Entrepreneurship Centers (GCEC). It's the second time the center has received a top five listing from the GCEC in recent years.
NKU is in great company for this year's top five honor. Other colleges in the top five include Michigan State, Babson College, The University of Notre Dame and University of Stockholm in Sweden. More than 100 submissions were reviewed by peer institutions to recognize the very best in entrepreneurship education, of which CIE was selected.
"Entrepreneurship has become a central and vibrant educational component at most top universities around the world," said Brad Burke, executive director of the GCEC and managing director of the Rice Alliance for Technology and Entrepreneurship at Rice University. "Universities play a critical role in global innovation and economic development."
Created in 2014 as a hub for students wanting more out of their education, the CIE is housed inside NKU's Haile/US Bank College of Business and is led by interim co-directors Jeff Varrone and Zac Strobl. Students gain hands-on experience and take control and ownership of their futures by participating in innovation and entrepreneurial activities inside and outside of the classroom.
"The CIE is built on a strong foundation and has recently been one of the top performing entrepreneurship centers not just nationally, but globally as well. This recognition is largely due to the success of the students and alumni who have graduated from our programs," Strobl said in a news release.
The CIE houses an award-winning curriculum which offers a combination of a major and a minor in entrepreneurship. The GCEC also listed NKU as a top five finalist for the same "Outstanding Contribution to Venture Creation" award in 2016. Additionally, the CIE received the GCEC's 2015 "Exceptional Activities in Entrepreneurship Across Campus" award in 2015. The GCEC is the world's premier organization for addressing emerging topics to the university-based centers for entrepreneurship across the U.S.
"More and more institutes of higher education are recognizing that teaching entrepreneurial skills are key to the success of our students and the world's future economy," Burke said.
This year's GCEC Conference hosted more than 250 top universities from around the world and was held in Chicago Oct. 18-20.