How NKU fights its shrinking enrollment
There are 1,250 less students at NKU now than seven years ago. For every 13 students that enrolled then, 12 enroll now.
October 24, 2018
It's not something easily noticed when campus feels busy and parking is limited, but enrollment has dropped over the last seven years. Based on NKU data, there are 1,250 less students enrolled now than there were in 2011. This uninterrupted downward trend coupled with a new performance-based state funding model brings NKU into unknown waters.
During this semester's first Board of Regents meeting, NKU President Ashish Vaidya outlined NKU's budget shortfall.
"Currently, our projected enrollment decline for fall 2018 is approximately 4 percent when excluding our accelerated online students. This has an estimated shortfall budget of $2.7 million for this fall," Vaidya said during the Sept. 12 meeting. "While we are not exactly sure what the reason was for this rather abrupt decline, preliminary analysis suggests that many of our students are returning to work or dropping down to part time status in order to work some more."
Vaidya later discussed the solution to this problem: recruit and retain 540 new students. This was based on an analysis of both the offices of Institutional Research and Enrollment & Degree Management, and would require the campus faculty to further brainstorm ways of getting these students.
NKU's 4 percent decrease in student enrollment last year contributed to a budget shortfall of $2.7 million because tuition is the largest contributor to the university's overall budget. In the 2017-18 academic year, tuition made up roughly $138 million of NKU's budget, over 60 percent. A shortfall in the budget is just that, falling short of the administrators' expectations. For this fiscal year, the 4 percent drop in student enrollment meant that NKU did not earn $2.7 million, but it does not mean NKU has $2.7 million in debt.
Continued decline in enrollment could lead to further shortfalls, which means less spending on everything. This year's shortfall occurred because NKU estimated the enrollment decline on historic data— but is there a precedent for enrollment decline?
Performance-based funding model
"We as NKU received this unfair treatment from the state relative to the state funding we receive," said Adam Caswell, assistant vice president of government, corporate and foundation engagement. "This isn't unique for Northern Kentucky University, if you go anywhere across the region, you'll hear people say that we send our tax dollars to Frankfort and we don't get the same amount back."
In 2013, NKU was commissioned by the Kentucky Council on Postsecondary Education to determine whether these funding disparities were true. According to Caswell, the findings backed up NKU's claim: there really was a funding disparity. The state legislature then raised the funding level with an equity adjustment of about $5.1 million to get NKU close to peer institutions and began working on Kentucky's new performance-based funding model.
According to the council, outcomes-based or performance-based funding, provides incentives for campuses to increase retention, completion, degree production and other priority outcomes as an important strategy to accelerate improvement. The goal of this is to raise the number of students getting an education in Kentucky from 45 percent to 60 percent.
Now that the model has been implemented, the effects are being phased in slowly to ensure institutions aren't hurt by the changes. Last year was its first year in action and it only accounted for one percent of NKU's state appropriated funds. This year, it will only account for two percent.
For perspective, the 2017-18 school year saw approximately $52 million in state appropriation, which made up for only 23 percent of NKU's budget. Only $520,000, or one percent, of NKU's state appropriation came from this model last year.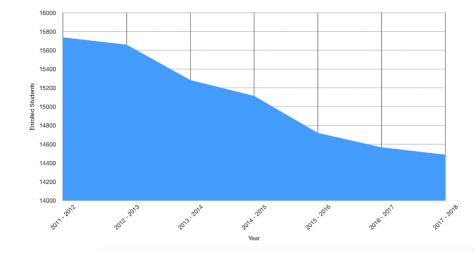 "The third and fourth years of implementation will go into effect with a hold harmless provision, meaning everyone will be 'held harmless,'" Caswell said. "This was done intentionally to get everyone familiar with the model and to ensure that its implementation did not disrupt other campuses that might be underperforming."
The fifth year is undecided. There is no legislation in place to determine what will happen and unless the legislature decides on something, that's when the model may go into full effect. Built into the model is a mandatory session with those who helped create it that takes place every three years. This is where the individuals responsible for creating Kentucky's funding model will get together and review whether it is working as expected.
"What we hope is that [underperformance] doesn't spur action to abandon a model that, in our opinion, is really good," Caswell said. "If we get to the end of the model and there are institutions that underperformed and would lose money to the point that it would damage their ability to educate students, that's when you look at it and say we can offer assistance in whatever way."
Performance-based funding makes no attempt to mask its nature. Quotas are set, expectations are made, and if the institution cannot reach that goal then less state-appropriated money comes in. If the model is based around the incentive of money for course completion, student success and operational support, then it stands to reason any institution could lose money for declining enrollment.
Impact of tuition on enrollment
Northern Kentucky is as much part of the Greater Cincinnati area as it is Kentucky, but the tuition rates between both have grown apart. In particular, the cost for a Cincinnati student to attend NKU has grown disproportionately when compared to a Northern Kentucky student attending the University of Cincinnati.
"Our state pulls in certain indices that they track us against the other institutions of Kentucky. Nothing about Ohio, Indiana, Illinois, it's just the Kentucky state institutions," said Kimberly Scranage, vice president of enrollment and degree management.
However, both NKU and UC offer students from across the river reciprocity or metro rates. Reciprocity means that out-of-state students would pay the same amount as in-state students, as long as they qualify. Metro rates are similar but seem to have be viewed differently by each state.
According to NKU, Ohio reciprocity only applies to students who have already attained an associate's degree in Cincinnati, whereas UC extends Kentucky reciprocity to anyone who lives in Northern Kentucky and a bit beyond. NKU offers metro rates to anyone who lives in Cincinnati, but doesn't qualify for reciprocity rates. UC, on the other hand, offers metro rates to any resident of Kentucky.
"We're in a unique location so we have competition from the University of Cincinnati, Xavier less so, Miami, a little bit but less so," Scranage said. "Our primary competition is UK, U of L, Eastern and Western. That's really our competition next to UC."
As it stands, it costs residents of Cincinnati without an associate's degree more to attend NKU than to attend UC. Even though students paying the metro rate are eligible for a tuition incentive program, it doesn't guarantee the price of NKU to be less than UC.
Age and enrollment
While enrollment has been declining, students up to the age of 21 have increased in NKU's undergraduate programs. Students 22 and older have been in decline though, with students becoming less likely to enroll the older they get.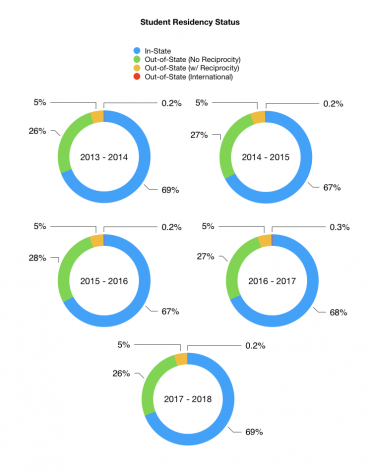 "High school graduates themselves are up, but over the last few years the number of high school graduates going to college has decreased," said Ryan Padgett, NKU assistant vice president for enrollment and student success. "What's important in that is that it really follows the economy. Anytime you have a strong economy college enrollment tends to go down because high school graduates will go straight into the workforce."
This could explain why some students aren't enrolling, but data indicates that NKU has seen more college-aged students enroll year after year. This case could be argued for older students but available data doesn't currently support that statement.
According to Ande Durojaiye, vice provost for undergraduate academic affairs, a strong economy typically means that there is an increased opportunity in the workforce. Adult learners, who would likely have more work experience than college-aged students, would be just as likely to continue working or go back to work.
"What we're doing is, we're trying to get our departments to come up with ways to provide programs in different formats or being administered in different ways. We're talking about increased online courses, we're developing adult specific sections of courses," Durojaiye said.
These courses would be offered in the evenings, on the weekends, or in a hybrid format over seven weeks.
"We're doing all this because we know that flexibility is going to be the most important thing when we talk about our adult learning population," Durojaiye said.
What NKU is doing about it
NKU isn't the man behind the curtain when it comes to big decisions like this. They work within a system and they have to make the best of their circumstances.
"It's been unfair to NKU students over the last 20 years that we haven't had near the resources of our peers to be able to accommodate the growth that we've seen. We've done all that organically without addition appropriations from the state," Caswell said.
This treatment has led to many innovations at NKU. The metro rate for Cincinnati students doesn't compete with in-state tuition for UC. The change took place in the fall of 2017, along with Kentucky's new performance-based funding model. To make the best of this change, NKU created the Tuition Incentive Program which offers up to $5,200 as a scholarship for metro students.
"Now we have micro-grants and micro-scholarships to help students," Scranage said. "The research shows it may only be $500 that's keeping a student from re-registering and succeeding. We're identifying these students early on and reaching out and helping them."
NKU is also working with over 100 pathways, community colleges and other programs in and around the region, to make the transition from community college to university as seamless as possible.
"NKU's reputation in the community and across the state has always been 'we understand the needs of our region.' We saw that with the College of Informatics, we were a region in the need of tech talent, insert Griffin Hall and COI," Caswell said. "Next, we heard we were going to have this major shortage of healthcare workers in our region by 2030, insert Health Innovation Center, a state-of-the-art facility gaining national recognition."
Caswell believes the next big program is logistics thanks to Northern Kentucky's unique geographic location. With companies like TQL, Verst Logistics, the immense growth coming from CVG and the upcoming addition of Amazon Air's new hub, logistics may be another asset for Northern Kentucky.
"There is a tremendous amount of energy behind the supply chain management program in the College of Business being led by a former industry leader in Mark Thackeray," Caswell said. "He was senior vice president for General Cable, he retired, wanted to figure out what he wanted to do next and we're so fortunate that he is here as an industry expert leading this program in our College of Business."
Performance-based funding was something that NKU heavily advocated for. In theory, the process is fair and should be unbiased, but the factors that control enrollment and retention aren't all under NKU's control.
Still, as Kentucky moves forward with its performance-based funding model for higher education, only time will tell if enrollment continues to slip.