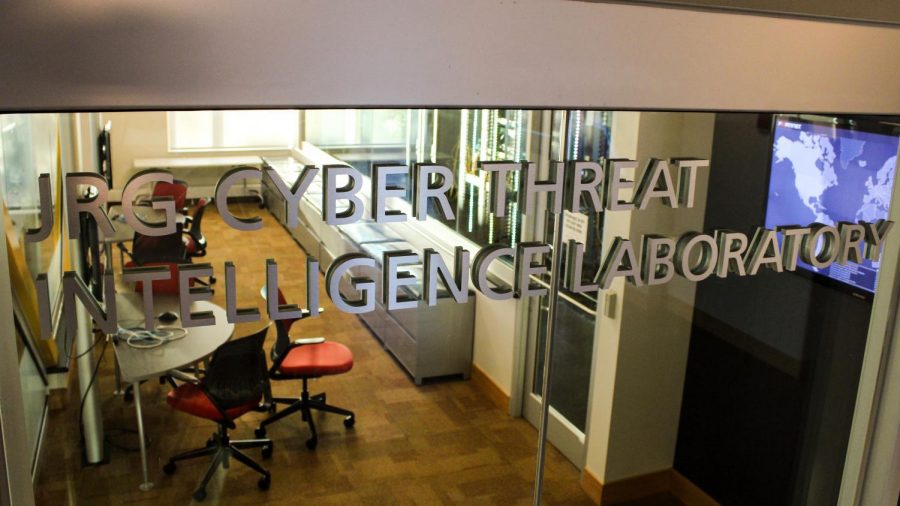 Cybersecurity: NKU symposium celebrates the tech that protects us
October 10, 2018
For 15 years, October has been National Cybersecurity Awareness Month, according to the Department of Homeland Security. Various events and conferences happen throughout October to promote awareness for cybersecurity.
On Oct. 11 and 12, NKU will be hosting their 11th annual Cybersecurity Symposium. In 2007, Director of the Center for Information Security and Computer Science Professor Dr. James Walden created the event, due to there not being many similar events in the area at the time.
Originally, it was held at the METS Center, then the Northern Kentucky Convention Center. Due to costs, the symposium moved to NKU last year.
Communications and Events Manager for the College of Informatics Krista Rayford said having the symposium on campus can be used as a recruiting tool.
"A lot of folks have enjoyed coming to campus; it's bringing back a lot of alumni from NKU that haven't been back since they graduated," Rayford said. "Which is a great tool for, I think, for the College of Informatics as a whole because you get people that don't understand the College of Informatics, but then they get to see Griffin Hall and they get to see what we're all about."
The event is designed for people in the cybersecurity, data analytics and computer information technology fields to come and "get a refresher," according to Rayford. The symposium is also open to attorneys—who may not be familiar with cybersecurity— to come to the event and learn more about the legal side of it.
With a total of three half-day workshops on Thursday and seven tracks being held on Friday, attendees can learn about legal issues, emerging topics, security awareness and culture, risk management and more.
Walden will be hosting a workshop on Thursday about machine learning and security.
Walden said machine learning is in everything around us, whether it's Amazon's Alexa recognizing your voice or Google anticipating your search query. He said people need the help of learning algorithms to sort through data and find anomalies and patterns that might indicate something bad has happened, such as a person getting hacked.
Another workshop on Thursday is an introduction to digital forensics, where attendees will investigate hard drives to look for signs of criminal activity and network intrusion.
This is the first year the symposium is also aimed to help students, or people new to the cybersecurity field learn more about it with a track on "Getting Started in Cybersecurity," according to their website.
"Thursday afternoon and all day Friday is for students. We created this to try and get more students interested in cybersecurity. And, you might not be able to fit a cybersecurity or a security class into your schedule, but hopefully you can make some of these events, just to see what this field is like," Dr. Maureen Doyle, department chair of computer science and professor said.  
Doyle said having an introductory track is a good way to "spark interest" in people who are potentially interested in the field, saying that the unemployment rate for cybersecurity is zero.
The symposium is also a good way, according to Doyle, for students to network and meet professionals in the field.
"You don't normally have lawyers talking to potential tech students, right? You don't normally have a [chief information system security officer] talking to a potential student, who's interested, just to find out what cyber security is," Doyle said.
This year's keynote speaker is Jane Holl Lute, former Deputy Secretary of Homeland Security. Lute is also President and CEO of SICPA North America and Special Advisor to the Secretary-General of the United Nations.
According to Doyle, the keynote speaker can impact the event by setting the tone. In past years, she said speakers have used fear, humor and lessons while speaking. One year—when the amount of computers in cars weren't fully understood—Doyle said a keynote had a video of professors hacking into the computers in a Toyota Prius to show how it easy it was.
"It wakes you up," Doyle said. "I think every time I've gone to one of these, I get woken up a little bit more to an area in security I wasn't aware of."
Walden said that security is constantly changing, as well as the threats. The symposium allows for attendees to stay up-to-date with information in their field.
"I hope it will help people improve the security of their organizations, so they'll bring back knowledge and apply it to their work and that they'll share the knowledge—also—with other people in their workplaces," Walden said. "Because even if security isn't your job, we're really at a point where everybody has to know about security."
For more information: https://nku.eventsair.com/QuickEventWebsitePortal/cybersecurity/symposium