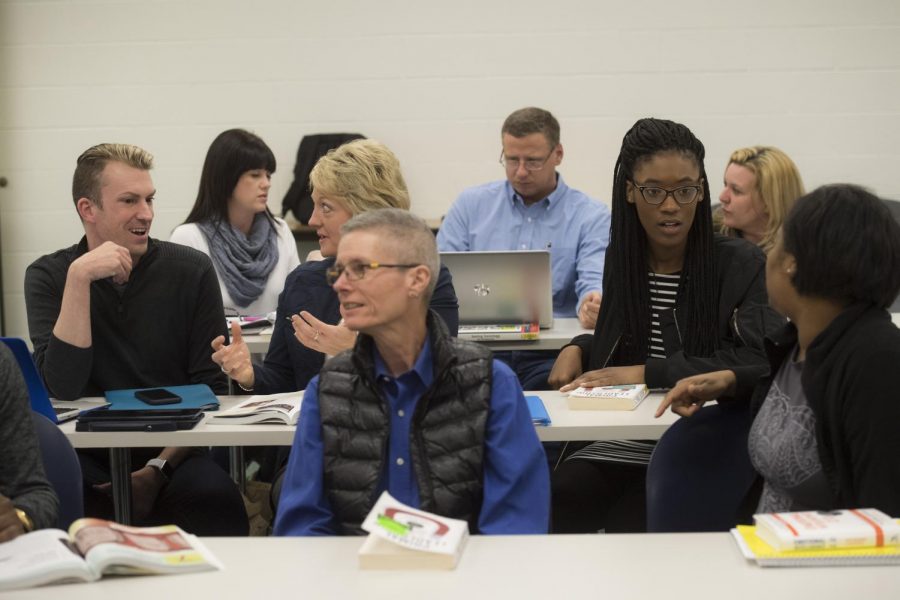 Changing PACE: NKU's adult learning program expands
August 29, 2018
For anyone trying to access the website for NKU's Program for Adult Centered Education (PACE), you might be concerned to see a blank screen. But PACE isn't ending — the program offered to approximately 200-300 non-traditional students is broadening.
Amy Danzo, director of Adult Learner Programs and Services (ALPS), describes PACE as a successful way for adult students in the workforce to complete their degree. But she says it's time for a change.
"[PACE] was a program underneath this bigger umbrella called ALPS…since it's not going to be its own program anymore, it's going to be opened up to everyone — all adult students. It makes sense to close that umbrella," Danzo said.

According to Danzo, the program offered such concentrated help to its students that it had to be limited to a smaller number. This included extensive advising, pre-admission counseling, recruitment and creating a path to graduation.
The smaller PACE program offered only a handful of majors: computer information technology, business information systems, organizational leadership and integrative studies.
"When people think of PACE, they think of those four majors." Danzo said. "We don't want them to think like that anymore.
"We want anyone — whether you're in anthropology, or you're in nursing, or you're in a business major or you're in psychology, we want all adult students to feel like they can come and use our services."
That "anyone" includes the 2,500 non-traditional adult students here at NKU. Although the program is opening itself up to a larger population, the staff includes Danzo herself and two ALPS Coordinators and Advisors, Sara Conwell and Kim McCoy. The challenge now is to do more with less.

"We'll see what happens. I think if this continues to be successful and we continue to grow it and we have more contacts with adult students and we can prove that these services are necessary, then possibly we'll get more people to help us then," Danzo said. "But right now it's us three."
Although the difference between 300 and 2,500 may seem vast, Danzo said current adult students aren't necessarily in need of some of the services ALPS provides, such as information about registration.
Still, they are welcome to seek help with other inquiries; ALPS recruits non-traditional adult students, helps incoming students receive credit for courses based on their previous certifications and life experience, advises students and exists as an anchor when adult responsibilities such as raising children or working full time can get to be too much.
"Our mission is to see to it that adult students are retained and graduated here at NKU. If they
stick with us, we're going to help them through that," Danzo said.
One thing Conwell emphasized was the importance of professors in the role of ALPS. Without the professors, she said, ALPS wouldn't be able to exist because there wouldn't be late classes offered to suit the needs of the students.
Without the professors, she said, night classes would not be available to students who work during the day. In effect, ALPS wouldn't exist.

"As soon as they're done at 5 o'clock, they're coming to campus for class at 6 and they're here until almost 10. And they get up the next morning and they do it all over again," Conwell said. "The instructors, they understand. They just get it."
Anson Turley, a PACE student turned ALPS student, 51, is an organizational leadership major who had no desire to go back to college online.
"Sitting at home alone on a computer is not my idea of beneficial learning," Turley said.

Turley said he's met really great people on the program and benefited from this educational avenue that worked well with his schedule.

"It's allowed me to pursue my degree while at the same time taking care of my work and family responsibilities," Turley said.

The relationships formed through PACE and now through ALPS, according to all three ALPS staff, were a key component of their excitement about expanding the program. McCoy said a gratifying part of PACE and ALPS is hearing feedback from graduates they helped along the way.
"It feels good getting those emails, like, 'Thank you,'" McCoy said.
Danzo also expressed her gratitude for the hard work that Conwell and McCoy invested in the students of PACE, and she's excited to work with them as PACE transitions to ALPS.
"If you talk to any of these PACE students, you will not hear one horrible thing about these two," Danzo said. "They're amazing advisors; are always so responsive to their students. They've been nominated by their students for awards and I feel lucky, very, very lucky, to be able to work with them and learn from them.
"And I've learned a lot already. They're helping me to be a better champion for adult students."