Convocation 2018: 3 takeaways from Vaidya's first address as president
August 14, 2018
NKU President Ashish Vaidya spoke to faculty, staff, students and alumni at his first Convocation in the Student Union ballroom Monday. In his first address to the university as its sixth president, he highlighted the hope he has for NKU's growth, innovation and insight into the strategies that could make his goals a reality.
Here's what you need to know about Vaidya's Convocation address:
NKU can't tackle pension issue alone
Vaidya discussed the growing financial challenges that public higher education faces today.
"Declining state support, changing student demographics, weakening public support for the value of college and our own uneven attention to serving students have come together to create severe financial pressures," he said.
Vaidya said that in his early visits to NKU, he believed growing pension contributions  with no relief in sight was an issue that needed a fresh approach. He calls for a solution that doesn't place the burden solely on NKU's shoulders.
"The pension crisis is not of our doing, and requires a collaborative solution with all parties at the table," He said.
Vaidya announced that state pension system director David Eager will visit northern Kentucky in fall to discuss ways to "mitigate the impact on institutions like NKU." NKU staff fall within the Kentucky Employee Retirement Systems (KERS).
Vaidya expressed his admiration for the resiliency displayed by the NKU community  during a tense legislative session last year. He said administrators are seeking input on where budget and staff changes need to be made, and that "investing in our people will remain a high priority."
'Inventing our own airplane'
When introducing the topic of a new strategy for NKU, Vaidya described the days of transatlantic travel. During the early 1900s, inventors and engineers worked to build faster ships. Meanwhile, the Wright Brothers were inventing the first airplane, which would make even the fastest ship obsolete.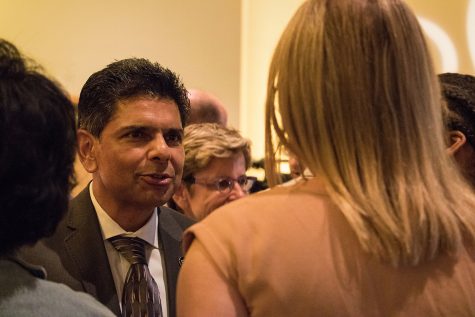 "While the rest of universities are focusing on building a faster ship, we should also be thinking about inventing our own airplane," he said.
To do that, Vaidya believes NKU must apply the three-box strategy from Vijay Govindarajan, which focuses on managing the present, selectively forgetting the past and creating the new future. In order to "advance student success," we must recognize and improve on what we are doing well now, shed the practices that are no longer working for us and design "new ways to serve current and future students."
He said that over the course of six months, a three-year strategic framework for NKU will be developed by a team assembled in the coming weeks. Vaidya will meet with Faculty Senate, Staff Congress, Student Government and the Alumni Association to nominate individuals.
"We are northern Kentucky's university, and over the next six months, we will redefine the narrative about the purpose and value of an entrepreneurial and engaged state university for the next half century," Vaidya said.
Community can help NKU rise
Vaidya also touched on the importance of the community surrounding NKU. He mentioned the distinctive features NKU has as a university, such as dedicated faculty, the new Health Innovation Center and the growing Norse athletic program, and described the benefits of the region around the university.
"The greater northern Kentucky-Cincinnati region is a diverse, thriving ecosystem with vibrant neighborhoods, world-class arts and dining and engaged communities. This region has strong industry clusters in advanced manufacturing, bio-health, food and information technology," Vaidya said.
He also described the area as a strong startup region with its high livability, especially for new college graduates with benefits like job and social opportunities and affordability.
Despite the present positives of the area, Vaidya wants to push for even greater success for the community.
"What this region needs is more: more talent in tech and health-based fields, more civically engaged and community-minded citizens and more innovations to address the critical and pressing social and health-related challenges of today and tomorrow," he said.
Vaidya expressed hope and optimism for the future of NKU and encouraged faculty, staff, students and alumni as the community embarks on a new chapter for the university.
"The adventure we're all about to begin will not always be easy, but it will be rewarding and it'll be successful because we're all in it together."