BREAKING: Edelen, Frey win SGA presidential election
March 30, 2018
The results are in: Hannah Edelen and Matt Frey will be the 2018-19 student body president and vice president.
Edelen and Frey took 52 percent of the vote for SGA's top office. Taylor Gagné and Caleb Tiller followed with 27 percent, Jachelle Sologuren and Alex Voland took 16 percent, and Samantha Marcum and Derek Holden took 5 percent.
Spring election commissioner Hunter Poindexter announced the results to a crowd of about 40 gathered outside the SGA offices on the third floor of the Student Union on Friday.
During their run, Edelen and Frey said they would work to impose a dead week before finals, get more student discounts at local businesses and hold public forums on student issues.
Edelen, a junior economics and communications studies major and current SGA public relations secretary, said she feels "overwhelmingly blessed" by the support.
"We really couldn't have done this without the people that stood beside us since day one," Edelen said. "This is more than just a student body here; this is a family."
Frey, a junior economics major, is also thankful for the support of the student body, but says "we need to keep this momentum going."
"We need to make sure that everyone has the same passion and energy that Hannah and I have for these issues moving forward," Frey said.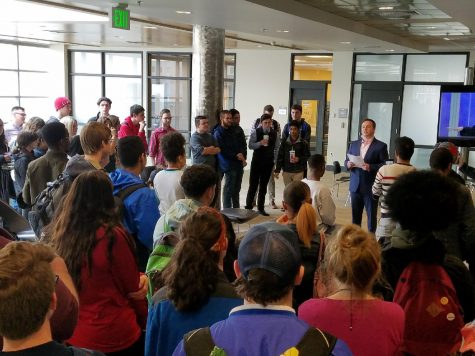 One of those issues is the "furthering of student worldliness and diversity education," an issue that needs more focus, according to Frey.
"It takes a village, and the NKU community is representative of that and all of the opinions and groups within this campus," Frey said. "We need to make sure that they're represented correctly and that we continue to reciprocate the support that they've shown us."
Presidential runner-up and SGA Chief of Staff Taylor Gagné said he thanks his supporters and wishes the winners the best.
"I have confidence in Hannah and her plans for NKU," Gagné said.
WE DID IT! Thank you all so much for all of your continued support and dedication. We promise to serve our students to very best of our abilities. We are so excited to begin this journey with you all. #IPFA4NKU 💛

— Edelen & Frey | President and Vice President Elect (@ipfa4nku) March 30, 2018
As for Edelen and Frey, they are looking forward to using this opportunity to bridge communication with all students and reinforce NKU's values.
"I hope that we can create that same support that we had alongside us and bring that to everyone here at this university," Edelen said.
"We're just getting started."
Edelen and Frey will succeed current president Sami Dada and vice president Erica Bluford next fall.
The SGA president chairs the student senate and serves on NKU's 12-member Board of Regents and the Kentucky Board of Student Body Presidents. Vice presidents represent students in Faculty Senate and Staff Congress.
View the full results of the SGA election below:
PRESIDENT, VP
Hannah Edelen, Matt Frey – 591 votes (52 percent)
Taylor Gagné, Caleb Tiller –  305 votes (27 percent)
Jachelle Sologuren, Alex Voland – 184 votes (16 percent)
Samantha Marcum, Derek Holden – 61 votes (5 percent)
SEC. OF STUDENT INVOLVEMENT
Jordan White – 402 (41 percent)
Iain Applebee – 354 (37 percent)
Zoe Koza – 216 (22 percent)
SEC. OF ADMINISTRATION
Mick Nelson – 985
SEC. OF PUBLIC RELATIONS
Zachary Stone – 975
JUDICIAL COUNCIL (5 elected)
Christian Dichoso – 607

Brenda Moran – 596

Noah Cullen – 564

SENATORS (25 elected)
Ethan Craig – 464
Paula Marie Gagné – 389
Chinedu Asinugo – 385
Janiah Miller – 370
Samantha Theders – 342
Nicholas Morgan – 339
Brynn Cahal – 333
Trayonna Barnes – 320
Christian Ramirez – 317
Alison Vesgas – 313
Roberto Amazendes – 307
Zachary Dichtl – 291
Madison Juarez – 288
Jarett Lopez – 276
Jared Gilliam – 268
Karim Zein – 266
Jake Anderson – 264
Kris Henderson – 253
Austin McDaniel – 253
Kolawole Akinrele – 252
Keara McClellan – 251
Noel Waltz – 240
Jontay Brown – 233
Patrick Rider – 227
Houston Weedn – 217
Nathan Pappas – 206
Allan Milward – 201
Michael Emmerich – 198
Davis Walzer – 182
The Northerner's Sam Rosenstiel contributed to this report.