NKU trends toward diversity
March 21, 2018
Dr. Kathleen Roberts serves as NKU's Senior Advisor to the President for Inclusive Excellence. From her office at the top of the Lucas Administrative Center she coordinates with staff and faculty across campus. Roberts, NKU and the Commonwealth want college to be a culturally affective experience that brings new perspective to their students.
"This work is about collective responsibility and collective accountability. It's not about me, it's certainly not about this little office here, right?" Roberts posed. "I don't have a staff, I have an administrative assistant, that's it. In a perfect world I would have my counterparts in all the colleges and they'd be my team."
Understanding and gauging the campus climate, in all its abstractions, is a big part of what she does on a daily basisーwhich includes ensuring that each individual college within NKU has their own diversity plan that aligns with the university's.
"When you're measuring campus climate you are measuring people's perceptions of their experience, of a sense of belonging," Roberts said.
This is where Roberts' perfect-world scenario would be effective: a representative in each college to further an inclusive and culturally competent agenda. Not every college at NKU has its own program or group of individuals dedicated to seeing this mission through, but the science, technology, engineering and mathematics (STEM) programs do.
Dr. Madhura Kulkarni serves as the director for the Center of Integrative Natural Science and Mathematics (CINSAM), and works to ensure that STEM programs are inclusive for students at NKU and the surrounding area.
Inclusiveness is defined as "the quality of including all sections of society," which the United States has advocated for, but hasn't necessarily had the best track record in practice. The Commonwealth of Kentucky further classifies those who are not among the majority as underrepresented minorities (URM), which are defined as "student[s] who categorizes themselves as Hispanic or Latino, American Indian or Alaska Native, Black or African American, Native Hawaiian or Other Pacific Islander, or two or more races."
Both Roberts and Kulkarni believe that having staff and faculty who represent the varied demographics of NKU's greater community help create a more inclusive learning environment. The difficulty is finding diversity in a region that is predominantly white. According to Roberts, NKU services the eight counties surrounding it, which encompasses all of Northern Kentucky.
"The URM of the eight counties here is 7.7 percent ," Roberts said. "We want the diversity of our faculty to, at a minimum, mirror the percentage of the diversity of our students."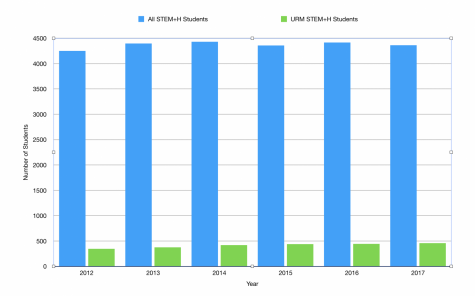 Though progress has been made not only at NKU but also in the professional world, the issue still stands. Inclusive workplaces and campuses alike represent their communities, not just in language, culture and values, but in race and often socioeconomic backgrounds as well. It isn't a matter of just filling a quota; it's a matter of helping others develop real world understanding of other cultures and of eradicating implicit biases.
"The main reason we form these implicit biases are exposure to certain patterns and a way to counter that is exposure to different patterns," Kulkarni said. "Being in a university setting you may have the chance to interact with different people one-on-one personally to counter some of those narratives you may have gotten earlier in life from TV or billboards or other people who have not had those interactions with actual people."
It's an aspect of college that often gets overlooked when compared to receiving good grades and finding a worthwhile career; having diversity brings a measure of understanding to students across campus.
That has proved to be a slow process for NKU, but the results are starting to show. Not only has NKU's URM population increased from 9 to 12 percent between 2012 and 2017,  but the STEM programs have seen a notable improvement as wellー moving from approximately 8 percent in 2012 to 10 percent of STEM students in 2017.
Ellen Hokkanen, director of STEM recruitment and retention, attributes this to a collective effort across all STEM departments to put a focus on student diversity (factoring in a student's background) for some of the scholarships they offer, that may not necessarily be designated as such.
"Our whole mission in CINSAM is to promote this equity between everybody in STEM so that we have representation from these different types of groups," she said.
This can be seen in a number of places: from undergraduate research (UR-STEM) to Minorities in STEM, even things as simple as young children touring our campus. CINSAM receives an endowment that allows them to create learning experiences for students during the summer.
"We're creating [Summer Academies] to be something of value to someone looking for college and a career. We have six of those this summer from our STEM departments," Kulkarni said. "Not only will those students get to do a deep dive into the subjects but also get a college experience, visit areas on campus, and talk to admissions counselors."
NKU has lofty goals for diversity, forecasted years into the future. According to NKU's Inclusive Excellence program, Catalyzing Institutional & Education Excellence, the school strives to have a 14 percent URM student population by 2021. With the foundation that people like Roberts, Kulkarni and Hokkanen have put in place, NKU is on track to being a more diverse and culturally inclusive place.