UPDATED: Bevin recommends $3.9 million cut to NKU
Funding retirement system means cuts for school and math center, NKU still to pay $31 million for pensions
January 16, 2018
Gov. Matt Bevin proposed a 7.7 percent funding cut for Northern Kentucky University in his state of the Commonwealth address on Jan. 16.
For NKU, whose state appropriation for fiscal year 2018 was $51.6 million, that cut represents $3.9 million in lost funding.
The budget also offers no funds to the Kentucky Center for Mathematics, an NKU math education research program located in Campbell Hall.
Bevin recommends NKU receive $47.1 million for fiscal year 2019.
Here are the 70 programs Bevin is proposing to cut.

Full budget is here:https://t.co/lvDuqR7wpC pic.twitter.com/SccPG4Lh9h

— Ryland Barton (@RylandKY) January 17, 2018
The $516,000 cut interim pres. Gerard St. Amand announced on Jan. 10 will also occur before the end of the fiscal year. This adds up to a 1 percent reduction for all state university budgets.
Beyond NKU, other higher-ed institutions could see similar challenges: Western Kentucky University faces a 6.3 percent cut totalling $4.7 million, while Eastern Kentucky University may experience a 5.7 percent cut totalling $3.7 million. University of Louisville faces a 5.2 percent cut totalling $6.9 million and the University of Kentucky faces the largest 8.9 percent cut totalling $23.5 million.
In total, state funding for postsecondary education would drop by $63.2 million.
"The real budget focus is getting our financial house in order," Bevin said during his speech in Frankfort.
Bevin's proposal must be considered and approved by the Kentucky General Assembly, which is in legislative session until April 13.
Kentucky State Sen. Wil Schroder (R-Wilder) said the House and Senate will review and draft their own version of the budget, a process he believes might go to the end of the session.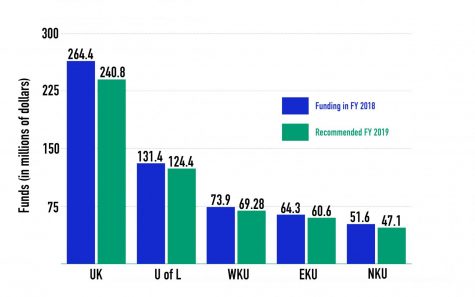 "There are 138 legislators so it's hard to predict how the final budget bill will look but I do expect substantial changes," Schroder said in an email.
NKU still to pay $31 million
Adding the proposed $3.9 million cut to a projected $31 million pension contribution means 67 percent of NKU's state funding goes back to Frankfort in 2019.
The budget proposal cuts all funds to 70 state programs to fund the pension system, which credit raters say is currently the worst-funded in the country. In his address, Bevin pledged to fully fund both the Kentucky Retirement System (KRS) and the Kentucky Teachers Retirement System (KTRS) with $1.1 billion and $2.3 billion, respectively.
KRS includes the Kentucky Employees Retirement System (KERS). Even if KRS, and in turn KERS, are fully funded under the final budget, NKU's $31 million payment will not drop.
Without "significant" pension reform before July 1, NKU and other affected universities will have to match 84 percent of pensioned employees' salary dollars, according to NKU Asst. Vice Pres. of Corporate, Government and Foundation Engagement Adam Caswell.
Math center one of 70 programs cut
The governor's budget allots no state funding for the Kentucky Center for Mathematics, which has offered math education programs and resources to school districts across the state since opening in 2006.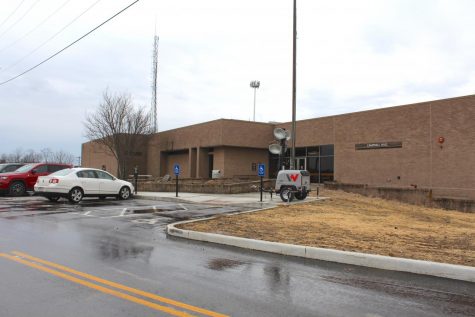 The KCM received $532,051 from the Kentucky Dept. of Education in fiscal year 2017, bringing total grant funding to $615,603, according to the KCM annual report.
In response to the proposed cut, the KCM released a statement calling state funding a "small investment that pays huge dividends" for Kentucky students.
"We at the KCM believe that it is vital that neither the institutional knowledge (that has taken over 10 years to develop) nor the infrastructure that includes highly trained and experienced professionals should be lost to Kentucky. Starting from scratch on this work will set the state back over a decade," the statement said.