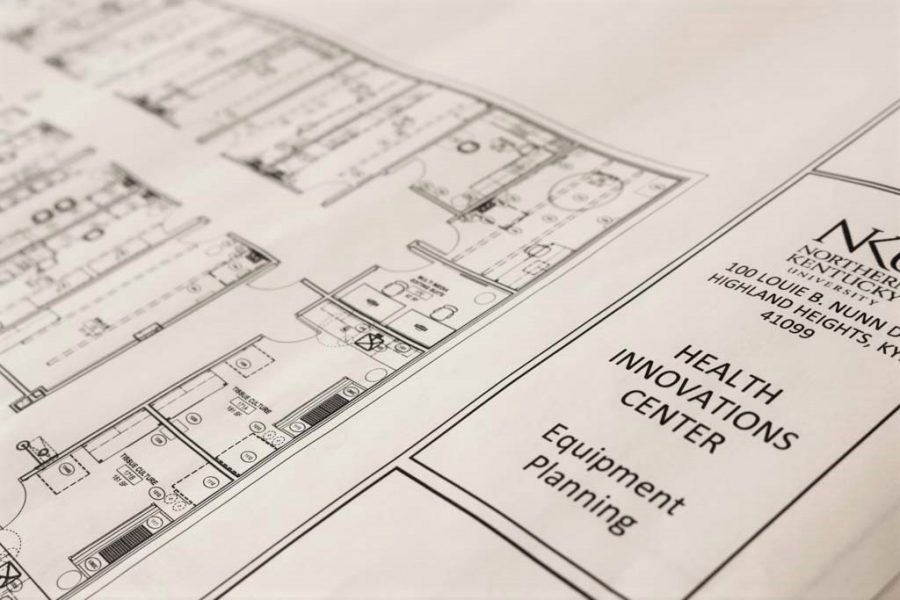 Neuroscience program expanded from minor to major
November 5, 2017
Northern Kentucky University's transdisciplinary neuroscience major will allow students to study and choose from three different tracks that will give them experiential learning, opportunities for research and possible internships. Neuroscience was previously only a minor at NKU, but has recently expanded to a major.
Neuroscience is the study of the brain's functions and structure, according to Dr. Mark Bardgett, regents professor in psychological science and director of interdisciplinary minor in Neuroscience.
The discipline is broad, Bardgett said–from understanding how genes interact, measuring electrical currents in neurons and even the ability to recognize family members apart from strangers.
"If you want to know how the brain works, that's what a neuroscientist would do," Bardgett said. "Or if you want to know how it's shaped or what some of those different parts do."
Dr. Christine Curran, associate professor in biological science and director of the major in neuroscience, said that it encompasses everything from both the central and peripheral nervous system, adding that brain signals can be chemical or electrical; both, however, are vital.
"It's the simplest thing. If you've ever touched a hot stove accidentally, we have a reflex," Curran said. "Well, we figured out it's hot and then we had an action, but that little bit of processing still has to occur."
The major, Curran said, is transdisciplinary; there are three different tracks to choose from: cognitive, social or computational, which allows students to narrow their focus within the broader field.  
Cognitive neuroscience will give students a background in behavior, biology, philosophy, sociology and anthropology. With so many new courses to explore, Curran said this gave NKU the opportunity to hire new faculty.
"It's really interesting and powerful to have all those perspectives, and to share those perspectives," Curran said.
Research opportunities would extend to the students as well, Bardgett said.
"One of the requirements of the major is to do some kind of experience, or have some kind of experiential learning," he said.
Curran said she thinks that social neuroscience will probably have the biggest impact on daily life.
"The applications are wide-ranging. I think this is going to be extremely important in the years ahead in any number of fields," she said. "We know that marketers want to know what's going to make you buy their product. We know that parents and teachers want to know, 'How do I get you to do your homework?'"
Computational neuroscience will give students a better background in mathematics and statistics. According to Curran, it will work with the College of Informatics in analyzing data and crunching numbers.
"They've got the ability to crunch a huge amount of information. We need big data to understand it [the brain] because it really isn't one cell sending one signal. They're connected to–maybe–hundreds of other cells," she said.
Students will be able to adjust the courses in order to prepare them for their plans after graduation.
"All students will have a plan," Curran said. "'I want a job when I graduate in four years' or 'I'm more interested in graduate school.' We would then modify their electives in a way that makes them competitive for where they're headed next."
Bardgett said this major would allow students to "stick their toes in the water" if they are interested in Neuroscience. He said students wanting to do well should have some background in biology and psychology to give them a better foundation.
"I hope that students who are interested in neuroscience really get a more solid understanding of what that field is. A lot of students want to major in neuroscience, or are interested in the field for all the right reasons," he said.
William Stacy, junior neuroscience major on the cognitive track, chose neuroscience because of the combination of multiple subjects.
"For me, the neuroscience program was kind of this synergy of philosophy, biology and psychology altogether," Stacy said. "The brain interests me. Consciousness interests me. It's kinda the 'last frontier' in terms of the human body. We understand the body pretty well, but we don't understand the brain as well."
Stacy hopes to work with addictions after graduation, specifically helping out with the opioid crisis. He said that there needs to be a better understanding for brain diseases and mental illness in order to help them.
"We have a mental illness problem, and I think understanding the brain from a biological context is going to be really important in the future. The better we can understand the brain, the better it's going to be for humanity in general," Stacy said.
Bardgett said that neuroscience gives predictability to behavior.
"Who's going to be more likely to suffer from depression later in life," he said. "What is more likely to happen with a child with Autism? What type of therapy should we use to make sure we give them the best treatment track towards a successful outcome?"
Curran said that neurological disorders are becoming more common.
"Just as almost everyone knows someone–a family member, friend, neighbor–who had cancer, the same thing is now true with these neurological disorders. You know someone who has ADHD. You know someone who has autism," she said.
Monica Wakefield, advisor in the department of sociology, anthropology and philosophy, said biological anthropology and neuroscience research brain disorders–such as Autism Spectrum Disorder–from an evolutionary perspective to see where certain traits associated with brain disorders may have been adopted.
"The area where I'm contributing to the major, which I think is really important, is the evolutionary background. A background in evolutionary theory and the evolution of the human brain," Wakefield said. "Some things that might be adaptive in our brains are often treated as a pathology, when they aren't necessarily that way."
Wakefield said she thinks that NKU is moving in the right direction with advancing and developing new majors and programs.
"The way we have done this, and moved forward in creating a transdisciplinary major, I think it will help us move forward in connecting some of our disciplines," she said.
Curran said the new major allows enrollment to grow, along with research.
"The new facility will have Vivarium, which is a state-of-the-art facility to house animals. Depending on the model system, you could work with anything from cells to invertebrate models to rats and mice, fish or frogs," she said.
She added that there will be two new research labs located in Founders Hall that will help facilitate interaction between professors and students, stating that hands-on experience is important.
Despite research being done, Curran said that science isn't always "ground-breaking."
"Everything is a step forward. I don't want to say tomorrow that we're going to solve all these horrible neurodegenerative disorders," Curran said. "We're going to make progress."