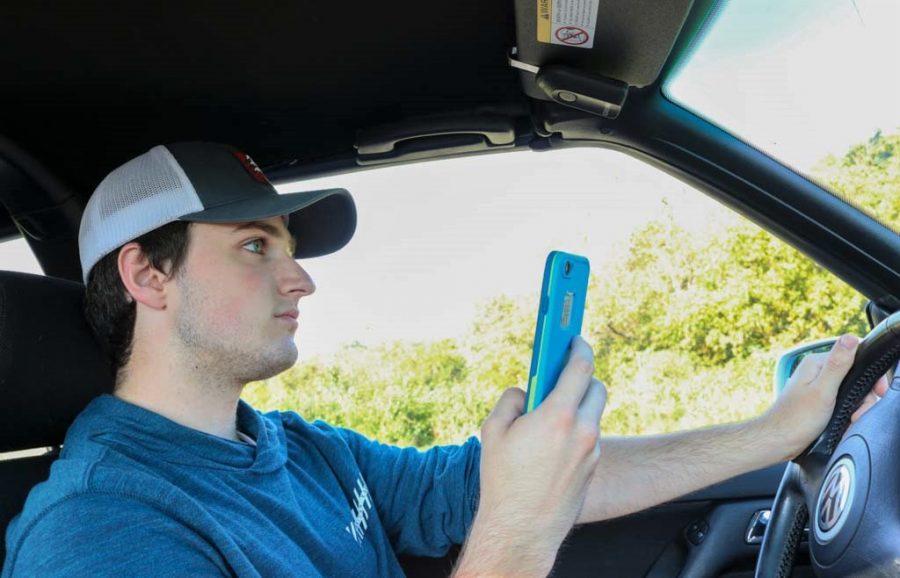 Snapchatting and driving: a potentially fatal distraction
October 16, 2017
When caught in slow-moving traffic, student Matthew Nalley is unable to resist pulling out his phone for a quick Snapchat video or photo. Often, in a state of road rage, he will yell at traffic to speed up, all the while filming his drive to share with his friends or post to his Story for public viewing.
Nalley admits to Snapchatting while driving, and he's not alone. 
Do you snap and drive? 🤔

— The Northerner (@northernermedia) September 7, 2017
"Yeah, I do [Snapchat and drive]," said Tori Watkins, another NKU student. "Kind of all the time. And I feel bad about it, but I still do."  
Watkins said she sends what she referred to as "potato selfies," a photo taken at a low angle for the sole purpose of being silly; other students create their own Snapchat content while cruising down the highway.
Nalley said when returning to his hometown, Cincinnati, he'll videotape himself approaching the Queen City and top it off with its own Snapchat location filter.
"If I'm in traffic, or if I'm in the middle of the highway and no one's around me, that's when I Snapchat," Nalley said.  
NKU Campus Police officer, Lieutenant Will Love, said that he and his fellow officers can't be sure when they pull students over if they're using Snapchat or some other form of social media, and was unable to say for certain if Snapchatting while driving was becoming a problem on campus. According to Love, Snapchat alone is not the problem.
"The trend is using your phone while driving," Love said. "It may be an addition to, texting, video chat, answering emails."
In 2016, Snapchatting and driving caused five fatalities after a car crash in Tampa Bay, according to a Tampa Bay Times article; the incident isn't isolated.
"I'm not gonna fault Snapchat," Love said about the incident. "It's up to the driver to do that and make that determination. I look at it just like someone who purchases a gun. How are you using that tool?"
Love went on to explain that Snapchatting and driving, while dangerous itself, is one of many activities that can distract a driver.
"Even if you're talking to someone with the phone against your ear, your attention is not on the road," Love said. "It's not something that's safe at all, not close to being safe."
Despite the growing knowledge of its dangers, Snapchatting and driving is a habit that some students like Watkins just don't seem to be able to, or want to, break.
"I realize that Snapchatting while driving or being on your phone while driving is a very bad thing," Watkins said. "And I realize that I shouldn't do it, but I continue to."