Ohio Renaissance Festival hosts weekends of combat, craft and fantasy
October 16, 2017
Brilliant sunlight reflects off silver armor and streams through floating clouds of dust. Cheers from nearly a thousand spectators almost drowns out the clip of trotting hooves.
Two knights, Sir Kyran and Sir Laurence, guide their steeds to opposite ends of the track. They face each other, the red feathers on their helmets flapping in the rising wind.
In a flash, their stallions charge. The knights lower their lances as the horses gallop toward each other at nearly 40 miles per hour. With a loud crack, the solid wood lances splinter apart. Sir Laurence is knocked back, bearing a hard impact. The crowd roars with applause.
Sir Kyran emerges as champion. Though his victory may suggest it, this is no storybook scene.
Less than an hour from NKU's campus sits the Ohio Renaissance Festival in Harveysburg, where characters spill off the pages of history to entertain with live combat, authentic craft and an immersive world.
Live combat draws hundreds
At 19, Kyran Fairchild is among the youngest of full-contact jousters. He travels with the Knights of Valour from fair to fair demonstrating his skill before crowds of hundreds. The knights train and joust every weekend at fairs and festivals around the country.
In addition to jousting, actors perform combat like sword fighting and old-fashioned brawls during demonstrations and shows.
For one of the festival's most popular events, a full-contact joust, opponents wear heavy armor and bolt metal shields to their chests to protect themselves from up to 5,000 lbs. of force per square inch. The Knights of Valor use blunted lances made of wood that break from the sheer force of impact.
"What we do is real jousting, and it's that much more exciting," Fairchild said.
Fairchild, a Tucson, Arizona native, placed third in a world competition at ScotFest in Estes Park, Colorado, only his fourth time ever jousting. Unwrapping the tape around his arm, he revealed a scar made by a broken lance at last year's Ohio Renaissance Festival.
"It's a sport for someone who's not afraid to get hurt," Fairchild said.
Despite the danger, he said he continues to joust for the pure adrenaline rush.
"I love doing it because I love to ride horses," Fairchild said, "and who doesn't wanna hit someone hard with a piece of wood?"
As a member of the festival's street cast, Jace Turner of Columbus plays a sword-wielding princess of France Marguerite De Valois.
Turner has been going to renaissance festivals her entire life. Her mother, an artisan leatherworker, has been bringing her to festivals in Ohio, Kentucky and Michigan since she was born.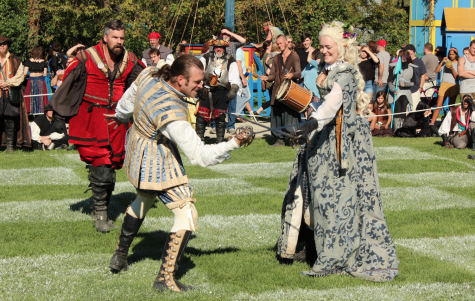 Princess Marguerite said her favorite event of the day is one in which she tests her combat mettle against her swordsman brother.
"It's really fun, and you get to learn a lot of history," she said, "even though obviously not all of what we do here is perfectly accurate."
And not every act involves clashes of steel on armor. Stuartski Siskonoavitch creates an act of daring by juggling large knives, sharp axes and flaming sticks.
Through his 27-year juggling career, Siskonoavitch has performed at the Ohio Renaissance Festival for 19 seasons. He said the reason he comes back each year is the excitement that his tricks bring audiences.
"I love performing. I can perhaps help somebody forget their troubles or forget their day for 15 or 20 minutes, and when they smile and enjoy themselves it's hugely rewarding to me," Siskonoavitch said.
Craft comes to life
The Ohio Renaissance Festival hosts over 150 artisan vendors, including blacksmiths, glassblowers, leather workers and more. These craftmasters set up forges and demonstrations both in stalls decorated in Tudor style and in tents spreading across the 30-acre park.
A 25-year veteran of renaissance festivals, Ed Beard, Jr. brought his illustrations to Ohio's festival for the first time because of the diverse range of works that are represented.
"From jewelry to leatherwork to carving, they have just about everything here," Beard said.
Beard, a fantasy illustrator for 39 years, created hand-painted art for books and games, including fantasy card game "Magic: The Gathering." At Ohio's festival, he sells large prints and original illustrations of mythical heroes and monsters.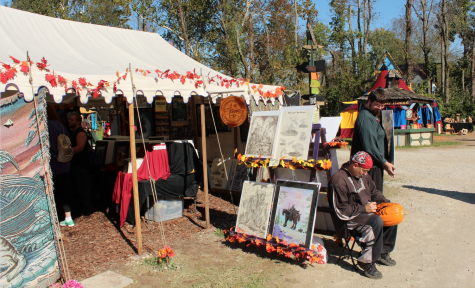 "I produce one-of-a-kind, original, tangible art, so when you're here at the festival and you're able to hand paint or hand draw in front of them, it makes a big difference," Beard said.
Live demonstrations abound at the fair. At the Dragon's Forge, a blacksmith named Satyr and his apprentice, JT, shaped decorative metal sculptures using a hammer and anvil. At Creations in Glass, flame-blown art was created before guests' eyes by a master craftsman.
Like many other artisans, Beard's handmade pieces take time to complete, sometimes over 200 hours for a single painting. Still, he prefers demonstrating traditional methods at the festival because they show real skill.
"It brings you back to a time of craftsmanship, when analog was the only thing you could do, Beard said. "This is the perfect environment for that."
An immersive experience
Like the crafts, the festival costumes ranged in style from historical to mythical. Hobbits walked barefoot beside point-eared elves, and ragged pirates chatted with ornately-costumed nobles.
Turner said that this year's street cast is larger than ever, making the entire guest experience even more immersive.
"It is definitely getting much more popular," Turner said. "[The owners] have brought this place to life. They have put a lot of effort, hard work and love into the shows."
"
"People are used to going to other things where they are just watching. They're not used to being involved, and they come away from here going 'that was one of the most amazing things in my life.'"
— Matthew Smith, renaissance festival actor
Connie Pfeiffer, who plays Queen Elizabeth I, presided over bouts of jousting and sword combat. She described her start in renaissance acting as accidental, becoming interested at her son's audition.
Today, her whole family is involved, and she said performing is all about creating a fun and magical experience.
"It's for the magic that you see in people's eyes," Pfeiffer said. "They come and they feel like they're home, and we are a part of that, and that we love to do. We love bringing joy to people."
Actor Matthew Smith, who plays Lord Thomas Howard and who has frequented renaissance festivals for 22 years, describes the experience as unlike any other.
"People are used to going to other things where they are just watching, they're not used to being involved," Smith said. "And they come away from here going 'that was one of the most amazing things in my life.'"
The Ohio Renaissance Fair continues each weekend through Oct. 29 at Renaissance Park in Harveysburg, Ohio. Tickets are $22.50 for adults, $9.50 for children. Tickets can be purchased in advance at www.renfestival.com. Pro-tip: Discounted tickets are available at Kroger and coupons can be found at UDF.