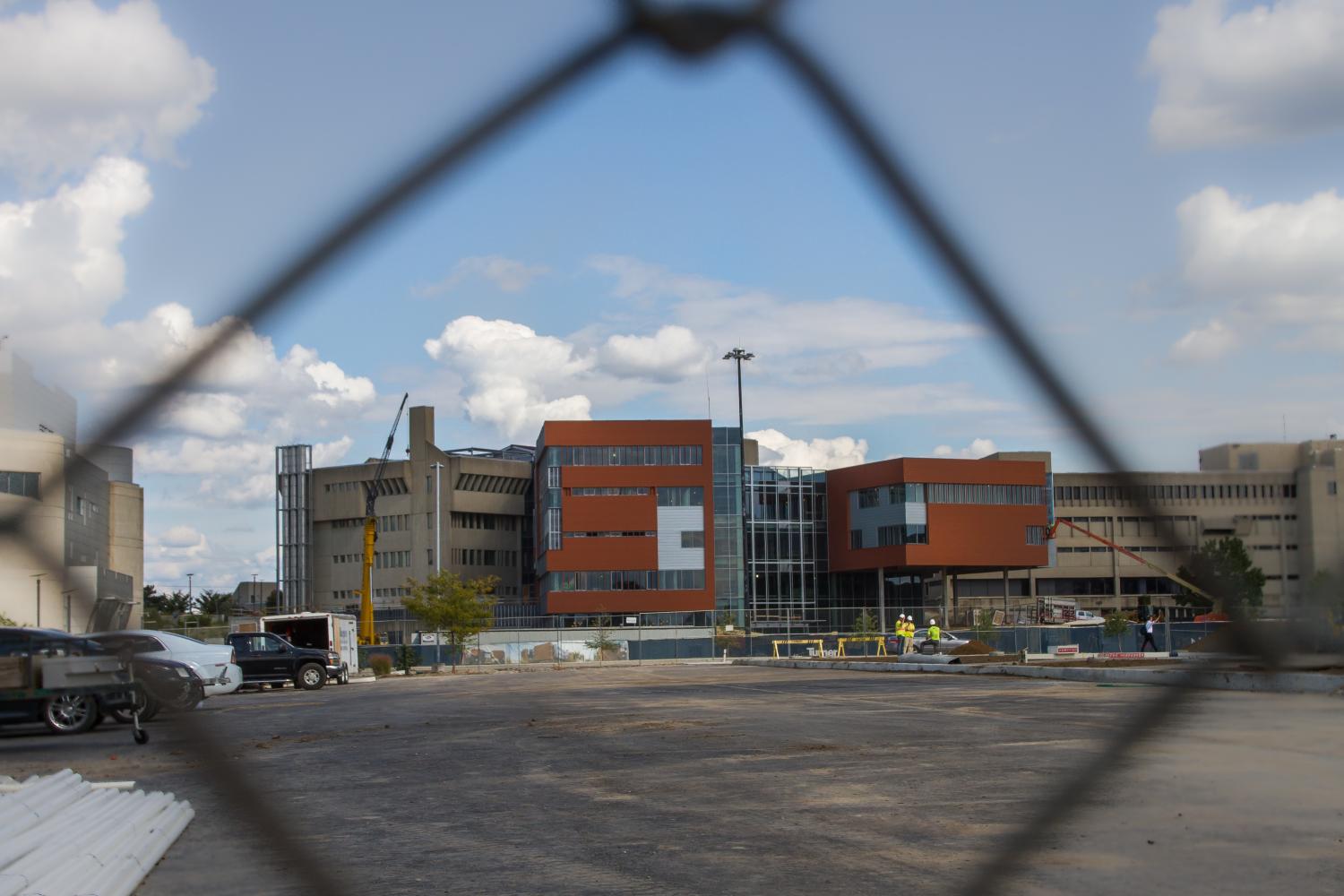 Health Innovation Center projected to open in Spring 2018
HIC comes to campus as a new "state of the art" learning center
September 15, 2017
Students should be able to experience the technologically advanced Health Innovation Center around February or March of 2018, as originally scheduled. Mark Jones, senior project manager and associate director, hopes the building will increase enrollment to campus.
"No one will have anything like this around us for several years," Jones said.
The building, which is adjacent to Griffin Hall, will give faculty a better space to teach in, according to Jones.
"The benefit comes right back to the students," Jones said, "There's a lot of exciting things, and it will be state of the art. No one will have anything like this."
There are rooms dedicated for ICU, ER, Trauma, OR and labor-delivery simulation where students will be able to gain knowledge through hands-on practice. Jones said the HIC gives them the opportunity to increase the number of programs in the College of Health Professions.
"We will have a fully functional OR. It's the same size as one you would find in a hospital," Jones said.
Along with new medical technology, there will be architectural advancements as well.
The HIC will include more "dramatic spaces." With the HIC, Jones noted that it will bring another multi-story space to NKU's campus.
"Obviously we don't have a 5-story high atrium anywhere on campus. This area will probably compete–to a certain degree–with Informatics," Jones said.
The rooms will be large with glass walls and views that will allow not only those within to have a unique perspective of campus but also for others outside the building to peer inside, according to Jones.  
There will be floor-to-ceiling glass in the debrief rooms that will allow for views of the west quad of campus, including the student union.
"There's a research lab on the second floor that also has a large window looking into it. It's a faculty research space. You know, we don't typically get to see what they're doing in there," Jones said, "The whole idea is that the building becomes interactive."
Jones said that the building will help combine medical technology with architecture that enhances the experience. He hopes these additions will give the faculty and students a better ability to retain the information they're learning or teaching.
"You have a positive distraction. You can look out the window. You have natural light coming in, a great view and nice, clean rooms," Jones said.
The HIC is an addition to Founders Hall, which was once the oldest building on campus. Director of Campus Planning, Mary Paula Schuh, said that the name would stay the same.
The finishes from one to the other won't be different, Jones said. He added that when moving through the building, they'll appear to be the same with the difference being that there will be a large five-story high atrium in the middle of the Health Innovation Center. There will be 21 classrooms–not including labs or offices–combined between the two buildings, according to Schuh. 
The two buildings may be interconnected, but Jones said the original Founders Hall will never be forgotten. 
"That wall, old Founders, is there. It forms one of three walls that define that atrium and so it's kinda paying homage back to Founders Hall. Founders Hall, you'll never forget that it's there, but walking through the building it should feel as if it's all one space," Jones said.
Jones said he wants students to use this connection as a cut-through in the winter.
"We're hoping, actually, that people will use it as a cut-through," Jones said, "You know, how when it gets cold people, instead of walking around outside, will jump into the building."
Schuh said that the interior of Founders has been completely demolished and replaced with all new walls, ceilings and rooms.
 The Health Innovation Center will have various labs, such as Biopsychology and Neuroscience, according to Schuh. There will be student project rooms, computer labs, over 150 staff and faculty offices, an outdoor terrace, a cafe called Au Bon Pain, and many other amenities. 
"There are specialized labs for the College of Healthcare Professions. There is an area that is called the Standardized Patient Suite, where students can practice healthcare delivery in an exam-room type setting," Schuh said.
Schuh said she hopes the building will bring energy and innovation to campus, just like the excitement that was brought by Griffin Hall.
"It has the potential to leverage a tremendous amount of entrepreneurial and technological innovations," Schuh said.
Freshman Radiology major Laura Meer said she's heard about the new technology in the building and hopes it will bring advancements, saying that most schools won't have access to the technological innovation HIC will bring. 
"I think it will benefit us by giving us the experience that we wouldn't have with the old building," Meer said. "It will give us more hands-on practice before we go into the field."
Jones has talked to students about the HIC building and given tours, where students react with enthusiasm. The building generates a sense of excitement, Jones said. 
"My perspective as a design professional is a little different than a younger person using the building," Jones said. "Some of the students that I've interacted with seem to have generalized excitement. They're curious about it."
Jones described the building as a living thing. He described how when you walk into it you'll see how the stairs run down one side of the atrium. There are two balconies that run along two sides of the building. 
"I can't wait 'till it's fully occupied so I can stand there between class change and just watch people moving through the building," Jones said, "It's like a living machine."