NKU students show DACA support at Board of Regents meeting
Health Innovations Center progress, student enrollment discussed at semester's first meeting
September 7, 2017
NKU students protested at the semester's first Board of Regents meeting on Wednesday, carrying signs and banners showing support for government immigration program DACA.
A Health Innovation Center progress update, new student enrollment data and several board changes were also discussed during Wednesday's meeting.
DACA at NKU
Several students from NKU's Latino Programs & Services and the Latino Mentor Program (LAMP) came to Wednesday's meeting with handmade banners of support for Deferred Action of Childhood Arrivals, or DACA.
The students oppose President Donald Trump's announcement on Tuesday to end DACA, the federal program that prevents deportation and grants work permits to undocumented immigrants who arrived in the United States as children.
In his statement, President Trump called on Congress to "phase-out" the Obama-era program, which affects over 790,000 people according to the US Citizenship and Immigration Services.
Sophomores Natalia Lerzundi and Victor Ponce described their protest as a show of solidarity with NKU's DACA students.
"We are here to show our support for all DACA students," Lerzundi said. "Hopefully we can show the Board that we are serious about this, and we want our DACA students to be protected here."
"We want to protect all documented and undocumented students that are at NKU," Ponce said.
Rich Boehne, Chair of the Board of Regents, said he welcomes the presence of student voices at the meeting. He acknowledged the effect of the government program on NKU students.
"We try and look at what role the university should play in a larger sense as we work through this difficult issue from many different perspectives that has become very real for a number of our students," Boehne said. "And very real for their friends, families and supporters as well."
After the meeting, several board members shook hands with students and briefly discussed DACA's effect at NKU. Both Lerzundi and Ponce said they hope the Board is receptive to their message and takes action.
Health Innovation Center continues toward completion
According to the presidential facilities management report, NKU's Health Innovation Center is still on track to be completed in spring 2018.
"The major mechanical and electrical equipment is in place and distribution infrastructure is complete," the report said.
The Founders Hall side of the project is also moving toward completion, with the 5th floor "essentially complete except for doors, interior glass installation and casework."
The report also said painting, doors and drywall are still to be done on some levels of Founders Hall. New landscaping projects on the plaza side of the building are expected to begin after Sept. 15.
During the Board's Joint Finance and Policy meeting Wednesday morning, NKU Provost Sue Ott-Rowland presented an update on both the HIC and the partnership between NKU, University of Kentucky and St. Elizabeth Healthcare for a regional medical school.
"Some of us were surprised to learn that the Commonwealth, in particular, has a shortage of doctors and other medical care professionals," Boehne said of the update. He said he hopes that both projects work to solve that shortage.
The $97 million HIC began construction in 2015 in partnership with St. Elizabeth Healthcare.
Projection: NKU enrollment decline
NKU's interim President Gerard St. Amand said that according to preliminary data, NKU's enrollment has declined.
Amand said NKU enrollment is down 0.7 percent from last year based on day one enrollment data. He noted that more detailed data can be expected at November's meeting. Currently it is expected that enrollment will decline a total of 2.5 percent.
Amand cited "additional action" that will grow enrollment, including NKU's Accelerated Online Bachelor's of Science in Nursing program, which is set to begin phase one in January and March of 2018.
"Not only will [the programs] address some of these enrollment considerations," St. Amand said, "but they also address a need that we see in ensuring that valuable programs that we have at NKU are able to be accessed by students where they are and where they learn."
St. Amand said incoming data may also show enrollment growth due to the Kentucky Governor's Scholars Program, which NKU hosted in the summers of 2016 and 2017.
The Northerner reported discussion of such enrollment growth at last April's Board of Regents meeting, when then-NKU president Geoffrey Mearns discussed the number of GSP scholars who had committed for this semester increased by almost 300 percent compared to fall 2016 enrollment.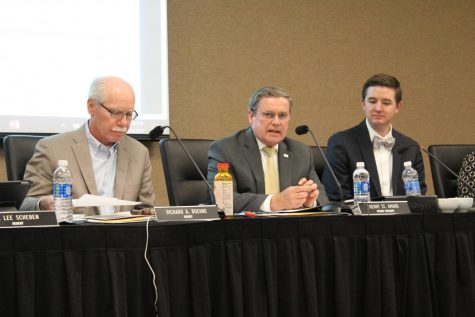 Board adds member, elects secretary
At the semester's first meeting, the Board swore in Ashley Himes as it newest regent. Himes has three NKU degrees and is the Assistant Principal at Northern Elementary School in Pendleton County, Ky. She was appointed by Governor Matt Bevin this year and will serve until 2023.
The Board also moved to elect Andrá R. Ward as secretary. Ward is the president and CEO of human resources management company Khafre Ward. He was appointed by Governor Steve Beshear in 2013.