Campus divided as election approaches
November 3, 2016
As one of the most contentious presidential campaigns reaches its conclusion, students at Northern Kentucky University wait to see which candidate will emerge victorious.
While Democratic presidential candidate Hillary Clinton and Republican presidential candidate Donald Trump vie for the presidency, a surge of support has emerged from third-party candidates due to the caustic nature of the campaigns of the two major-party candidates.
Student opinions on campus range across the political spectrum, mirroring national public opinion. Five NKU students spoke to The Northerner to express their thoughts on the presidential race, and what they feel will be the impact of the results.
James Atley Smedley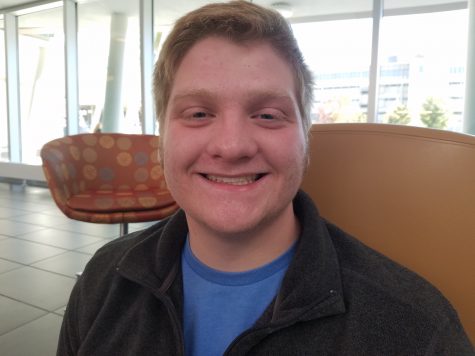 Identifies as Republican
James Atley Smedley feels shamed for his freedom of speech and political opinions, but he refuses to give up.
"It's not easy being a Trump supporter on campus," Smedley said.
The junior public relations major said he feels confident in his support for the Republican candidate.
He said he strongly agrees with Trump's immigration plans to 'build the wall' and said he supports Trump's plan to take care of America first.
"There is no way we would survive," Smedley said. "Hillary wants to open up borders which will open other issues we don't need right now. We don't need a liar or criminal as a president."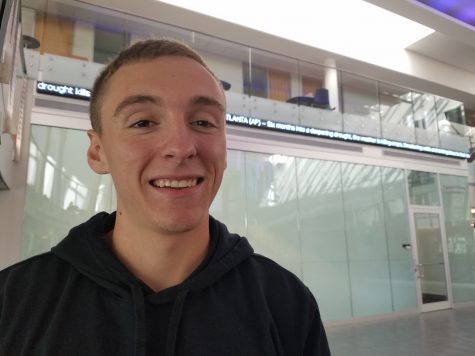 Eric Salyers
Identifies as Democrat
Eric Salyers, a junior business management major, supported Hillary Clinton since the beginning of election cycle.
He said he supports Clinton's goals to make education more affordable, but he disagrees with the idea of a free college.
"That's one thing I support of hers," Salyers said. "She cares a lot about children and education, and we need that."
Salyers mentions feeling indifferent towards Clinton's open borders, and he thinks the immigration system should 'ease up' on incoming immigrants.
Salyers said he disagrees with Trump's gun control policy and believes only those with a conceal and carry license for a small handgun should be allowed.
"I don't want to see Trump win," Salyers said. "I think he is selfish, and by not voting you aren't living up to your duty as a U.S. citizen to take care of our country."
Thomas Andrikus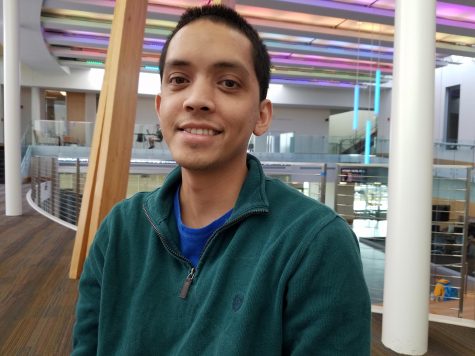 Identifies as third party
Thomas Andrikus said he has lost the desire to consider himself a Democrat.
"I'm going to vote for as many Democrats as I can for this election," Andrikus said.
"Except for the president."
Thomas Andrikus, a senior computer science and international studies major, decided to join a third party after watching Bernie Sanders endorse Hillary Clinton after the primaries.
Andrikus said he will be voting for Jill Stein, the Green Party candidate, with the goal to start third parties in the future that will have a fighting chance in the voting process.
Andrikus said he encourages people who are still undecided to vote.
"The painful part is the people who choose not to vote," Andrikus said. "We promote democracy everywhere. It is sad when people have the privilege to do so but choose not to."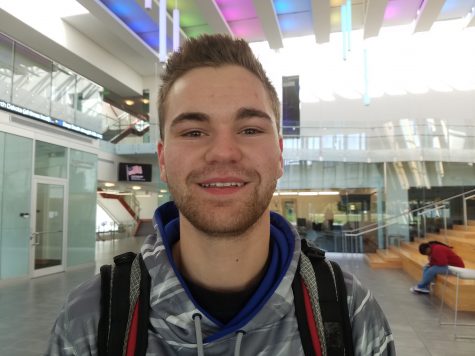 Benjamin Walker
Identifies as Republican
Benjamin Walker has been on board with 'Making America Great Again' since the beginning of Trump's bid for presidency.
"I can relate to him," Walker said.
Walker, a sophomore sports business major, admires Trump and believes he has the perfect personality to take on the role as president.  
"He won't tell you something and not do it," Walker said.
Walker admits he has been frustrated with the media's coverage on the election. He believes the media has made him out to be a 'woman hater'.
"Every guy is guilty of it," Walker said. "I know that from personal experience. Trump doesn't hate women."
Selina Appel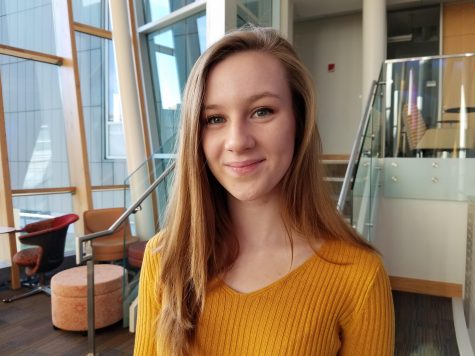 Identifies as Democrat
Going from third party to the Democratic party, Selina Appel said she's eager to contribute to potentially stopping Donald Trump.
The junior public relations major said she originally supported Bernie Sanders but quickly shifted her support to Hillary Clinton after the primaries.
"I'll vote for anyone if it means Trump won't be our president," Appel said.
Appel said she supports Clinton's campaign and believes her immigration policies to open borders are the right move. America originated from immigrants, Appel said.
Appel supports Clinton's pro-choice views, and thinks Clinton has taken too much criticism for being pro-choice.
Being a day late to register, Appel won't be able to vote this election and encourages friends to go out and exercise their own rights to vote.
Hannah Bohmer
Identifies as third party
Sharing both Democratic and Republican views, Hannah Bohmer, a freshman business major, believes this election will be an extreme turning point in America's history.
Originally casting her vote for Bernie Sanders, she refuses to rely on either Donald Trump or Hillary Clinton to be a leader.
Bohmer believes Trump and Clinton will end everything Obama has worked for.
This election is a 'double edge sword' and Bohmer plans to write in third party Libertarian, Gary Johnson.
"Everything is either going to be thrown away or trashed," Bohmer said. "There is no in between. Trump will take everything away or Hillary will make it worse."
Bohmer said this year she's focusing on each candidate's morals and values instead of political views. She said neither candidate is honest or genuine when caring for others.
"I think Clinton and Trump are both self serving people," Bohmer said. "I can't see a person who continually lies to be someone to count on."
Partially in agreement with Trump's gun policy Bohmer said America has the right to bear arms under certain regulations and plans to get her conceal and carry when she turns 21.  
"It's my constitutional right to be able to defend myself and I will as soon as I can," Bohmer said. "We need a better system regulating gun control but I do believe it's something everyone should do."
Bohmer said she has always been in favor of third parties and think they're necessary for people who feel 'pushed into a corner'.