Feelings mixed on NKU's It's On Us campaign
Campaign comes a month after NKU filed for gag order in ongoing federal lawsuit
September 29, 2016
Reva Short thinks it's important to bring awareness to the issue of sexual assault.
The NKU junior supports the national It's On Us Campaign, an initiative focused on shifting the way people think about and respond to sexual assault, but she also thinks the university's participation in the campaign seems anything but genuine.
"The campaign itself is fine," Short said. "My biggest issue is that NKU is supporting this so aggressively when in the past couple of weeks, or even just in the past year, all we've been hearing about is this huge sexual assault case on campus that NKU is trying to seek a gag order for."
Northern Kentucky University launched the It's On Us Campaign Monday for the second year, exactly one month after university lawyers filed a motion asking for a gag order in the ongoing federal lawsuit involving a female student, identified as Jane Doe, who says she was raped in 2013 by a fellow student in her dorm room. Doe alleges the university did not protect her from her alleged attacker and did not enforce his sanctions.
If enacted, a gag order would prohibit anyone associated with the case from speaking to the media, and it would seal all depositions from the public.
University spokesperson Amanda Nageleisen said the motion hinges on Family Educational Rights and Privacy Act, the federal law to protect student privacy rights.            
RELATED: NKU seeks gag order in sexual assault lawsuit
The university's It's On Us Campaign follows the 2014 initiative set by President Barack Obama and Vice President Joe Biden in response to the increasing numbers of sexual assault incidents on college campuses across the country.
Since its inception, about 534 campuses in 49 states have hosted over 1,400 It's On Us events, according to Alex Zeitz-Moskin, deputy director of the It's On Us Campaign.
NKU's campaign is a collaboration between the Office of Fraternity and Sorority Life and the Norse Violence Prevention Center, an on-campus advocacy center with a mission to provide support and resources to survivors of sexual assault.
The campaign includes several events during the week of Sept. 26-30, including training on how to become an active bystander, a day dedicated to wearing the "It's On Us" T-shirt and the opportunity for students, faculty and staff to sign a pledge to prevent sexual violence.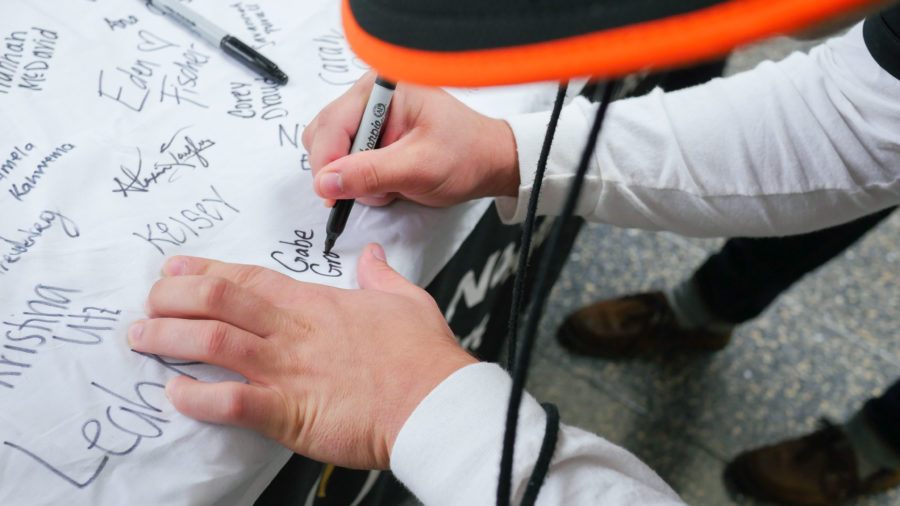 Gabby Dralle, director of the Norse Violence Prevention Center, said It's On Us is special to her because survivors of sexual assault and members of the campus community have noticed the campaign.
"The reason why we brought It's On Us to campus was it brings the community together," Gabby said. "Not only is it very marketable and people remember it, but it is about engaging the entire community. It's about faculty and staff joining students and coming together to create this change in the culture."
Adam Dralle, coordinator for the Office of Fraternity and Sorority Life, said last year's campaign helped the campus community realize that sexual assault is a very real issue.
"There are students and other people out there that don't realize that sexual assault on college campuses is an issue," Adam said. "So I think just spreading the word that it is an issue and that they can do something in their daily life to help prevent it and help stop it, that's the outcome … think about it for five minutes or have a ten minute conversation with someone."
In addition to Greek Life's involvement with It's On Us, this year's program features a poster campaign that involves 30 student organizations, including housing, athletics, Student Government Association and more.
Will Weber, president of the Student Government Association, said the campaign was something he and his organization felt compelled to stand behind.  
"We thought that the presence that student government has on campus and in the perspective of students is important, and we can kind of set the stage and be leading examples so people know that we take this issue very seriously," Weber said. "We want everyone to know on campus that we're here to prevent sexual assault and to change this whole culture."  
Weber was featured in this year's PSA, alongside President Mearns, faculty members, administrators and students.
Weber said SGA wanted to help spearhead this movement.
"One of our main goals in student government is student rights, and we believe that one of the main rights for any student on campus is to feel safe and to feel welcome on a campus that you want to call home," Weber said. "It's just this movement that, we want to end sexual violence of any kind."
He also said the campaign is especially important for NKU in light of recent litigation involving sexual assault.   
"I would say with the recent sexual assault allegations … that are going on and that have come up, that this is something that we're realizing that it's important to take a stance and to say, 'We want to take a very proactive approach,'" Weber said.
But Short believes recent incidents involving sexual assault detracts from the message of the campaign.
"It feels like they're trying to almost keep people quiet… because now they can say, 'Well we are supporting the It's On Us campaign, so obviously we're doing something' even though it feels like they're still not," Short said. "They're just using this to kind of promote their own image after all of these huge cases."
Adam said the campaign goes beyond the marketable items and the event planning.
"In my personal work, I work with fraternity men, and I'm really passionate about health and masculinity, and how we help change the culture among men so that we can decrease those little things that men do that create a culture of violence against women," Adam said. "Doing trainings with the fraternity men and just talking to them and trying to walk them through those conversations for me is really important because sexual assault is not just a women's issue, it's an everyone issue.
"I believe men have to be a part of the solution, and that's what I want for our fraternity men."
Gabby said more students have come to the Norse Violence Prevention Center seeking support since the launch of the campaign last year.
"We're very thankful students are coming to us for support," Gabby said. "I don't think that's because it (sexual assault) was never happening before, I just think that now students have a place to go."
Gabby also said she recognizes that the campaign is not going to solve everything.
"I think that addressing sexual assault among college students is a big job," Gabby said. "We do our best to bring in campaigns like this that only aid in our work, but there's a lot of other stuff going on behind the scenes that NVP does… it's multi-faceted."