Digitorium Debate-In Brings Students Together During Spirited Election
September 28, 2016
Judging from the bunting and star-spangled ribbons adorning the Rieveschl Digitorium on Monday night, no one could be blamed for thinking it was the Fourth of July.
Red and blue lights bathed the floor while projections of the NKU College of Informatics logo washed the walls. A small din from the news cameras coming to rest on tripods to the right of the large screen was drowned out by a clatter of laughter that rose from the student audience.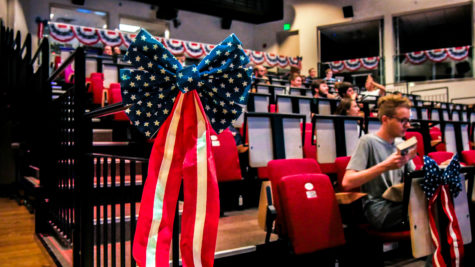 NKU's first "Debate-In" for the presidential elections were underway. The evening was full of pizza, sodas, and clips of debate comebacks, slip-ups, and the best debate moments of the past 40 years.
A still-chuckling audience nodded in response to a voice stepping out from behind the podium and toward the packed seats. "Not bad, huh?"
Anticipating the Debate
That voice belonged to NKU Communications Studies professor Dr. Steve Weiss, the host of the first "Debate-In" of the 2016 election. The main event involved Democratic nominee Hillary Clinton facing Republican nominee Donald Trump. This is the second election cycle for which Professor Weiss has hosted Debate-Ins, but everyone in attendance knew this contest was more special than its 2012 iteration.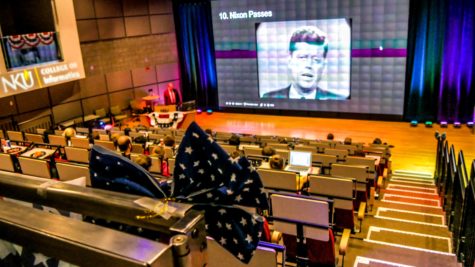 "It's a do-or-die moment,"  Casey Moore, a senior communication studies major, said.
Many students discovered the Debate-In through its Facebook page and from classmates, and professors. Local 12, News 5, and FOX 19 also covered the event. Regardless of how they learned about it, every student had different reasons for coming.
Sebastian Callian, a senior international student studying history, came to see how politics in America differed from in his home country.
"In Germany, I followed the debates of the last election closely," Callian said. "I'm interested to see how people follow elections here in America and what their opinions are."
John Groathouse a senior public relations communication studies double major was interested in hearing the candidates proposals for change.
"I'd like to see candidates explain and develop their own policy rather than try to weaken the other argument," Groathouse said.
The countdown clock expired as students grew antsy, shuffling in seats and talking to each other across the rows of seats. At 9:03 p.m., the main event began.
"Good evening from Hofstra University…"
The candidates walked out on the debate stage and shook hands. Mere moments after, the student audience was already tweeting about it.
140-characters typed on small-screen smartphones appeared instantly on the large screen of the Digitorium. Students also texted in answers to Dr. Weiss's poll questions before, during, and after the debate. These responses appeared in the bottom right of the Digitorium screen with the live Twitter feed for @nku_informatics. On the left side of the screen was the MSNBC video feed of the debate.
While the audience at Hofstra University had taken a vow of silence during the debate, NKU's student audience erupted with laughs, cheers, and boos throughout the debate.
"There was more laughing," Dr. Weiss said of the shift from 2012's first Debate-Ins. "When Hillary Clinton said that thing about black incarceration, the black students in the audience applauded because I thought she said that very eloquently and very powerfully. They were moved because they really wanted to hear one of the candidates articulate that as a specific philosophy in their campaign."
Other moments that garnered cheers was Clinton's response to Trump's comment that she does not have the stamina to be president.
"As soon as he travels to 112 countries and negotiates a peace deal or even spends 11 hours testifying before a congressional committee, he can talk to me about stamina," Clinton said.
Cheers also came from Trump's response: "Hillary has experience, but it is bad experience."
Some of the issues discussed during the debate included trade, taxes, race relations, gun control, foreign policy, Trump's tax returns and Clinton's emails.
Even after 90 minutes of debate, Lester Holt concluded saying, "We covered a lot of ground, but not everything as I expected we would."
One Down, Two to Go
After conducting a final poll, Dr. Weiss continued to watch the news coverage as students shuffled out of the Digitorium. He remarked that the energy of both the candidates and the student audience had certainly increased.
"Trump had to do much better than expected," said Dr. Weiss, "and I think he did. Hillary had to do very well because she's had plenty of debates in the past where she didn't do well. I think this was actually her best debate performance I've ever seen, and I've seen her all the times she's debated."
After the debate, students recognized that these events are important.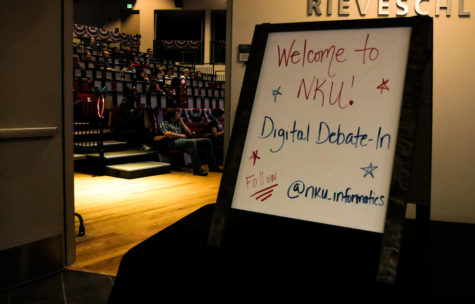 Heather Martin, a junior international studies and German double major, said she came into the debate because "it's important to watch in order to be an active member of society and to have an informed view."
"Always in America, democracy has been linked to education," Mark Neikirk, executive director of the Scripps Howard Center for Civic Engagement, said. "It's really great to see this room full of NKU students watching a debate together, certainly it's unlikely that everybody agrees with one another."
Mr. Niekirk added, "But that's America, isn't it?"
Sophomore computer information technology major Noah Pittinger is excited to come to the next Debate-In on October 4.
"I'm especially looking forward to the vice presidential debate," Pittinger said. "It'll be nice to have some time for them to be in the spotlight, to get to know them better and where they really stand on things."