More than a leader: Joan Gates returns determined
From student, to lawyer, to vice president she's ready to make her mark and leave her legacy.
September 20, 2016
For most of us, starting a new path in our careers can be intimidating, but for Joan Gates this is just another stepping stone to becoming the leader she's always strived to be.
Gates, a former senior counsel for Cincinnati Children's Hospital Medical Center, started her new role as NKU's vice president for Legal Affairs and General Counsel on July 18, replacing Sara L. Sidebottom after 20 years with NKU.
"My number one goal taking this leap is to support our strategic plans and continue to 'fuel the flame'," Gates said.
"NKU is dedicated to a student-centered approach to education, which is one thing I found very appealing as well as its commitment to its inclusiveness. I think it is going to be important for my role to support, refine and make our processes in Legal Affairs supportive of those initiatives."
Gates admitted she was anxious to begin a new chapter in her career at NKU.
"I wasn't as nervous as much as I was excited," Gates said. "The hardest part for me was leaving Children's since I had been apart of such a great team for eight years. It was extremely difficult to leave friends behind to take on another opportunity. The transition work wise wasn't much of a shock, most of it is the same, it's getting to know the team that matters to me."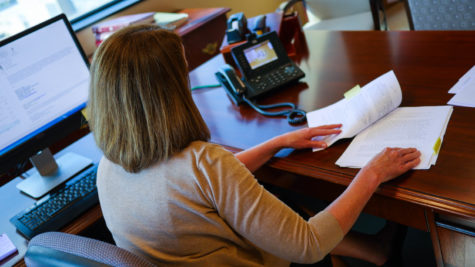 Gates was one of seven lawyers at Cincinnati Children's Hospital Medical Center, taking responsibility for more than 25,000 employees. She heard about the opportunity through an unaffiliated friend who saw potential in her to fulfill the role at NKU.
"I was heavily relied on at Children's, and I think that is helping me be the leader I am now," Gates said. "My friend came to me really wanting me to apply for this position thinking I fit the description well. After looking at it myself I began to get excited and thought the same."
James L. Brydie, a graduate assistant and a second year student of Chase Law, admires all of Gates' hard work. At the beginning of the semester Brydie decided to take on an internship working alongside her and the Legal Affairs team.
"Joan has provided me a chance to try to deepen my understanding of theories I am studying and get my hands dirty with my own research," Brydie said. "It has been exciting taking the knowledge I have and have the chance to apply it to real world situations and because of her I can do that."
A Chase Law graduate, Gates said she is happy to be back on campus and to be apart of the community working with students again.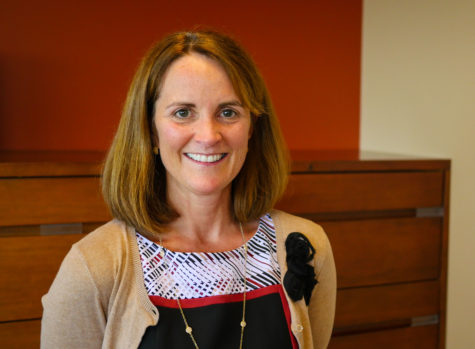 "The one thing that has absolutely struck me is how friendly the students are," Gates said. "People are so kind and pay attention to others around them, it's a wonderful environment to be apart of and a lot different than I remember.
"For me, I knew coming back on campus would be great because I am a lifetime learner myself, but to be around the energy of the students again is fun. It was great for me to see my first semester come to life."
With goals for herself, Gates came to NKU wanting more than to be a leader, she wanted to build a team. Driven by experience and motivation, she is determined to strengthen the Legal Affairs department.
"She's bringing skills and research from her past to NKU to transition the legal department into a more developed department and making it her own," Brydie said. "She works hard at what she does, and she's hit the ground running."
Her department has been incredible and welcoming to her thus far, according to Gates, and she feels as if her ideas and thoughts are respected among her colleagues.
"A coworker of mine reminds me 'We are like a small city within a bigger community'. We have to be ready as a legal department to figure out the best solutions for issues that arise. We need to provide the best advice and counseling around that."
Cathy Dewberry, assistant to V.P. for Legal Affairs, is still getting used to changes, but she said Gates has been doing a fine job thus far.
"I was here working with our previous VP for 11 years, but Ms. Gates has really done a good job transitioning and getting things done," Dewberry said. "The semester just started, and we are still getting to know each other, but so far it has been wonderful. I can only imagine the good things the future holds"