W

hen the live stream from Ball State University started Jan. 24, and it was clear NKU President Geoffrey Mearns was sitting on stage, it didn't take people long to put the pieces of the puzzle together.

Mearns was headed to Muncie, and NKU would need a new president.

The NKU Board of Regents had been notified six days earlier that Mearns would not be renewing his contract with the university when it expired July 31.

On August 1, barring some sort of bizarre twist of fate, Mearns will be the 17th president of Ball State University.


History of Mearns' time at NKU
Through our interactive timeline, take a look back at Mearns time at NKU through the eyes of The Northerner
M

earns was hired April 17, 2012, to take over for retiring NKU President James Votruba. He started as president Aug. 1, 2012. Five years later, another president will lead Northern Kentucky.

It has been an eventful five years for Mearns.

After taking over as NKU president, Mearns help craft a five-year strategic plan known as "Fuel the Flame." This plan was intended to take NKU up through its 50th anniversary in 2018.

He also helped secure $97 million from the Kentucky General Assembly, which helped aid in the construction of the new Health Innovation Center, which is scheduled to open in 2018.

One of Mearns' most vocal causes was fighting for increased funding for NKU from the Kentucky General Assembly, citing a funding disparity for the university. He has helped work on a performance-based funding model to help divide the money spent on higher education in the state of Kentucky.

He has helped champion LGBTQ causes on campus. NKU is a far more inclusive place than when Mearns took office.

When racially-insensitive flyers appeared on campus in the fall, Mearns was there when students spoke out, and he organized task forces to try to address the issue.

He had to clean up the mess in NKU athletics, firing then Athletic Director Scott Eaton for ethical violations. He hired Ken Bothof, who has helped NKU transition into a full member of NCAA Division I.

There were other issues that occurred while Mearns was in charge. Funding disparities led NKU to consider selling WNKU, a radio and university institution.

The university still faces a lawsuit accusing officials of mishandling a sexual assault case. That was followed by a university request for a gag order in the case, a request which was denied by the judge.


NKU vs. Ball State
M

earns will take over a campus located in Muncie, Indiana, about an hour northeast of Indianapolis.

The university, founded in 1918, is attended by approximately 21,000 undergraduate and graduate students.

By comparison, NKU, founded in 1968, is attended by approximately 15,000 students.

While NKU is enjoying its second year in the Horizon League and fifth year in Division I athletics, Ball State has been a member of the Mid-American Conference since 1973.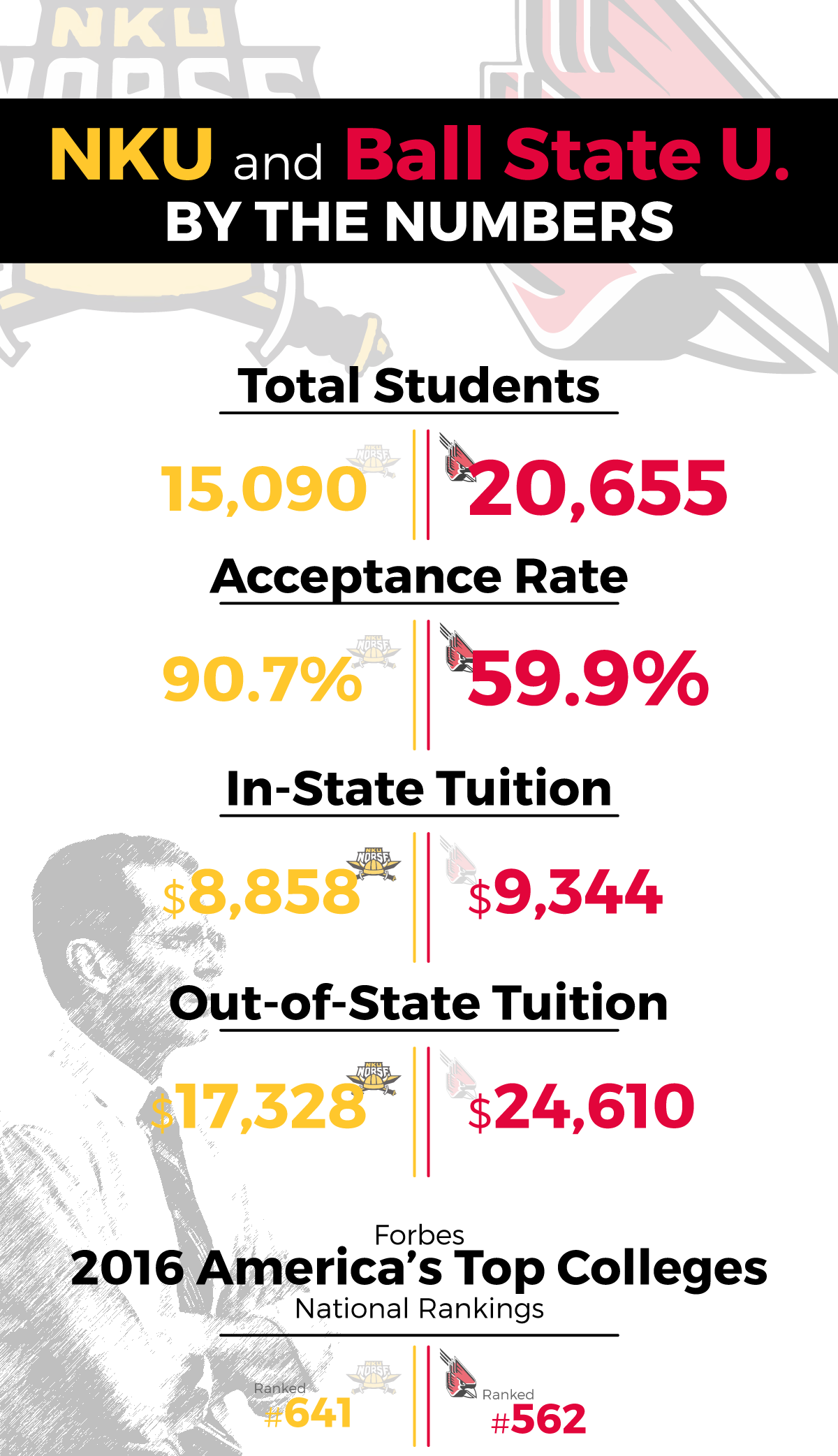 Mearns' Legacy
I

n addition to all the things Mearns has overseen during his time at NKU, one of the most common responses you will hear from students is how connected he was to them during his tenure.

Students felt like Mearns was interested in what they were doing. He was a regular at NKU sporting events and frequently stopped by other on-campus activities.

When students were asked what they hoped the university would look for in a new president, many said they hoped the new president would be as visible and engaged with students as Mearns has been.

The Northerner will continue its coverage of Mearns' departure, and the search for his replacement, in the days and weeks to come.



The Northerner's Coverage