ECOS Focuses On Staying 'Green' During Dark Times
November 15, 2020
NKU's Environmentally Concerned Organization of Students (ECOS) has continued to spread environmental awareness despite the COVID-19 pandemic. ECOS members and faculty discussed how the pandemic has affected the environment as well as additional practices to reduce gas emissions, paper and single-use plastic waste.
ECOS is a club that is focused on doing what they can to make the earth healthier and bring awareness to others. They may not have had many meetings this semester with their last ones being held on Sept. 22 and on Nov. 10, but they are still making an attempt to stay active, such as their environmental art show that was held during the entire month of October. 
Other ECOS events throughout the year can vary from drives and clean ups, to classes to create awareness and teach students about eco-friendly techniques like hydroponics. 
Erin Carleton, senior environmental science major and president of ECOS, and ECOS member Makayla Ruoff, junior history major environmental science minor  said one of the most significant changes due to the pandemic is that a lot of people have to stay at home more which is beneficial to the environment because there are less gas emissions due to less traveling. 
The members of ECOS said the trend of people making their own bread, which became popular on social media around March, saved some plastic. In addition to bread making, many people started growing their own food during the pandemic, which can support local farmer's markets.
Although the environment has benefited from the pandemic in some regards, there are some disadvantages as well. ECOS' faculty advisor and Director of Science Education, Dr. Kimberly Yates, said one of the biggest ones being that even though people are going to restaurants less, because restaurant owners want to minimize the potential to spread the virus, they have temporarily replaced washable trays with styrofoam trays, plates, cups even menus, creating more waste that is harder to get rid of compared to most. 
In addition to the amount of waste restaurants make, many people are over-buying toilet paper, wasting masks and placing more online orders, which has caused more paper and cardboard to go to waste because it can't be composted.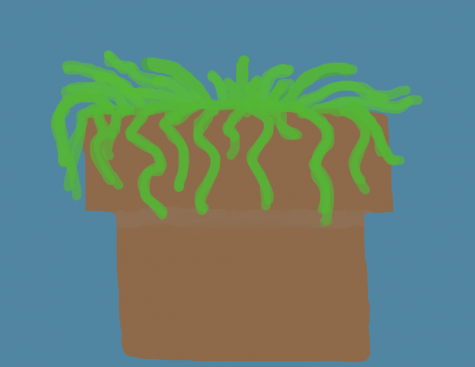 "With the environment, there will be less people going places so less fuel emissions, but more ordering things so more cardboard being used," Rouff said.  
Carleton said there are some environmentally friendly practices individuals can utilize to further minimize gas emissions, such as running all errands all at once and online shopping can also be beneficial. 
Rouff believes adopting environmentally friendly practices into your daily routine makes you conscientious during the pandemic because it causes individuals to care more about how their actions impact the environment such as the products or services used in their daily routines.
Carleton and Rouff had also suggested one of the cheapest ways to reduce waste is by doing crafts out of the cardboard you get from Amazon, or from other household waste.
Yates also suggested avoiding businesses that prohibit the use of reusable cups, reusing disposable masks or using washable cloth masks that can be washed when needed. 
With the ECOS members working for a better world any way they can—whether small or big events—that bring awareness to problems or just them remembering to recycle the things they no longer have use for. 
For additional information on how to get involved with ECOS, contact Erin Carleton (Carletone1@mymail.nku.edu).