Student recalls last moments before she lost her dad to cancer
For Alli Otten, the fight against cancer is personal
October 23, 2016
Alli Otten sat with her dying father.
She held his hand, her family and her mom by her side.
Otten's dog jumped up and licked her father's hand.
In a way, she said, her dog knew too.
The junior elementary education major recounts her last moments with her father before he lost his battle with cancer on August 25, 2016.
"It felt like he was just going to sleep, which was comforting…we were all there when he passed away," Otten said. "It was hard to see it actually happening… you see it in movies, or you read about it in a book, but to see someone you actually know, and someone who raised you…"
Otten said she found out about her father's illness a year earlier when he went in for another surgery.
She called her mother to see how the surgery went, and was asked to come to the hospital.
Her mom took her to a garden meditation area to tell her her father had Cholangiocarcinoma, or bile duct cancer.
"I just remember crying a lot about it. But she [Otten's mother] was like, 'We've just gotta be strong when we go in there,'" Otten said. "Mitch, my brother, I found out a few hours before him because he was still at school and he had a soccer game that night and my mom didn't want to upset him before that. But we all waited to tell him.
"I went to his soccer game and then took him to the hospital so she could tell him. We kind of all just sat in a room with my dad for a while."
Her father began chemotherapy after receiving his diagnosis in August 2015. The chemo was supposed to extend his time, but the illness was given a terminal diagnosis by the doctors.
Mark continued this treatment until spring of 2016, when he decided he wanted to spend more of his time away from the hospital.
"It [chemo] was just, it was horrible," Otten said. "It was taking such a toll on him. He would just get sick. He didn't want to eat anything. Chemo just makes you feel awful.
"After a while he was like, 'I don't want to do this anymore. I don't want to keep spending my days there [at the hospital].'"
Otten said stopping the treatment helped her father feel more comfortable.
"After he stopped taking it, he had more pep and he was still going out to games," Otten said. "I remember he went to my brother's state track meet, this past spring, too… he was out and about then, still cheering us on.
"We have a lake house, and he has a boat up there… he didn't want to be a passenger, he wanted to drive it. He could just be himself and not have to worry about going to the hospital two times every week."
Otten said her father chose to have hospice care after he stopped chemotherapy treatment in the months that led up to his passing.
"I think towards the end you could tell that he lost a lot of weight and had trouble moving around," Otten said.  "We had a wheelchair for him, and he ended up just staying downstairs because he couldn't get up and down the steps anymore."
As his condition worsened, Otten said he had to be accompanied at all times.
"He would make little comments kind of like, 'Oh I'm not feeling very well' or 'It might be sooner than later.' So we kind of knew where he was at," Otten said. "It got to the point where my mom wasn't working for a while just to be with him, because we couldn't leave him at home by himself in case he had to get up or something because we had to help him up."
Otten said the night before he passed was not anything out of the ordinary for her father. He was still tired and not doing well, but it was not different from how the last month had been.
Otten went to class on Thursday morning, one of her long days that lasted from 11 a.m. to 9 p.m., and received a text from her mother, telling her that things had gotten bad.
Her mother told her that she should come home. Otten didn't see the messages from her mother until after she was done with class, but luckily she got out early.
"I went running home and by that point he couldn't respond to anything," Otten said. "So we kind of knew that he probably wouldn't make it through the night at that point, and I don't think we would've wanted him to be like that and go through that suffering for more than what he did. It was just hard to see him like that."
Otten said she can't believe the outpour of support she has received.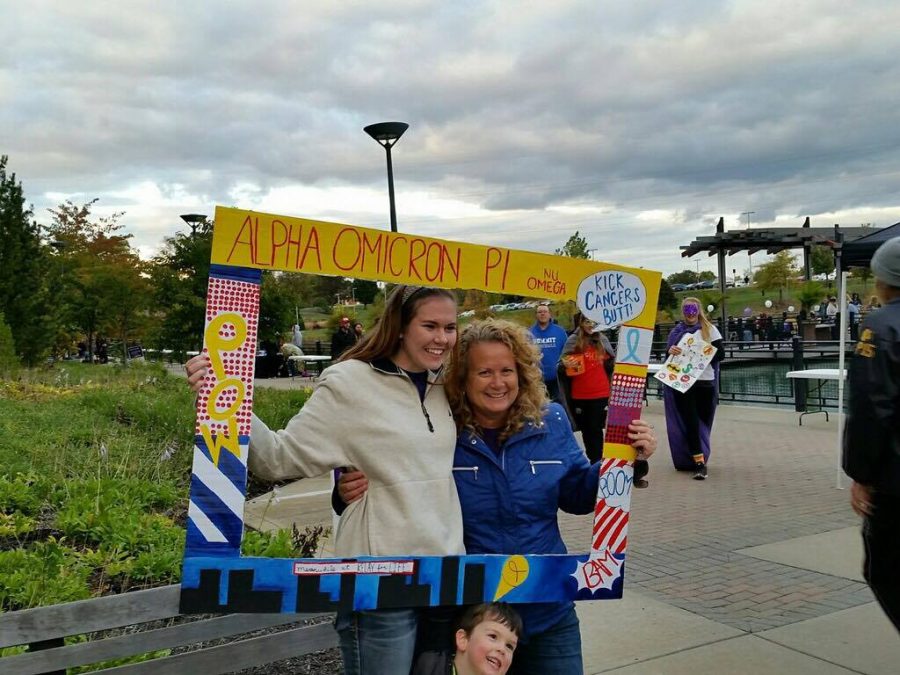 One of her closest friends, Nikki Buller, a senior studio arts major at the University of Louisville, has been there for her through this whole experience.
"She would come to me when she needed it. I would kind of give her space and be there for whatever she needed," Buller said. "I was home for the weekend [the night Otten's father passed away] and she called me and told me what happened…five minutes later she called and asked, 'Can you come over?'"
Buller said the experience created a stronger bond between her and Otten.
"As awful as the situation is, it did bring us closer," Buller said. "It brought us closer and it brought me closer to her family."
Otten also said that cancer has a way of bringing people together.
"I think it [cancer] brings people together, even if that's not the way they want to be brought together," Otten said. "I know me and my mom got a lot closer by just having to balance everything.
"We had a good relationship before, but I think it's even stronger now, which is a positive. I guess it just brings people together, like families and the whole community."
In addition to close friends like Buller, Otten said the whole community has been supportive of her and her family.
"At his visitation, they had to close the doors because so many people were coming out to it to visit and pay their respects," Otten said. "I don't know if that's just because it was my dad. He was always a very positive and optimistic person and very happy with everyone he met."
Otten's brother, Mitch, is a senior at Newport Central Catholic High School. During his regional tournament game for soccer, one of the moms brought over a card and said they had taken up a collection. Otten said they got a new canopy for the soccer players that had the letters 'NCC Playing for Mark Otten' embroidered on it.
Otten said Newport Central Catholic has become like a "second family."
Hannah Siefert, member of Alpha Omicron Pi (Otten's sorority) and Team Ambassador of Community Connections in College Against Cancer, an organization that helped in coordinating NKU's Relay for Life event on Friday Oct. 21, said the sorority showed their support by sending Otten flowers, making a card and writing "warm and fuzzies," or loving notes.
Siefert said Otten has been incredibly helpful with A-O-Pi's involvement in Relay for Life.
"This year is the first year that I've really been involved with it," Otten said. "I think that it's an illness that doesn't just affect the person that's going through it. I think it affects everybody that they know.
"There are some illnesses that it's really just a one person fight, but especially with my experience with this, everybody in my family, a bunch of people from even my grade school, they just all rallied together."
Siefert also talked about how fighting cancer involves the whole community.
"There are people out here that care, and we want to help as much as we can," Siefert said. "Stay strong, because we're out here to find a cure. That's the goal of our organization, that's the goal of every Relay across the country, is to help find a cure for them.
"We do it because we want to help and we want to be there for them."
Otten also talked about some of her favorite things about her dad, like his love for sailboats. He loved being on the water, and he also loved coming out to watch Otten and her brother play sports growing up.
"They [Otten's parents] were our biggest little cheerleaders," Otten said. "They had a cowbell and they would bring it to our soccer games, and if we scored a goal they would [Otten makes a ringing gesture with her hand and then laughs]."
Otten offered advice to anybody who is affected by cancer. She said it's important to enjoy the time they have and make the situation the best it can possibly be.
"Don't treat it as 'This person is a cancer patient. They're not the same person.' That's still the same person they were, and you should find ways to enjoy that time you have with them because you don't know if they'll beat it or how long they'll have with it," Otten said. "I know if we had started acting different around my dad, I know that wouldn't have been right or good for him… I think just being there for them means the world to that person as well."