Former Miss USA speaks at BHM celebration
Deshauna Barber spoke to students and faculty in the Student Union
February 5, 2020
Deshauna Barber, the 2016 Miss USA, took the stage in the Student Union Ballroom on Tuesday night as part of NKU's ongoing Black History Month celebration.
"Now first and foremost, who is Deshauna Barber?" Barber said before taking a slight pause. "I'm fabulous." 
Educating the audience
Barber is a captain in the U.S. Army Reserve and was the first soldier to be crowned Miss USA. She spent the first half of her time on stage educating the audience on the creation of Black History Month, including how Carter G. Woodson created the prototype in 1926 and how Woodson and his colleagues established a foundation that taught black history to K-12 students. She said education today of black history is still lacking in every area.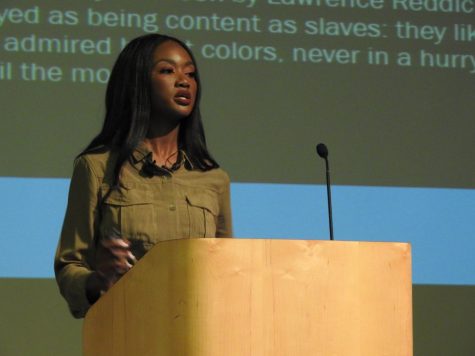 "There's a still large level of sugar coating when it comes to slavery or when it comes to civil rights," Barber said.
Barber later referenced a 2015 scandal with textbook publisher McGraw-Hill, where a World Geography textbook said: "The Atlantic Slave Trade between the 1500s and 1800s brought millions of workers from Africa to the Southern United States to work on agricultural plantations." According to Barber, most students are unaware of the history of black people in America because they are never taught about it.
"We have to take an African American History course, even though African American History is American history," Barber said.
Trivia night
After educating the audience, Barber stepped out from behind the podium to get people in the crowd involved.
"Let's play black history trivia. Raise your hands if you want to play," Barber asked the audience.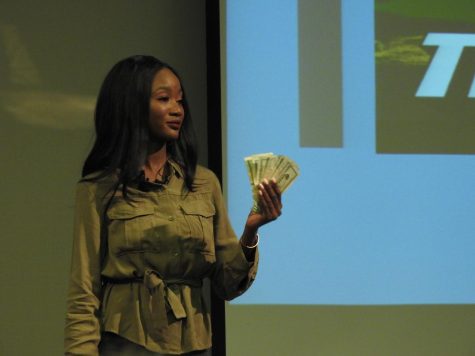 A few hands went up.
"What if…" Barber trailed off, before pulling out a wad of cash that totaled $300. 
Almost the entire front section raised their hands.
"Oh, so now y'all know black history?" Barber said as she laughed.
Barber invited freshman Yve Fragelus, sophomore Danielle Polion, junior Jontay Brown and senior Jordan White on stage, before inviting sophomore Emi Taylor from the back section.
The game started off with a format that eliminated contestants if they got a question wrong. Each question was multiple choice.
The first question asked which iconic speech by Martin Luther King, Jr. was improvised. The correct answer was "I Have a Dream," which Fragelus answered incorrectly. The second question asked what the first Historically Black College or University was. Polion answered Howard University, but it was actually Cheney University of Pennsylvania, which drew several gasps from the audience.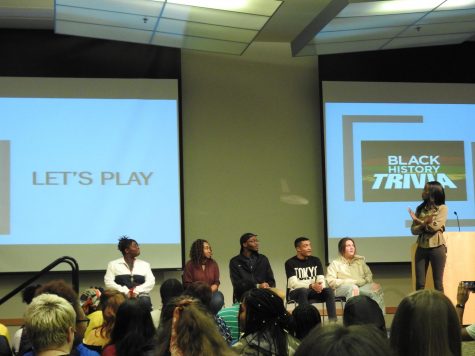 As the game went on, Brown and Taylor were the last two contestants. They answered a sudden-death series of questions like "Michael Jackson set the world record for best selling album ever with which album?" and "Madam CJ Walker was a black entrepreneur who became America's first female millionaire with what type of company?" 
On the last question, the score was tied, 3-3. The final question asked which president sent Congress a special message urging adoption of a civil rights program with fair employment practices, with Eisenhower, FDR, Truman and JFK as choices. Taylor answered incorrectly, but Brown answered correctly, which secured his victory and the $300 cash prize.
The crowd screamed and cheered as Brown jumped out of his seat while holding the cash. Brown later said the victory was "exhilarating."
"I just had a lot of adrenaline going through me, hoping I won, so this was a nice come-up," Brown said.
Q&A with fans
Carlous Yates, director of NKU's African American Student Initiatives, organized a Q&A for students to ask Barber their burning questions. 
One student asked what the most important thing that students who want to be leaders should do, which she said is networking. Another student asked her who her biggest inspiration is, and she responded with Oprah Winfrey, the former Miss New Jersey winner.
"She was a—I don't want to cuss, but she was a bad A," Barber said.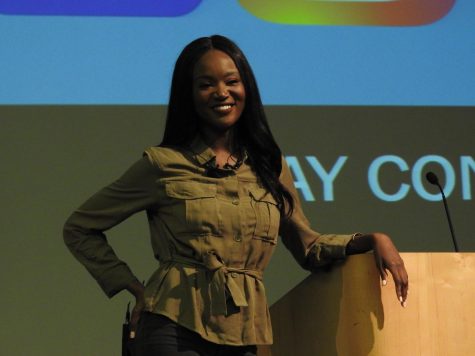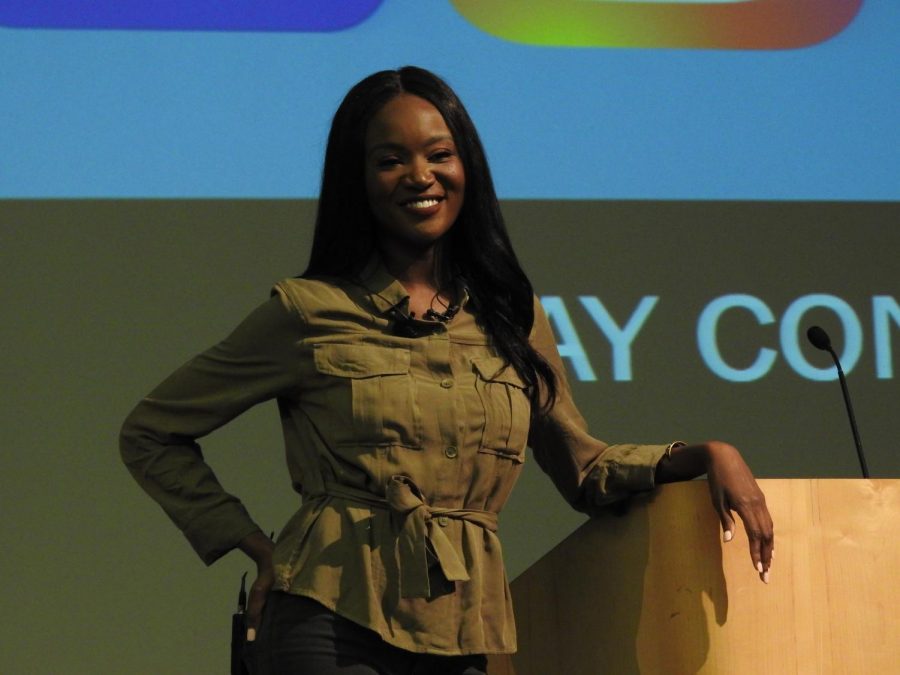 A student asked what helps Barber when she feels like she's not enough or doesn't fit into her environment.
"I've had to deal with that issue as Miss USA. Sometimes we have to take the weight off ourselves and do the best we can as individuals," Barber said. "What I learned over time is you'll fit in in the space you're meant to be in."
Yates told The Northerner that Black History Month events like this one help black students to share their culture and heritage with everyone on campus.
"When you attend a predominantly white institution, a lot of times when you go in the classroom, you're one of few that look like you. This is an opportunity for you to celebrate who you are," Yates said. "Not only is it a way for us to celebrate our culture, but also to share it with everyone on campus."
Barber encouraged the audience to follow their passions by building on the actions of those who paved the way before.
"Our rights, our beliefs, our morals will be challenged. The world will drag us … for believing that we deserve more than the breadcrumbs of society. I encourage you to be unafraid," Barber said. "Be unafraid of feeling deserving. There are generations on generations of people that acted so that you could be here today."
Students who wish to get involved with AASI can follow their Facebook, Twitter and Instagram accounts, or stop by the office on the third floor of the Student Union.