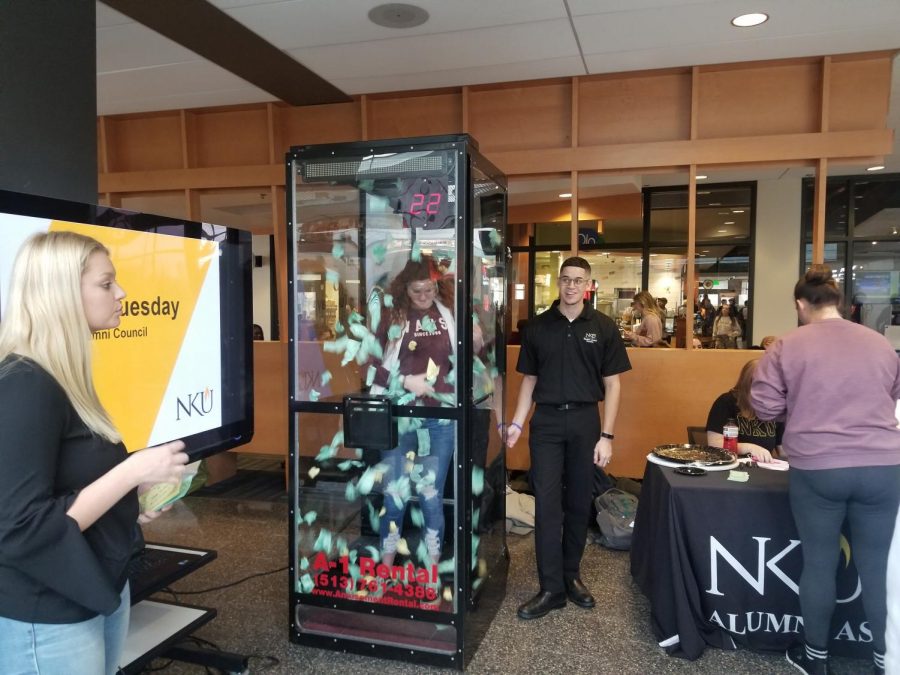 Everybody wins this Giving Tuesday
NKU's Student Alumni Council gave students an opportunity to give back to NKU and themselves in the SU this Tuesday.
December 3, 2019
Students stepped into the box—goggled and ready—to grab as much "cash" as they could in under 30 seconds. The cash, colored yellow and green, would give students the opportunity to donate money to an organization of their choice or win a gift card for themselves.
Derek Darwish, member of the student alumni council, said the event was inspired by nationally recognized Giving Tuesday. 
"This is just our little way of giving back, I guess our little philanthropy event," Darwish said. 
Flynn Ashley, assistant director of alumni outreach and digital engagement, said it's important for students to learn about philanthropy while they are in college so they can participate when they are alumni. 
Before entering the cash machine, students had to answer questions about NKU's culture of giving and alumni engagement. If they answer two questions correctly, they got 10 more seconds added to the 20 seconds they already received. 
"This is part of the education piece about philanthropy," Ashley said. "Teaching students about donating and our endowment and how much impacts that donating after you graduate can have."
Lauren Hendrix, senior communication studies major, also took a turn in the machine which she described "feeling like being in a tornado." Hendrix won a gift card to BJ's Restaurant & Brewhouse, as well as coupons similar to Wilson's. 
Hendrix was also able to grab some of the green bills which represented money being donated to different organizations and scholarships. Hendrix described her process for choosing what organization to donate to. 
"I put mainly in the informatics one … and then I put it in anyone that was kind of empty because I felt bad," Hendrix said. 
Ashley said that the gift cards given to students were donated to the Student Alumni Council. They received over 130 gift cards ranging from $5 to $25. The $500 "cash" in the machine was donated in advance, according to a press release. 
NKU also had a Giving Tuesday challenge for faculty, staff and alumni to donate to their favorite department, college, division or scholarship fund, according to a press release. Faculty, staff and alumni can post an image holding a sign with the prompt "I love NKU because…" on social media with the hashtag #NKUGivingTuesday. 
Christian Dichoso Memorial Scholarship and Lending Library had over 100 bills, according to Ashley at the time of the interview.
NKU University funds that benefit from the event, according to the press release are: 
Christian Dichoso Memorial Scholarship;
NKU Scholarships (general);
College of Arts and Sciences;
College of Health and Human Services;
Haile/US Bank College of Business;
Steely Library Services Fund