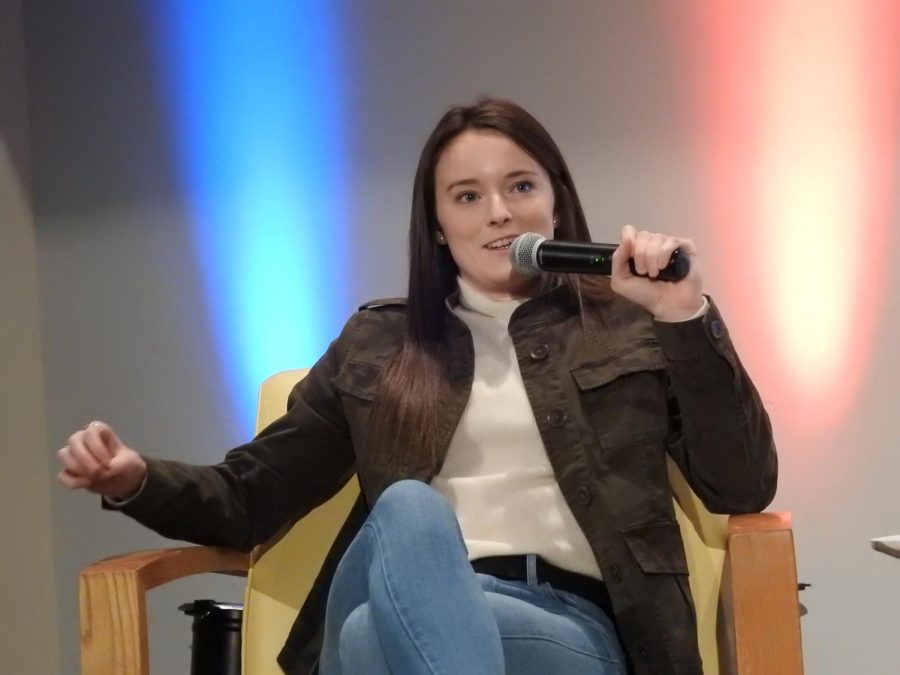 U.S. women's soccer champion inspires students and community members
APB hosted Rose Lavelle on Thursday night to talk about her experiences on a championship team
November 15, 2019
On Thursday night, the Activities Programming Board hosted U.S. women's national soccer team champion Rose Lavelle. A Cincinnati native, Lavelle returned to the area to share her story and inspire the students and community members who sat in their seats fixated on the local hero in front of them. 
Two moderators, junior athletic training major Shania Young and senior sports business major Gregory Swinehart, facilitated the conversation for the evening, then opened the floor for an audience Q&A. The majority of questions came from elementary-aged girls eager to know more about Lavelle's success as a female soccer player. 
"When I was a 90-pound freshman in high school and no colleges thought I could play Division I, I was like 'that's what I want to do,'" Lavelle said. "That confidence that I had in myself, regardless of what coaches were telling me or what people were telling me, is why I was able to stick it through and continually progress and that's why I got here."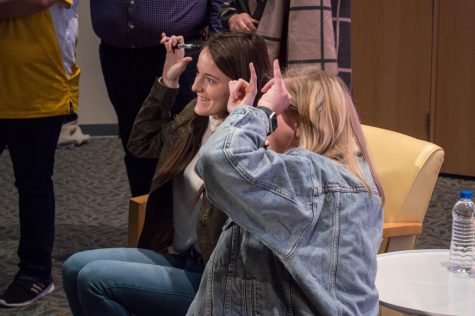 Lavelle's success, and the overall success of the U.S. women's national team, rejects the narrative that female athletes are worth less than male athletes in our culture, or are somehow less athletically skilled. Lavelle's teammate, Megan Rapinoe, has made comments in the past about the way the Women's World Cup is treated differently than the men's.
The women's national team even filed a lawsuit in March 2019 to fight current wage discrimination. A discussion was started by audience questions about the wage gap between the U.S. women's and men's national soccer teams. Lavelle explained that due to more financial investment in men's sports, women's sports aren't receiving equal pay. However, there is a growing trend of investment, coverage and sponsorships in women's sports. 
One audience member asked for Lavelle's input on the positives and negatives of paying college athletes. Lavelle said that she wanted to donate one of her jerseys to a charity to raffle off, but it didn't pass NCAA compliance, as it could be perceived as using her name to make money.  
"It felt kind of hypocritical—you make money off of so many athletes' names, but you're not going to let them do the same thing?" Lavelle said.  
Because of the hypocrisy, Lavelle said she was in favor of college athletes receiving pay.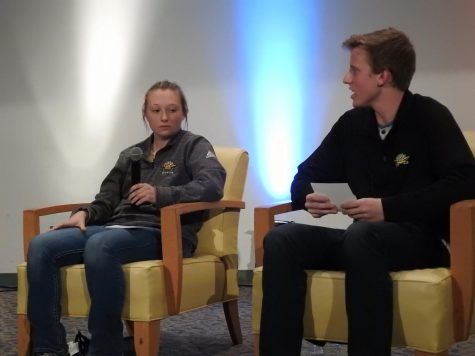 While discussing controversies in the sports world, Lavelle was able to provide some insight into her progress as an athlete and inspire the young athletes in the audience that they can achieve their dreams as well. She said that simply practicing in her backyard—with just her soccer ball, a wall and no plans—helped her become the player she is today. She said she developed a unique relationship with the ball during that time. 
"That time in my backyard—that was unscripted and free—is why I am the player I am," Lavelle said. 
Despite her abilities, Lavelle admitted she still feels nervous before a match. However, she repeats a reminder to herself before a game. 
"I had a trainer tell me, 'if you're nervous, it's because you're about to do something great,'" Lavelle said. 
Moderators Swinehart and Young said they were nervous about getting to talk to Lavelle and ask her questions, but Young said it was a "good nervous." 
"Not like, 'oh my gosh, I'm so scared,' but 'I get to talk to this awesome person who's a role model to everyone including me,'" Young said. 
Young appreciated the opportunity to bring someone to campus who not only had an impact on NKU students, but community members as a whole. After Lavelle spoke, fans formed a line to take pictures and get jerseys or soccer balls signed. 
"See how many children just look up to her?" Swinehart said, gesturing to the line of fans reaching towards the back door of the Eva G. Farris Auditorium.