Habitat hopes to impact lives
October 26, 2018
Building a home is a huge feat to take on, and takes many months to complete from start to finish. NKU's chapter of Habitat for Humanity takes on the challenge at least once a month. On average, NKU's Habitat chapter assists in 12 to 16 builds a year, and every build varies in the amount of time it takes to build. The chapter is able to help on so many builds because they work with other Habitat groups and other groups and members of the community. Because they get that help they need, they can work on multiple projects simultaneously.
Sarah McIntosh, Cameron Doan and Michelle Thomas are all members of NKU's Habitat for Humanity executive board. McIntosh serves as one of the co-presidents, Doan as membership chair and Thomas as fundraising chair.
Habitat for Humanity is an organization well-known for building houses for those in need, as well as now incorporating restorations. NKU's Habitat chapter is always open to new members and outside help.
"I hope students know that there is a chapter on campus and that they can join us and not particularly be a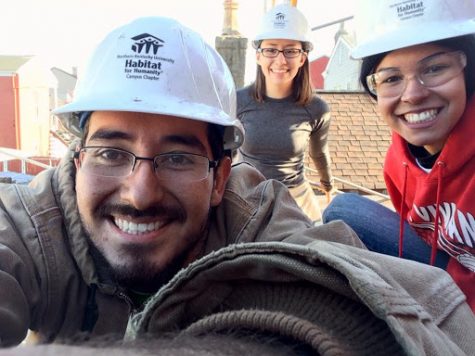 member," Doan said.
Last semester, Habitat was hard at work fundraising with their Small Planet Dinner event, their annual dinner fundraiser to help fund special builds for fall 2018.
Habitat works closely with the community, giving "hand-ups, not handouts" to members of the community who truly need help.
"I just wish people knew that Habitat… we don't just give out free homes. They have to go through trials… we are simply just giving them the extra hands they need," McIntosh said. "Because building a home, it's very hard and you can't do it all yourself. So we're just there to help them out."
NKU's Habitat chapter does more than build homes, they impact lives. They have even received photos from those they help through the beginning stages to the final result.
"When we are there, we get to know these people that we're building a house with…it's not like we are just helping out people we don't know, it's like you get to know these people. You get to see how awesome they are," Thomas said.
They also like to reach outside of the Northern Kentucky and Greater Cincinnati communities with trips. During winter break, Habitat will be taking a trip to El Salvador as well as doing another trip during spring break, these trips allow NKU students to help out people outside of their community, and learn more about the world in the process.
For more information on how to get involved, find them on Facebook at "NKU Habitat" for details on their monthly meetings or contact them here: norsehabitat@gmail.com