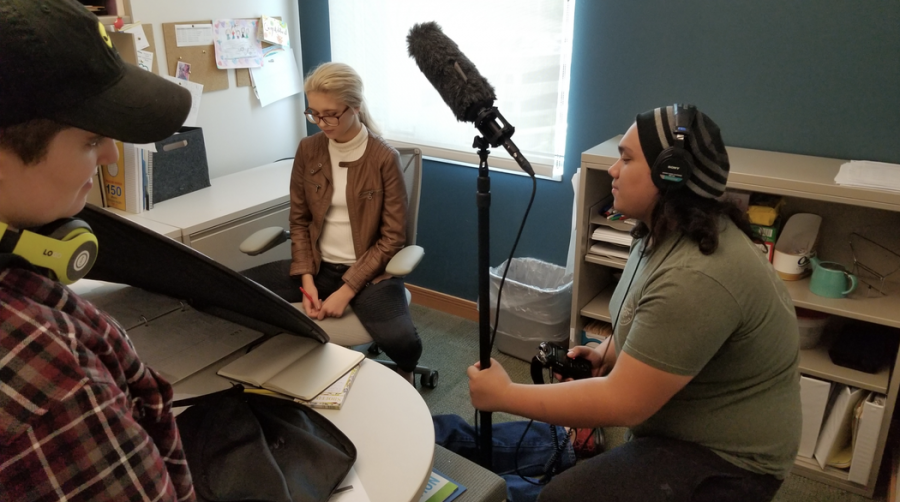 'Horror Roulette': Norse Film Society and dissecting the anatomy of the scare
October 25, 2018
The Norse Film Society will present their "Horror Roulette" event on Oct. 30 featuring six independent horror films created by NKU students. Each film will be around 12 minutes long.
Abby Evans, student advisor, talked about the upcoming challenges that students will face leading up to filming. One of the most difficult challenges to work around are student schedules. Evans said that due to many different schedules, filming is usually done at night.
Auditioning actors can be a challenge as well.
"In the past, finding actors was hard, but this year has been a lot easier." Evans said.
Filming locations can also be difficult for some students if they want a particular location. In order to secure a certain spot, filmmakers often need to pay a fee. Instead, Evans explains that students try to use locations around campus or ones that are free to use.
The Norse Film Society has been around since 2009 and is working toward becoming a stronger student organization. John Gibson, the group's faculty advisor, said the Norse Film Society goes in waves with student involvement. The first wave was the start of NFS, and the second wave began as the seniors graduated and the organization gained a new president.
"We're currently in wave 3, where we have a steady group and a healthy mix of students. Some students are in the beginning stages, while others are more experienced and are actively working on different projects," Gib
son said.
Evans has been a member of NFS for about two and a half years. She is an electronic media & broadcasting major and plans to graduate in December. Her role this semester is to get the new E-Board trained and set up for a successful spring semester. She originally joined NFS because she likes art and technology, and wanted to combine them.
"It's a great environment and very supportive," Evans said.
One of the things Evans likes the most about NFS is that it's student-run.
"I'm really hands off, the students run it. I'm there for support and to book the room," Gibson said.
But what makes  a good horror film?
Gibson has his own criteria for why today's horror films don't hold up well.
The first reason is that filmmakers rely too much on jump scares.
"You lose the scare once you watch it again," Gibson said, explaining the problem with jump scares. He also  said that next time, you will know it is coming and won't react the same way.
"The more unsettling moments stick with me the most," Gibson said.
In his opinion, the movie is scarier if it sticks with you days after watching it.
Some trailers also spoil the fun by giving too much away or misleading the audience, Gibson noted.
"Editors and marketing are not the same. Filmmakers have no say in the trailers. The main goal in trailers are to increase sales." Gibson said.
But he explained that bad horror films can still be successful at the box office. Gibson said that this has changed over the years, and it's hard to tell the direction it's going. It all depends on the audience, in many cases.
If you're looking for a fright from student horror filmmakers, be sure to check out the Horror Roulette event on Oct. 30 at 7:30 p.m. in the Digitorium.