Karamo Brown wows SU crowd with message of love, self-esteem
October 10, 2018
NKU's crowd was jubilant as Karamo Brown grabbed the microphone, twirled his coat, and yelled "hello!" to an ocean of students, parents and citizens.
Brown, social activist and star of Netflix's original series "Queer Eye" took the stage for a sold-out event in the Student Union ballroom on Monday night during NKU's celebration of LGBTQ History Month, an event presented by NKU's Office of LGBTQ Programs and Services and Activities Programming Board.
Brown was the first openly gay black man on reality television when he appeared on MTV's "The Real World: Philadelphia" in 2004.
"It's mind blowing to me, to be honest with you, that in 2004 I was the first. It just shows that there's still so much work to do. I want to pretend like it was like, 'oh, I went in there with that intention.' I was a 22-year-old kid that just wanted to get drunk on reality television," Brown said.
However, the impact of Brown's appearance on "The Real World: Philadelphia" reached further than he ever could have guessed.
He described being in random places like Switzerland and someone will run up to him and say, "'I watched you on 'The Real World' and now I'm watching you again and you have given me continuous hope that I can be myself through all these years.' Just shows why visibility is important," Brown said.
On "Queer Eye," which stars five gay men giving people's lives a makeover, Brown stars as the culture expert.
Brown, who guides participants through short therapy sessions on the show, said they often claim they're "happy" and that they only need fashion or cooking advice.
"And I think, 'ooh, we're gonna figure that out,'" Brown said.
From the ground up
With wide eyes, the audience eagerly listened as Brown shared his life story in the Student Union.
He said he knew he wanted to be on TV when he was five years old.
"I used to wake up and watch 'School Daze'… There was this homecoming scene where these four girls did this dance. I would wake up in the morning and wrap a sheet around me and I would mimic the dance moves. It would be every morning," Brown said.
Brown said "part of his soul" knew that what he saw the women in the film doing—"making people smile and entertaining them," was what he wanted to do. But one day, his dad caught him imitating the scene. He was told if he was ever caught doing it again, he'd be in big trouble.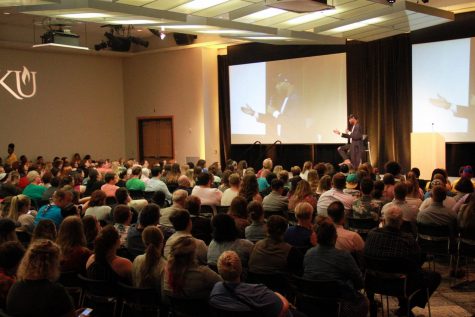 Later on in life, while playing sports, high school coaches and administrators told him that he needed to stop telling people he was gay if he wanted to be successful in the athletic world.
After appearing on "The Real World" in his 20's, Brown said he was extremely unhappy and attempted to commit suicide. He didn't understand why, because his life was "great." He was getting paid to go to clubs and get drunk.
Afterwards, he pondered all of his choices in life that had brought him to this point. He realized all the people in his life, like his father or high school coaches, had been a "symphony in [his] mind" of negative voices lurking in the background.
"You don't even realize that you have been beat up in your heart and in your mind… If you had a cut on your arm, you would get a band-aid, right? We have emotional cuts that are open and gushing and we just walk around like it's normal," Brown said.
Brown said that realizing he can create his own, louder voice to silence those negative ideas helped him become who he is today.
He told the crowd that everything he needed to live his life was within him all along.
Making your voice heard
Brown came to NKU to let everyone–not just students or members of the LGBTQ+ community–know that being able to connect with people is the greatest gift he's ever received and that other people should realize that too because, "when you connect with people, you realize that…we're more alike than different."
"Especially in a time where everyone is just so divided. It's better that we have a conversation and learn how to respect and empathetically hear each other so that way we can grow together and I'm a big believer of that, but if I stay in my corner and you stay in your corner, then that's never going to happen and we're going to continue to have these issues," Brown said.
These issues expand beyond connecting with people personally, however. Brown also discussed how young people can influence the political climate, emphasizing the power behind voting.
"Especially with an election coming up, you know, so many people feel like no one's gonna pay attention. 'My vote won't matter.' And it does. And so you have to get out there, you have to be informed," Brown said.
He also commended music icon Taylor Swift for her social media activity on Sunday decrying candidates who discriminate based on race, gender or sexual orientation and endorsing two Democratic nominees.
Brown said many people feel like no one is speaking for them and their voice has been silenced, but Swift's voice is very powerful.
"For once, in one moment, one post, so many people thought, 'Wow, maybe there is a chance that I am supposed to live a better life, that I deserve to have better things,'" Brown told The Northerner.
Finding a career in 'Queer Eye'
Coincidentally, the first people he spoke with on the first day of "Queer Eye" auditions were two of the future cast members. They spoke about their life experiences, not knowing at the time that they would be selected for the final cast.
"We were talking about what people told us were wrong about us that had now brought us to the place we were at today," Brown said.
That same day, the other two cast members joined their group and began talking, and all five became fast friends. Within 40 minutes of meeting each other, they had created a group text message titled "the fake Fab Five," thinking none of them would get a spot on the show.
They wanted to keep in touch regardless because of how well their personalities matched. However, all five men were selected and the show was a runaway success, garnering fans all over the world—including pop star Justin Timberlake.
Timberlake and his wife met Brown backstage at an event and showered him with praise because of his actions in episode three of season one, where he had an honest conversation with a police officer about why it is necessary for cops and civilians to build trust.
"So, every time one of those voices pops back in, I kick them out and I put Justin in!" Brown said.
Brown concluded the event by telling attendees to stay away from people who will be negative voices—saying that nowadays he can easily recognize when other people's negativity is coming, and tells the crowd he immediately thinks in his head "skrt, not today Satan."
Q&A with fans
After the event's conclusion, Brown hosted a Q&A where many NKU students and other attendees shared their admiration for him.
One student asked which episode of the show was his favorite to shoot, which he said was like "asking 'which of your kids do you like the most?'"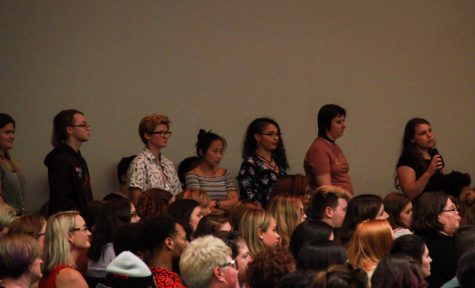 "Although, as a parent, I'll tell you, we do have favorites," Brown said, as the crowd erupted with laughter.
He also said that his least favorite contestant on the show was Jason (from season two, episode four). After reminding attendees that Jason was the contestant who was obsessed with the Burning Man festival, several members of the crowd groaned.
"Trust me, we [the Fab Five] were all feeling this way," Brown said.
Another attendee asked if Brown had ever considered writing a book, and he shared that he has a three-book deal already. The first will be an autobiography, with some advice included.
He also mentioned that there is an official "Queer Eye" book written by the cast coming in November, before looking around at the crowd and laughing.
"Can I tell y'all some real shit? None of us know anything about the book… they took sound bites from the show and wrote it. We don't know what's in it!" Brown said.
After a question from a student regarding representation, Brown said the show plans on featuring people with different backgrounds in the future. Although they've already featured a gay man and a trans man, Brown said they want to do more with the power they've been given over decisions as the show has progressed, such as including more people on the LGBTQ+ spectrum.
Brown also said he saw the lack of racial representation on the show as a "problem." He explained most participants have been either black or white, and said he wants to work on expanding beyond that.
"Just know we're always fighting for it," Brown said.
What you're destined to do
Emma Wilson, senior EMB major, asked if he has any tips for upcoming graduates who have no idea what they want to do when they graduate.
"Mmmm… I'm calling your BS. You do know what you want to do. You just don't know what path you wanna take to get there. What is your dream?" Brown said.
"To film wildlife documentaries?" Wilson responded.
"Say it one more time?" Brown said.
"To film wildlife documentaries."
"Thank you. The reason I had you repeat it—I didn't hear you the first time and you were saying it as if you were scared."
"Oh, because I am."
"You should never be afraid of what you are destined to do… You want to make documentaries, correct?"
"Yes."
"Now we're gonna switch that a little bit. Say 'I will be making documentaries.'"
"I will be making documentaries."
"So we're gonna try this again. So, what will you be doing after school?"
"I'm gonna be filming some dolphins in the ocean!"
Brown said he wants everyone to know that "they are perfectly designed and that they have all the tools they need."
"You have the power to create the life you want and you just have to first step up and own who you are—and love who you are," Brown said.