Going Greek: Tips for sorority recruitment
September 5, 2018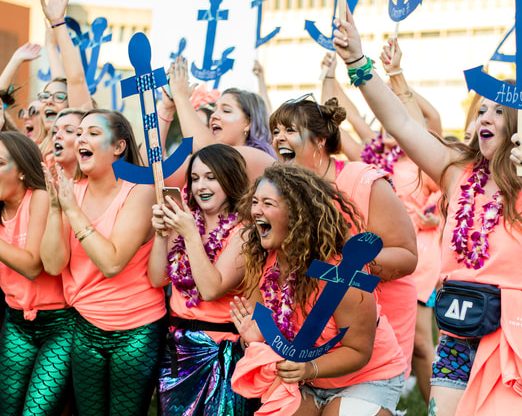 Joining Greek Life on NKU's campus is inclusive and accessible for everyone. When joining a sorority, you're not just exclusive to that one chapter, there is a whole community supporting you. By doing this, NKU sororities defy the stereotypes attached to Greek life and in turn make a community of sisterhood.
Director of Fraternity and Sorority Life Kim Vance said in a press in a press release, "Philanthropy is one reason students choose to join Greek organizations." Meaning your involvement not only impacts you, but also impacts others.  
However, before joining a sorority you must go through sorority recruitment on Sept 6-9. Here are three tips from the PanHellenic Council to help make the most of the week:
Tip 1: Be Open-Minded
Go into recruitment week with an open mind. Vice President of Membership Grayson Yaden said, "girls pigeon-hole themselves into one chapter and deny themselves the opportunity to get to know another chapter that might be right for them."
Open-mindedness allows for new recruitments to get to know all the individual chapters better. Each sorority has a different personality and philanthropy, just like the new recruits have their own characteristics and things they care about in the community. New recruits who go in with a preference stop themselves from fully experiencing rush.
Coming in open-minded also comes hand-in-hand with having no expectations. "New recruitments should come in with no expectations, which allows them to be fully themselves and find the chapter that fits their personality," Katie Mitchell from Delta Zeta said.
Going in with the right mindset sets you up for a successful week.
Tip 2: 'Trust the Process'
If you've been to any of the previous events for Greek life at NKU, the phrase "trust the process" is commonly used among the sorority community. During recruitment week, you may feel stressed about where you will end up. If you "trust the process," you will eventually find a chapter that fits your personality and strengths.
On the other hand, some girls come in thinking they know exactly which chapter they want to be in. Yaden said those girls usually end up disappointed when they don't get the bid they wanted. Instead of going in with a closed-mind, go in "trusting the process" and understand you'll eventually end up in the right place.
Tip 3: Be yourself
The biggest tip is to be your true, authentic self. Yaden said the biggest stresses for new recruits is feeling like you have to be perfect. Yaden said new recruits should "be as true to yourself as possible; sororities want to see the true you."
What can help the most is being yourself because you're not only joining a chapter, but rather a community that is dedicated to making the best version of you possible.
Recruitment week is all about being yourself and finding your home away from home. Don't be stressed about how you should act—there's a place for you on campus and in the community; enjoy the recruitment process.