FreshFusion aims to make first-years 'at-home'
August 17, 2018
FreshFusion pushes students to find organizations, opportunities and a college home as they spend the next four years at NKU.
This year, FreshFusion is gathering over 160 booths, showcasing the different possibilities on- and off- campus for the new class of Norse.
The event is designed to welcome first-year students to campus, while also giving them opportunities to get involved on campus and the surrounding communities.
The Office of Student Engagement, which has presented the annual event for the last two years, tries to make the event as engaging as possible. "In the past we used to only focus on student organizations, adding businesses allow us to connect students with these community partners that our students eat, shop and even work at," coordinator A.J. Miller said.
Students will be able to snag a few free items at booths from businesses too. Meijer will be providing a grill out with food while other vendors include Skyline Chili, LaRosa's Pizzeria, Pita Pit, City Barbeque and Auveco Products.
For sophomore chemistry major Seth Longworth, his favorite part of FreshFusion was "the delicious food, the chance to make new friends, and becoming a part of a couple organizations that really influenced the course of my freshman year and welcomed me into the NKU community."
One of the organization tables will be the Activities Programming Board (APB) where you can find Alexia Ball.
When Ball arrived on campus as a freshman, she attended FreshFusion. However, she did not join any organizations. Ball, now a junior elementary education major, is very involved on campus, being a member of APB, NKU R.O.C.K.S. and Black & Brown Educators of Excellence.
"If I could go back to my FreshFusion, I would get more involved in these organizations from the beginning," Ball said.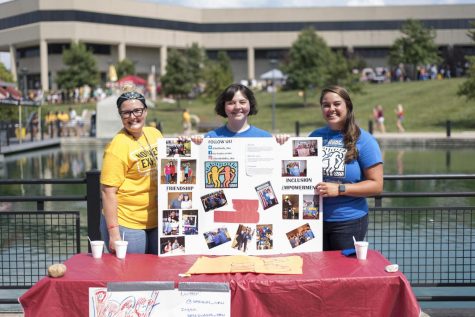 APB plans events throughout the school year to engage the NKU student body and surrounding communities in different aspects through motivational speakers, inclusive activities, sporting events, and entertainment. APB's first event of the year will be the Movie on the Lawn during VictorFest, a 10-day welcome event.
"[First-years] realize that NKU is now their home. They have a place here, no matter who they are or where they come from…It's all about them making their first steps into their Norse journey," Miller said.
This was true for sophomore entrepreneurial major Olivia Andrews when she experienced FreshFusion last fall.
"FreshFusion really helped to segue my transition from move-in day to classes. For three days after I moved in, I had been in constant sessions where we learned countless facts and statistics about NKU, and the second I stepped into all the excitement of FreshFusion, I just finally felt at home!"
FreshFusion 2018 will be held 1-4 p.m. on Saturday, Aug. 18 in front of University Center.