Your Guide to NKU Pride Week
April 2, 2018
Following a drag show held in the Student Union ballroom Friday night, NKU's 5th annual LGBTQ Pride Week begins with its annual Pride March on Monday morning at 11:50 a.m. in the SU plaza.
The march, organized by LGBTQ Programs and Services, will be immediately followed by a resource fair and a class called Advocacy 101.
Janiah Miller, an SGA senator and LGBTQ ambassador, said that the class was inspired by a trip that she and other ambassadors took to the Creating Change conference in Washington, D.C., hosted by the National LGBTQ Task Force.
"Me and another ambassador [Jarrett Lopez] advocated on Capitol Hill for different legislation that was in the House and the Senate to try to push our representatives to vote for them," Miller said. "We learned a lot of valuable skills regarding advocacy, so we want to bring that back to the community, and to show the what it means to be an advocate—that you don't have to be in Washington, D.C. to get stuff done in your own community."
On Tuesday, an Allied Zone training lasting from 10:30 a.m. to 12:30 p.m. is open to the entire campus.
According to LGBTQ Programs and Services' website, "the Allied Zone campaign trains students, staff, administrators, and faculty to be allies for members of the LGBTQ community on campus."
Interested students and faculty can apply here.
That night, an open mic night will be held at 7:00 p.m. in the Student Union's multi-purpose room (102). Students can sign up at the Activities Planning Board's office in SU 327.
On Wednesday evening at 3:15, SU 102 will host a discussion called "Being Trans in NKY: A Panel of Lived Experiences."
"I think that will be interesting because I got to meet people from the community, specifically, to meet about about their experiences," Miller said. "Especially because trans people are more prone to being physically hurt or injured because they're trans."
On Thursday at 8:00 p.m., Pride Week will host a movie night in collaboration with University Housing. Attendees will be able to catch a screening of Moonlight, which won an Academy Award for Best Picture in 2017.
Miller says it was chosen because it defies the stereotypes often imposed upon gay male characters in Hollywood, taking a unique look through the lens of the black community.
Friday's events include a Trans Ally Training from 1:00 p.m. – 3:00 p.m. At 5:00 p.m., The Lavender Graduation and Awards Dinner will be held in the Griffin Auditorium.
"The Lavender Graduation is an annual ceremony conducted on campuses across the nation to honor lesbian, gay, bisexual, transgender, queer and ally students and to acknowledge their achievements and contributions to the University," says LGBTQ Programs and Services' website.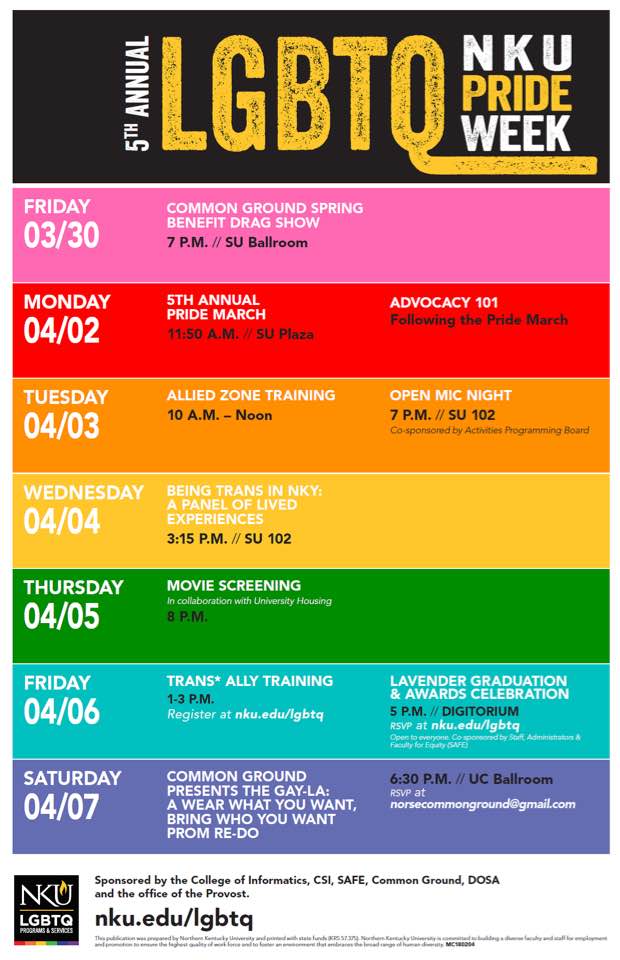 The event is open to the campus community, but attendees must RSVP before coming.
Pride Week will conclude with the Gay-la: A Wear What You Want, Bring Who You Want Prom Re-Do, an event presented by Common Ground and held in the University Center Ballroom at 6:30 p.m.
Students can RSVP at norsecommonground@gmail.com.
Miller said that she's most excited to bring Advocacy 101 to campus.
"Jared and I went to that event, and we learned a lot about this community itself and what it means."
Miller said that she decided to become an LGBTQ ambassador after the Creating Change conference gave her the conviction to come out as bisexual.
"Last year, as a Freshman, I went to a few Common Ground events, just to see what they were like. But I went mostly as an ally. But really, I was hiding behind that idea of being an ally because for that whole year I was questioning—I was bi-curious, things like that. It was [the Creating Change Conference] that gave me a voice and made me feel that identifying with that group was okay and normal."
She says her dream is to become a United States senator.
"There have only been two black women to have ever become U.S. senators, and no black woman has ever become governor."
Though she initially feared that identifying as bisexual might hinder her career, Miller says that the conference and LGBTQ Programs and Services have helped her realize that her voice and passion are powerful enough to reach an audience, no matter what her sexuality may be.