Six@Six lecture series: Art as Rx
February 20, 2018
Nestled up on the common-area couch in the ceramics building, Charity Rust-Jordan sat down last week to discuss her journey as an art student, how her talents have lent themselves to community outreach and the social benefits of artmaking, all of which led to the Howard Scripps Center for Civic Engagement inviting her to participate in the Six@Six lecture series.
Rust-Jordan did not follow a traditional path to NKU (she's worked at a local financial firm and raised a family of six throughout her seven-and-a-half year undergraduate journey), but the accomplished sculptor will  graduate this spring with a BFA in spatial arts and potentially move on to obtain a Master's in Mental Health.  
Rust-Jordan has always subscribed to the idea that "when you can help, you should." She implemented a community program at her work and has organized toy drives among other volunteering opportunities, but 2015 was the first year she began to use her art as a form of service.
She entered a sculpture contest through NKU, was chosen as one of the winners and was commissioned by the Scripps Howard Center for Civic Engagement to make a "Little Library" for a local nonprofit.
Through an unexpected turn of events, that nonprofit ended up being the Welcome House of Northern Kentucky, whose mission centers on "ending homelessness by providing a continuum of services to our clients." As Rust-Jordan and her husband set up the treehouse-themed library in the space, Welcome House's director asked if she wanted the kids to play on it while she was there–an offer she happily agreed to.
"When they were jumping on it and were like 'Ahh this is so cool' and were just enjoying it, that changed things for me" Rust-Jordan noted, " because someone else is enjoying the work I'm able to make." Until that point, all her artmaking had been for her herself.
Then, a moment of clarity: She started talking to the director about introducing an art program and before long she was facilitating workshops with therapeutic undertones.  
Rust's work is not art therapy in the traditional sense (like psychoanalyzing a drawing). Rather, the artmaking process is used as a noninvasive way to develop skills like self-expression, which  translates crafting into everyday realities. For example, if someone talks about being scared to make a mistake, Rust-Jordan will open an informal conversation about fear.
Another previous workshop involved making bugs out of styrofoam balls and pipe cleaners while Rust-Jordan threw out questions like "If you were a bug, where would you want to live?" and "What would happen if you went somewhere else? How would you have to adapt?" She acts as more of a listener if discussion sparks up with the kids, rather than being a commenter.
And it's making a difference. Aside from comments from Welcome House donors and administrators about the reception of these workshops, studies back up that children who grow up in an art-rich environment develop into more community-involved adults and higher-achieving students.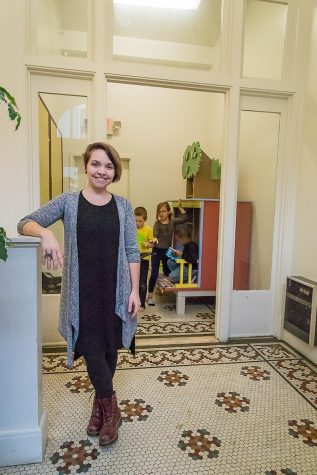 "Something happens along the way where we stop doing them and think of art as juvenile," she noted, but adults need that space "to think freely and work with their hands" as much as children.
Hence Rust-Jordan's extension of the workshops to Welcome House's women's shelter clients, permanent residents with mental or physical handicaps and single parents who don't ever get the chance to relax and think about nonessential priorities.  
Because of limited time and resources (Rust-Jordan volunteers her time for these programs and often foots the bill for the supplies), she cannot facilitate workshops as much as she would like, but has called on her creative peers to run similar classes like comic-book decorating and drum-making. One of Rust-Jordan's friends with a degree in writing is leading a women-centered poetry-writing session soon.
To learn more about Rust-Jordan's civic projects and how you can call on your interests to support community, grab your student ID and head over to The Center for Great Neighborhoods (in Covington) Thursday night at 6 p.m.