GALLERY: Black Women's Organization fashion show highlights local talent
October 26, 2017
"Millennial Experience" was the second annual fall fashion show hosted by the Black Women's Organization, highlighting fashion and designs made by local vendors.
Kylie Gray, president of BWO, said that the organization had been planning the show since last January. As attendees began to shuffle into the student union ballroom, music from DJ Rerun led them to their seats.
The lights went down, the crowd hushed, and the music halted. Co-hosts Ashley Wilson and Keem Washington took the stage to introduce the Black Ice drill team from Cincinnati whose energetic performance hyped the crowd up for the rest of the night.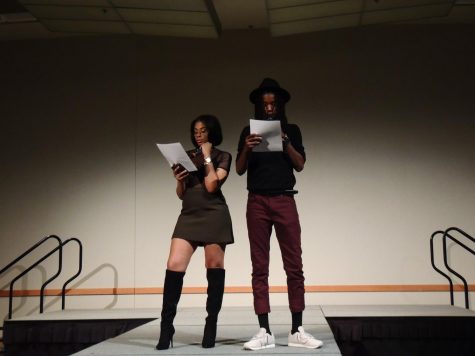 "I've been dancing for five years, and I am super excited to perform here tonight," said Tyler Johnson, member of the Black Ice drill team.
The event held on Oct. 21 showcased an array of fashion, according to Kiara Gray, secretary of the BWO. This is the second consecutive year the club has been active since having a year-long break.
"I love this event because we try to do it as an all-black event," Kiara Gray said. "This year we thought it was important to have local brands to promote people in this area so that people will know them and shop them so that they can prosper, and we can help each other."
To start the show, models walked down the catwalk in athleisure, comfortable workout clothes that are cute enough to wear outside of the gym.  
As the next set of models prepared to take the stage, 'Humble' by Kendrick Lamar started to play. The song introduced models wearing graphic tees from the Humble Brand with the motto 'stay true to yourself.'
"We really wanted to showcase local talents, and have something fun and interactive for students," said Kylie Gray. "The models, host, and DJ are all students, we also put on this event as students, so this is a fun social event that also helps us raise money for our organization."
The next talent of the night was Carrington Shropshire and Donald Sherman, who performed an original song that the two wrote called 'Mine.' Paris Hill also took the stage with a song of his own.
The two performances riled the crowd and got them ready for the next set of fashion: Hauz of Cuts by Tiffani Nicole displayed ripped denim with unique paintings on each piece. She was followed by the Davier Hutch clothing line, who closed the show with their motto 'we strive to encourage and inspire our clients to wear their fashion boldly.'
The next event BWO has planned is the Gentlemen of the Year pageant in March,  a scholarship event that will showcase men on campus that BWO thinks are gentlemen and deserve the recognition.