Take Back the Night: Survivors share their stories
April 14, 2017
Students shuffled around a white leather couch and tried to find a seat in the University Center Ballroom. Names that represent survivors are written on the shiny material in purple ink.  
The couch, and all that it represents, is a part of The K.A.S.S.I.E. Project. The K.A.S.S.I.E. Project helps survivors of domestic abuse and violence through the healing process so the survivors can feel safe and get back in control of their life after abuse.
Norse Violence Prevention invited Khrys Styles to the April 11 Take Back the Night event as a speaker, and also to award her with the 2017 Teal Ribbon Award.
Gabby Dralle, director of the Norse Violence Prevention Center, gave this award to Styles for her continuous work to end sexual assault on Northern Kentucky University's campus through the Norse Violence Prevention Center.
Dralle then took some time to reflect on the survivors that she has met, and the daily struggles that they endure.
"There are so many survivors out there that haven't yet told anyone about what they went through," Dralle said. "It is extremely difficult, and it takes a lot of courage."
Dralle said that she was part of a family of domestic abuse. As Dralle spoke and told her story to the silent room of survivors and supporters, as all eyes and ears were listening to Dralle and watching as she sat on the white couch with Khrys.
Once Dralle finished telling her story, she signed the white couch in purple to signify that she has publicly shared her story regarding domestic violence.
"Once you finish sharing, you autograph the couch as a commitment of leaving that portion of your life behind, and moving into life after abuse," Styles said.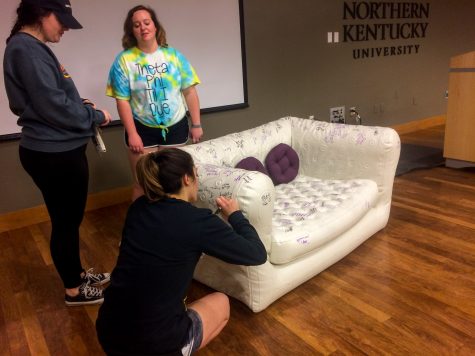 Throughout the night survivors and supporters alike were encouraged to sign the couch. Survivors were encouraged to share their story and sign the couch in purple sharpie, and supporters were encouraged to sign the couch in black sharpie.
Styles said that they are now on their fourth couch, with three other couches full of signatures.
Styles continued by explaining that K.A.S.S.I.E.'s Purple Couch and The K.A.S.S.I.E. Project were started in response to Khrys losing a friend named Kassie.
"Sometimes we just want somebody to listen," Styles said. "So that's what the couch is all about."
As Styles reflected on the death of her friend and her personal story of sexual assault, she asked the audience of "side-effects" that survivors might experience after an assault. Styles then continued by asking how one person could overcome all of those side-effects.
"We exist," Styles said. "Walking side-effects exist, and if you're a good friend, if you're a good partner, or if you want to be a good friend or partner, please just take time just to hear us out."
The night continued as Lisa Marie Holliman performed two spoken word poems about sexual abuse and self-worth.
After Holliman had finished performing, there was a time for survivors in the audience to stand up and speak out against sexual assault and violence, followed by a survivors' march around the plaza.
Ryan Gray, a sophomore at NKU, attended this event for the second time as he believes that the event should not be limited to survivors only, but that friends and family of survivors should attend too.
"I can't relate to what they've been through," Gray said. "I'm only trying to understand."
Gray attended Take Back the Night to show support for the survivors that he knows, and also to catch a glimpse of what the daily struggle is like for survivors.
"You don't know what they've been through until they tell you," Gray said. "You're just there from the sidelines cheering them on."
Throughout the night, various organizations were present to show support for survivors. Organizations at the event were: It's On Us for their "It's On Us" campaign, NKU's chapter of Sigma Phi Epsilon for their "Live Your Oath" Campaign, H.O.P.E. for their "Red My Lips" campaign, and the K.A.S.S.I.E. Project.
Hali Wagner is the Vice President of H.O.P.E., a student-run organization that works together to prevent and end sexual assault. Wagner was inspired by the survivors who chose to share their stories.
"There are so many survivors that don't get a chance to tell their story," Wagner said. "Because they are told that they're not supposed to, or that it's not something that you should bring up."
Wagner looked at this event as an opportunity to help survivors reclaim their courage and strength while also experiencing the healing process.
"It's taking back the night and giving people the chance to walk free again, and giving them hope that tomorrow will be better," said Wagner. "You can't have a better tomorrow if you don't talk about it today."