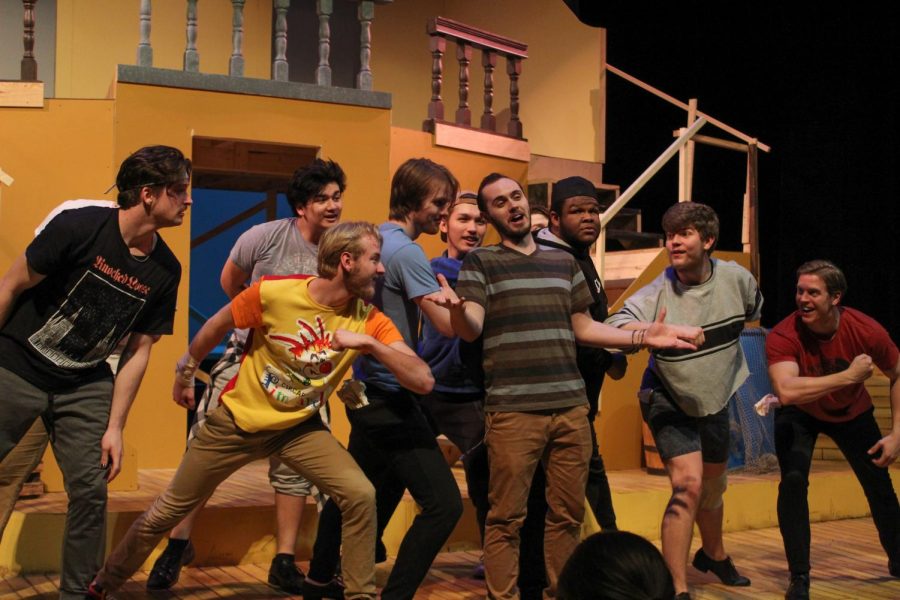 'H.M.S. Pinafore' sets sail in the Corbett Theatre
The legendary comic opera comes to NKU for the first time
Dancing, comedy and forbidden love can be found on the H.M.S. Pinafore, which drops anchor in the Corbett Theatre on Feb. 21. 
"H.M.S. Pinafore" is an operetta written by Arthur Sullivan and W.S. Gilbert in 1878, and one of the biggest influences on the musical theatre of today, according to Damon Stevens, the show's music director. The story takes place aboard the titular ship, where the captain's daughter Josephine is in love with a lower class sailor but is betrothed to the head of England's Royal Navy.
The School of the Arts' production of "Pinafore" is something new for the college, as it is the first time that SOTA's theatre and dance program has collaborated with the music program on a show.
"Damon and I have been … dreaming of the day when we would get to combine our theatre and dance and music program forces," Kimberly Lazzeri, the show's co-director, said. "This year, we finally made that happen."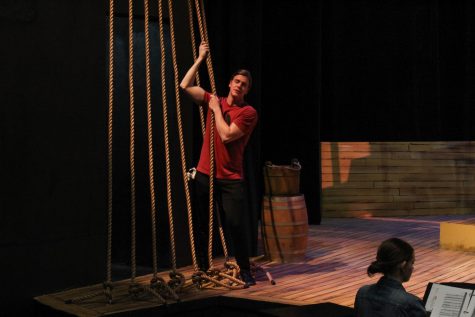 Jackson Hurt, junior BFA musical theatre major, plays Josephine's love interest Ralph "Rafe" Rackstraw. This is his first classical tenor role, and he said he's felt challenged by having to access his upper vocal range.
"Rafe likes to sing high notes," Hurt said. "It's been a period of tremendous growth vocally, because this being an operetta, the acting is minute in comparison to the amount of voice we have to do. Still very important to the plot, but it is for sure the voice that's been the most challenging."
Hurt also teased that many of the sailors on stage were casted according to their unique acrobatic talents.
"People will not be on the ground at all times," Hurt said, as a man behind him twirled in a circle while hanging upside down from a rope. "We have people flying in, we have gun spinning. We have climbing—I'll be on some rope. Lots of fun things."
Hurt mentioned the huge bell-bottomed pants and striped shirts the men of the show will be wearing, but for Adria Whitfill, the senior BFA musical theatre and biology double major playing Josephine, there's a different type of costume required for the actresses.
"These men can't relate, they have no idea, but the ladies have to wear corsets," Whitfill said, laughing. "We have to work on keeping our breath support and making sure we're very comfortable singing and dancing in the corset. That's another challenge."
Stevens praised the collaboration between the departments, and said the collaboration process between him, Lazzeri and co-director Nicole Perrone has been "a real treat."
"Usually we'll only have a director and a music director in our musicals," Stevens said. "It's wonderful during rehearsal to have an outside set of ears. For example, I can just look at [Lazzeri] when I hear something that is kind of wonky. She will know exactly what I'm hearing, and write down 'page 58, bad diction.'"
Lazzeri thinks audiences shouldn't be intimidated by the fact that the show is a form of opera. She said normally, when people think of an opera, they think of lengthy vocal performances. However, "Pinafore" is shorter than many musicals and features plenty of dancing.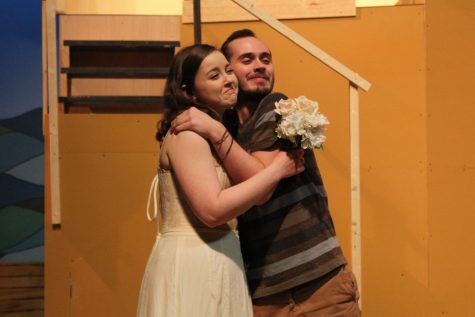 Perrone said audiences will be wildly entertained by the show and that it is a perfect introduction to the works of Gilbert and Sullivan.
"And, gosh, I don't want to be presumptuous, but I think they'll be impressed by the voices of our students. I think they're really impressive," Perrone said.
Whitfill said performances of shows like this one are a rarity.
"You're not going to get a lot of opportunities to see an operetta like this," Whitfill said. "The set is beautiful. The costumes are beautiful … It's a fun show, you're going to be entertained. There's comedy and serious parts and they just marry together really well. I think it'll be really great to see it all come together."